Eat Globally, Shop Locally
The new Super G Mart means one-stop shopping for your exotic cravings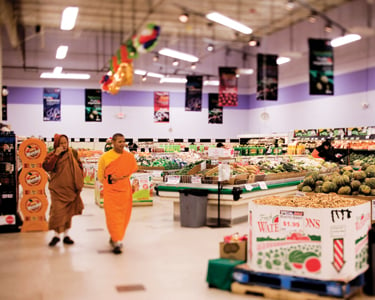 There aren't many places where you can satisfy a hankering for spicy Korean kimchi, a cheesy bean tostada, or a Punjabi curry in one spot, but on Independence Boulevard at the new Super G Mart, the largest international market in the Carolinas, you can get your ethnic food fix in one (very large) shop.
After opening in the Independence Square East shopping center last June, the store (part of a Greensboro-based chain) has become a favorite among Charlotte foodies. Here you'll find more than 52,000 square feet of Asian (Chinese, Japanese, Vietnamese, Thai, and Indian), Middle Eastern, Latin, and Eastern European foods. And if the appeal of buying tapas and tacos in the same spot weren't enough, Super G's prices are very reasonable—especially considering the distances most of these products traveled.
At times, shopping at Super G feels more like a quick trip to a foreign land than to your local grocery store. In the expansive produce section, international fruits and veggies abound with rarities like cactus leaves for 69 cents per pound and bunches of lemon grass stalks for 99 cents. At the rear of the store, an extensive seafood counter boasts live blue crabs (when in season), several different types of shrimp, conch, clams (among other bivalves and mollusks), and a plethora of whole fish that the counter staff will trim or fillet upon request. It's the meat cases, though, that will satisfy even the most curious appetites. Cow heads ($19) and pig snouts, jowls, and stomachs crowd the freezer. But those looking for deals on more mainstream meats won't be disappointed with fresh beef eye round roast going for $3.99 per pound and boneless, skinless chicken breasts for $1.88 per pound.
Have an adventurous appetite but prefer to avoid escapades in the kitchen? Super G Mart's frozen section offers premade exotic party food like Japanese dumplings, Indian samosas, and Mexican finger foods.
7323 E. Independence Blvd., 980-321-4048.