Eco-friendly Designer Makes Business out of Scrap Wood
Susan Hilger carves out a niche for green design, turning the by-products into jewelry and accessories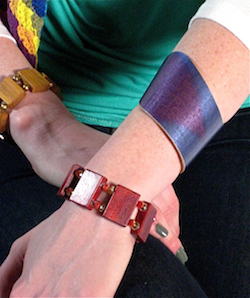 Susan Hilger started out doing standard design work. The New York native who grew up in New Jersey moved to North Carolina in the late '70s. She studied business and psychology at Queens University of Charlotte and took distance-learning classes in design through a school in New York.
In 1999, she started S.J. Hilger Interiors. Two years later she met a woodworker who became her partner in business and in life. Her business then transitioned to focus on woodworking. Then around 2006, Hilger went on a trip with her sister, and they were talking about a design project. Her sister said, "Don't do it like that. Do something positive. Do something eco."
Hilger came home and began doing hours of research about eco-friendly design. She sought out sustainable lumber companies that replant the trees they cut. She found paints and finishes with low amounts of volatile organic compounds, or VOCs, which are solvents released into the air as the paint dries. She went through the stringent interview process with Green America to receive the organization's Green Business certification.
"There's going to come a time when people won't buy your house if you have toxic finishes or glues," Hilger says.
She felt better and more enthusiastic about the work she was doing. Then she and her partner were taking a road trip one day to see her parents, and Hilger began brainstorming ideas of what to do with wood waste from their projects.
"What if we could take this wood and create this bracelet," Hilger said. It took about a year for her and her partner to develop the design they now call eco-cuff. They introduced the bracelet in 2007, and they sell it under the name Green Market Girl. They make 30 to 50 at a time, and it takes about a day and a half to make a batch. They cut out the veneers according to the pattern they want to make and then layer the veneers with glue. The women's bracelet is made up of three layers, and the men's has four.
The veneers sit in a mold overnight to obtain the cuff shape. Then the bracelets go through three different sanding processes. Hilger creates the design on the computer and then glues it on. She recently came out with her spring line. In addition to the cuff bracelet, she also has a new eco-link design sewn onto elastic, which makes sizing easier. Green Market Girl also offers wine racks, platters, and canes made from scrap wood.
The bracelets cost $50 each and are available in shops in Charlotte and across the state and nation. One store in Hawaii now sells them. They are also available online.
Hilger says most of her design clients still come to her because of her and her partner's talent, not necessarily because of their eco-friendly mission. But that's OK. They feel good about the work they're doing, what they're creating, and what they're leaving behind.