Editorial: Extraordinary Events, Insufficient Leadership
A Charlotte magazine editorial on the Keith Scott shooting, the aftermath, and why Charlotte needed more from its top-ranking public officials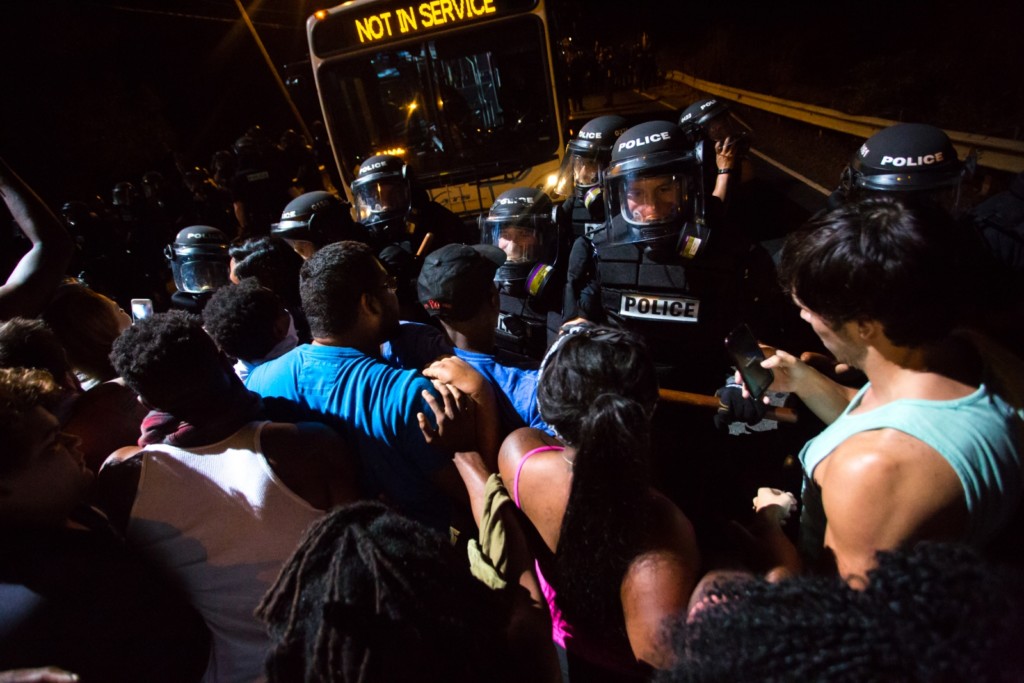 From the editors:
CHARLOTTE NEEDED leadership last week—from a city government capable of managing a crisis unlike any in the city's history, one that was open, honest, and accountable to its citizens about the police shooting death of Keith Lamont Scott.
Charlotte didn't get it.
What our city got instead was disorganization, misstatements of fact, double-talk, irrelevancies, and opacity, even as city leaders stressed "accountability" and "transparency." Those words were hollow when they came from the mouths of our city's top officials—in particular Mayor Jennifer Roberts and Charlotte-Mecklenburg Police Chief Kerr Putney. Even on Saturday, when police finally made public video footage of the shooting, they bungled much of the release.
It hurts to have to say this. We like and respect Roberts for her intelligence, energy, and obvious passion for public service, and particularly for her laudable leadership on HB2, which she displayed just last Monday by standing firm on the city's commitment to its LGBT community.
Last year, this magazine honored Putney, along with barber Shaun Corbett, as its Charlottean of the Year for founding and sustaining the Cops & Barbers program, a bridge-building exercise between police and young black men extraordinary enough to earn mention from the President. Earlier this summer, in response to police shootings of unarmed black men in Louisiana and Minnesota, Putney launched a series of tough, necessary community conversations intended to slowly build a foundation of trust between the police department and citizens, especially those in poor and minority communities who have the most reason to view law enforcement with suspicion and hostility. In late August, police helped raise and distribute 500 book bags to children who need them at Corbett's annual book bag drive at Martin Luther King Jr. Middle School. Putney and Roberts were both there, arriving to cheers from the hundreds of parents and children in attendance.
Both Roberts and Putney earned respect, and accompanying trust, from us and the rest of Charlotte.
Last week, they lost it. They have a lot of work to do in the coming weeks and months to retrieve it.
THEIR FAILURES BEGAN at the city's initial news conference Wednesday morning, less than 18 hours after the shooting. Roberts, reading from prepared remarks, cited Charlotte's "long history of transparency and accountability," then urged citizens to "please be patient" and "wait until all information is available."
Given the violence and disorder of the previous night, and given the immediate reaction to police shootings in other cities, she should have known that a segment of the community would not peacefully comply with a plea for patience. Less than 12 hours after that press conference, a demonstration led to the shooting death of a man in front of the Omni hotel—a block from the Square at Trade and Tryon, the very heart of the city—and spilled onto Interstate 277. Roberts and Putney said later that they counted on non-violent protests and CMPD's ability to handle them.
The city didn't request a state of emergency and assistance from the N.C. Highway Patrol and National Guard until Wednesday night; Governor Pat McCrory declared it at 11 p.m. In hindsight, a curfew announcement during the day and extra resources uptown might have mitigated the chaos, as they did Thursday and Friday.
On Thursday, Roberts repeatedly said that uptown was "open for business"—a line straight from the Charlotte business boosters' script—as Bank of America, Wells Fargo, and Duke Energy kept their uptown workers home, small businesses and restaurants closed early or entirely, and workers swept up broken glass and boarded up shattered windows. Throughout the week, in numerous television and radio interviews, Roberts seemed overwhelmed—"at sea," as a New York Times editorial put it: rambling, evasive, often falling back on trite official-speak. During an interview Friday with MSNBC's Chris Hayes, she referred to Charlotte as "a can-do city," as if addressing the weekly Rotary Club luncheon.
CONSIDERING HIS STATUS as chief of a department just three years removed from an officer's shooting of an unarmed man named Jonathan Ferrell, Putney's public missteps were even more troubling. He responded to a reporter's question Wednesday by saying, incorrectly, that state law prohibited him from releasing body and dashboard camera footage from the initial shooting. The law he referred to doesn't take effect until October 1.
Then, on Friday, Putney said that the State Bureau of Investigation was now in charge of the case, and that CMPD couldn't release its video footage even if it wanted to. Roberts issued a release in the afternoon that urged the SBI "to use every resource at its disposal to get this done and release the information to the public as quickly as possible." A few hours later, the SBI made plain in a statement that CMPD, as the "original custodian" of the video, "has the legal authority to release it."
The pressure effectively forced the city's hand. CMPD finally made some of the videos public Saturday afternoon. As Putney had acknowledged, the footage alone doesn't answer whether the shooting of Scott was justified or whether he carried a gun. He explained that CMPD wanted to wait until the SBI assured him that the release of some evidence wouldn't jeopardize the integrity of its investigation. Under normal circumstances, that's a perfectly valid explanation.
But the violence and destruction of Wednesday night amounted to exceptional circumstances, unlike any the city had seen, and Roberts' and Putney's misstatements throughout the week looked—still look—inept at best, duplicitous and secretive at worst. With a national audience watching, the city appeared to have something to hide.
Even Saturday, at a 4:30 p.m. news conference, Putney said he believed the videos would be available within 30 minutes. That turned into two hours. Meanwhile, a CMPD employee live-tweeted the news conference on the department's official Twitter account. Minutes after its conclusion, all nine of those tweets were deleted. At 7:03 p.m., this tweet appeared: "An employee, uncomfortable with decision to live tweet, deleted all of @cmpd's tweets. That should not have happened. Retweeting them now." As of Monday morning, that still hadn't happened. This is, to be kind, an eccentric demonstration of "transparency."
We recognize how extraordinary it is to expect a law enforcement agency to risk the integrity of evidence in a criminal investigation by making it public. We also recognize the chief's role as a leader of a department with nearly 2,000 sworn officers who count on him as a boss. He's a police officer first, choosing the career after police found his own father's body in a river when he was just 10 years old, then rising through the ranks to become chief last year. We're also aware that former police chief Rodney Monroe became an unpopular boss to many of his employees after charging officer Randall Kerrick within hours of the shooting death of Ferrell. But is there a public interest more important than reassuring citizens that their city government, an agent of which has just killed someone, isn't lying about it?
The mayor and chief should know that the days when citizens take at face value officials' calls for calm and patience in the face of police shootings, especially of minorities, are over. With each minute that passes, misinformation and outright falsehood spread over smart phones and kitchen tables and, the key point, immediately inform what people do or don't do on the streets.
That's the weight public officials have to shoulder these days when they promise accountability and transparency. They can't deliver on that promise solely on their terms.
That will only become more true as younger generations who view the world through the videos they take and the videos they watch grow older. Throughout Saturday's march through uptown, protesters chanted, "We're young; we're strong. We're marching all night long." One of the people watching was Toussaint Romain, a public defender who became a nationally known figure by putting himself between protesters and police all week. When we asked Romain why the Saturday rally included so much talk of the protesters' youth and vibrancy, he said, "Because the leaders, the adults, the elected officials, haven't shown up. Where are the leaders? … The folks that were elected, the folks we pay six figures, aren't here."
WHAT THE CITY AND CMPD NEED TO DO now isn't enjoyable, especially for proud people who have otherwise distinguished careers. But it's necessary: They should pull out a very large sword and publicly fall on it. Roberts and Putney should own up to their missteps since Tuesday and, as honestly and forthrightly as they can, explain how and why those mistakes occurred. They can re-establish some credibility that way.
That's the only way to make any steps to solve the longer-term problems of disconnection between police and citizens and income disparity. Charlotte's political and business leaders have proven themselves quite adept over the years at convening stakeholders for meaningful community discussions about one civic issue or another, then reaching conclusions and recommending solutions that go largely ignored. But we've all known about those problems for years. We've now seen what they can lead to.
"So, Charlotte, the challenge is ours. I think the future can be bright," Putney said during the news conference Wednesday. "But the work has to be done by all of us." He is absolutely right. But for "all of us" to do the work, we have to know that our public officials are genuine in their commitment to the public interest. They had a sterling opportunity to demonstrate that last week, when it mattered most, with the entire world watching, and they failed.
We have hope that city officials can learn from this. It's been a hard week for all of us. We've seen a level of violence and chaos on the streets of Charlotte that was nearly unthinkable as the week began. Public officials are as human and prone to error and miscalculation as anyone else. But as soon as possible, they should review how they reacted to this crisis, honestly assess what they did wrong and how they can fix it, and communicate those lessons to the city they serve. They need to be ready to do better next time because, as is fairly clear to every American city in 2016, there's no guarantee there won't be a "next time," and soon.