Editor's Note (August 2016): Shoo-Shoo-Shoo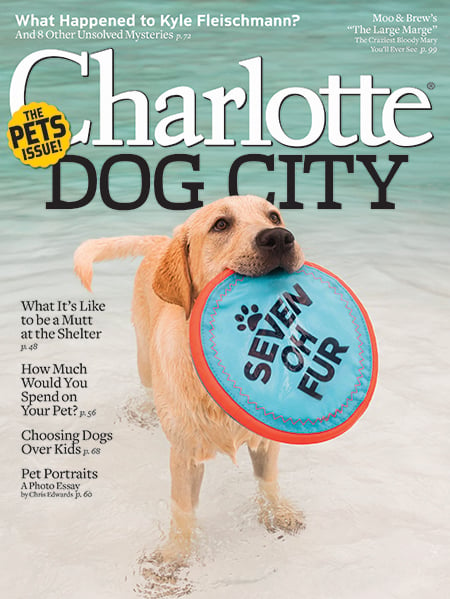 ONE SATURDAY MORNING about 30 years ago, my father opened his eyes and saw my brother's face a few inches away, chin on the edge of the bed, waiting.
"Dad," Kenny began, "I think my fish is dead."
Dad looked at the boy for a bit before lifting his head.
"Well, how do you know?"
"Because he's stuck to the floor."
It was a difficult moment for Kenny, who'd earned the fish a few days earlier by sinking a ping-pong ball in one of about a thousand small, glass bowls lined up in the goldfish-gettin' tent at the county fair. He carried the fish around in a bag and promised to take care of it, then went home and pulled out the fishbowl we'd gotten when I won a goldfish at the same tent a few years earlier. We decided that this goldfish was the grandson of my goldfish, who was in goldfish heaven.
It's worth saying that my father was a charter boat captain and we'd been poking our fingers in the eyes of dead fish since we could point. But there's a difference between catching a fish and winning one, and between bringing one home in a cooler and bringing one home alive. This was Kenny's to take care of, and Kenny believed the fish had a brain as big as his, a brain that could reason. So he truly believed that this fish had made a decision to get a swimming start and launch itself out of the water in hopes of finding a better home. That stings.
Pets mean different things to us at different life stages, but for many of us they give us our first lesson in hard endings. Their life spans are short enough to see the full arc, short enough that we can see that one day they're here, and the next day we're standing over a toilet bowl saying goodbye.
When we decided to dedicate much of our August issue to pets, the idea was to give you a light feature package in the middle of summer. (Note the yellow lab in the pool on the cover.) But as the stories rolled in, it became obvious that the prospect of death and harm frames most of our feelings toward pets. From Kristen Wile's essay on rescuing two pit bulls, to Jen McGivney's story on the local animal shelter, to Jared Misner's story of a woman who spent $20,000 to try to save her mutt, the pets issue became an issue devoted to our natural instinct to take care of someone—furry or scaly or otherwise.
It's also natural to emphasize beginnings and ends. Next month is Charlotte magazine's 48th anniversary. We're planning a redesign. The fonts will be new and more modern, the sections will be rearranged and, in some cases, renamed. The core principles of the magazine will remain: We'll still be the sincere, lively, beautiful, thorough, fact-checked, witty, idea-generating, thoughtful, storytelling magazine people have loved for nearly a half-century. But it's our job to reflect the "Charlotte condition," or what it's like to live here now. So when the city changes, we change. We can't wait for you to see it.
We're working on the changes as you read this. The front of the magazine will contain a new section called The Good Life, dedicated to all the things you love about living here. We'll still cover difficult topics in the magazine— topics like, say, life and death—but this section will ensure that each month you have a break from troubles around the world, around the country, and here in our city.
Five years ago, I found myself on an assignment at a big farm auction in Seaboard, North Carolina—a town of about 800 people just east of Interstate 95 near the Virginia line—when a man from the local Lions Club told me his theory on the good life. "The world goes shoo-shoo-shoo, and you're gone," the man, David Burke, said. "You gotta have a good time in life. You can look at someone's gravestone and see the date of birth, 1925, and then 1985, when they died. Those dates are on there. But the most important thing is the dash in the middle. It's what you do with the dash that counts."
As you read these stories this month, be sure to see the dash. Be sure to notice the tails wag.
---
This article appears in the August 2016 issue of Charlotte Magazine
Did you like what you read here? Subscribe to Charlotte Magazine »
---