Editor's Note (August 2017): Why We're Here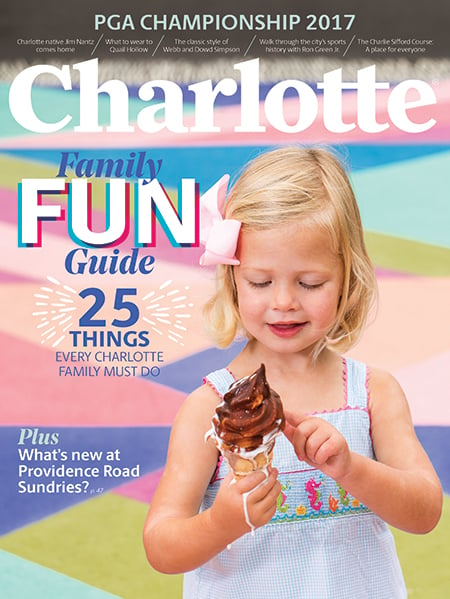 THE YOUNG MAN WALKED into the barbershop around the end of May, a few days after his release from the Mecklenburg County Jail. He was 18, and he'd served nine months for breaking into cars. He looked at the barber and said his name, Daveon Andrews, said he wanted to learn to cut hair, said he wanted to make something of this life.
Shaun "Lucky" Corbett sees a lot of young men like Andrews. If you're a regular reader of this magazine, you know Corbett's story. He was on our December 2015 cover as a Charlottean of the Year. He's in his late 30s now, but he grew up in New York during the crack era and spent most of the 1990s in trouble. He did time when he was 18, and again at 19, and again at 21. He found his calling as a barber, though, and he now owns his own shop, Da Lucky Spot, on North Tryon Street. He runs numerous programs for local kids. Free tutoring every week, a bookbag drive every August, a turkey drive every Thanksgiving, a coat drive every December.
Corbett, who on most days wears a white T-shirt and a flat-brimmed ballcap, is one of the most influential people in the North Tryon area. Which means 2017 has been tough on him. Starting with the murder of 14-year-old Anthony Frazier just off Sugar Creek Road on January 3, this part of town has seen too many tragedies this year.
I'd started another column for this month, something that complemented our family fun guide. It opened with a scene of my brother and me jumping into a creek as kids. I planned for it to be light, sunny, wistful, and filled with laughs and lightning bugs, like summer should be.
But Charlotte had three murders in one night this week, the week we're shipping this issue to the printer. At the moment my fingers are typing this, June 21, we've had 46 murders in our city this year. That's two more than in all of 2014. It's one every four or so days, and it puts us on pace for 98 murders by the end of the year.
So I'm writing about this now.
One of the people killed this week was David Lindsay, a beloved barber at No Grease barbershop. He and Corbett went through barber school together a decade ago. They'd seen each other just a few days before Lindsay was killed. "If I knew that'd be the last time I'd see him," Corbett told me this morning, "I'd have said, 'Man, I love you, and I'm proud of you.'" Twenty minutes after Lindsay was shot—not 20 hours, not 20 days, but 20 minutes—two more men were killed on Hilo Drive, just across Tryon Street from Corbett's shop. One of them, Jared Chatman, was a customer of Corbett's.
Don't fold your hands and think this isn't a problem for you, that it only affects one part of town or one demographic. On the surface of our city, these seem like prosperous times, but they're not prosperous for everybody, and desperation has a way of spreading.
And no matter what the candidates running for mayor might say, it's not a police problem. As Corbett says, "I have never heard someone call 911 and say, 'Hey, I'm gonna kill this guy. Y'all better beat me over there.'"
It's a community problem, a Charlotte problem, one that sprouts from a lack of opportunity. CMPD Chief Kerr Putney has said that one reason for the spike in murders is that people, young men in particular, are now settling simple differences with gunfire. Corbett agrees.
"Sometimes all they have to establish who they are is their pride," Corbett says. "Once his pride is hurt, he doesn't have anything else, so he's willing to die for his pride. We need to create more opportunities to make them feel like men."
That's why Corbett, who has a college-aged son, does all he does. Sometimes, though, even that's not enough.
After Andrews walked through the barbershop door that day in May, Corbett agreed to help. He even started drawing up paperwork for Andrews' barber school application, and they arranged to meet after Memorial Day weekend to finish it.
But Andrews didn't show. Instead, Corbett got a text message from the young man's caseworker.
Andrews was walking toward a bus stop on Rozzelles Ferry Road on the night of Memorial Day, May 29, when a car pulled up and someone shot him, leaving him to die on the Charlotte street. He was 18. Police haven't found his killer.
After losing a potential protégé, a customer, and a friend in a span of three weeks, Corbett was organizing a neighborhood gathering when we talked this morning. He called it the Peace Block Party, and said it would happen July 9. He had a vision in his mind: hot dogs on the grill, local artists painting, bounce houses for kids, people smiling—just a few reminders of what summer should be, for everyone.
"We have to recalibrate," he said, "and remember why we're doing this."