Editor's Note (December 2016): Two Guys Named Pat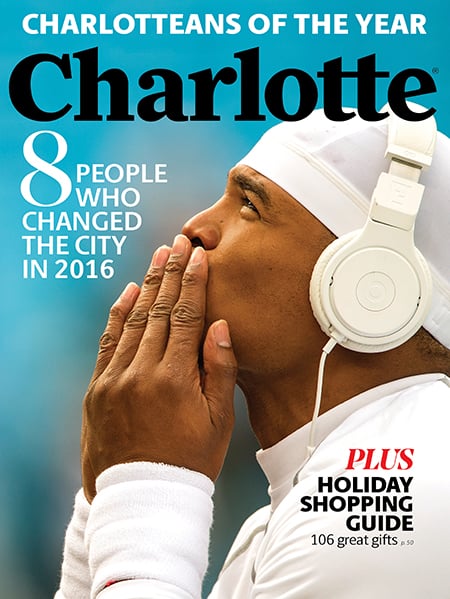 "HELLO, MY NAME IS PAT, and I have a problem," he wrote in a 2011 blog post. "I love cheese. Some of my closest personal relationships are with cheeses. Seriously, I think it understands me better than most people do."
That was Pat McCroy, a guy who loves cheese.
That wasn't Pat McCrory, a guy who became governor of North Carolina.
Note the difference in their last names, the extra "r."
One Pat runs a creamery in Missouri and has lived in Chicago. The other Pat occupies a certain mansion in Raleigh and has a permanent home in Myers Park. One Pat has 96 followers on Twitter. The other Pat has about 47,000. One Pat has been getting bombarded with angry messages about the controversial House Bill 2. The other Pat … well, actually, they have this in common.
It's been a difficult year in North Carolina, and few people heard about it more than these two men.
We've had the floods from Hurricane Matthew and the fallout from House Bill 2 and a police shooting and protests in Charlotte. Out of tough times, though, we often find inspiring leaders, new leaders, people we might not have recognized as leaders in good times. Not one of our eight Charlotteans of the Year for 2016 was even a finalist in 2015. But they emerged this year in a big way, and together they frame our greatest struggles and successes. It's a mighty fine class, filled with people who made decisions in matters of seconds (Cam Newton, Toussaint Romain, Mike Campagna), others who made decisions that will shape our city in the long-term (Ann Clark, Kelly Brooks, Charlie Comero, the Double Door), and a restaurant family whose name feels just right for the award this year, the Kindreds.
The class of 2016 doesn't include Pat McCrory. But had he lived here at any point this year, the lesser-known Pat McCroy might've warranted a nomination. For an audience of less than 100 followers, the man who's "slingin' cheese, the only way I know how" according to his bio, provided a light-heartedness we wish we could've spread into every corner of the city.
Day after day, as people furiously tapped out angry notes directed at the governor, they mistakenly tagged @patmccroy. He answered the calls graciously.
On March 25, two days after HB2 was signed, one woman fired at him: "From NC and disgusted. Liars and crooks." To which our fearless creamery leader replied, "Sounds pretty rough in NC. Wish I could help."
In mid-April, the cheesemonger started to feel the pain of businesses and arts events pulling out of North Carolina. "@patmccroy And now it's Cirque du Soleil," a man named Fred Harvey tweeted at the person he thought was the governor. "Getting the picture yet? It's the 21st century."
To which our internet hero replied, "Nooo! I love Cirque du Soleil. You should probably bring this to the attention of @PatMcCroryNC."
Pat with one "r" answered as many people as he could, but the complaints only intensified as the election approached. No matter where you stand on the governor's politics, some of the things people said would make you cover your eyes. In this year when we saw the worst things happen to North Carolina, Pat McCroy, an unarmed and amiable cheese-lover, saw the worst from North Carolina. And as often as he could—with a bristly exception or two—he countered kindly. It's a little sad that, in this tense and emotional election year, it took a Midwesterner to bring civility to the conversations. But at least someone did.
When one woman snapped off a four-letter word to him in late September, he replied, "Still not the governor of North Carolina." When a man tried to take an ax to his character in August, Pat made the internet great again: "My pants have never caught fire, good sir."
I exchanged emails with Pat, and he gave me his phone number, but said it would be tough to get a hold of him because his workdays are pretty busy. We never did connect before the deadline for this issue, but in my mind I like to imagine it's because Pat McCroy was up to his elbows in dairy somewhere in middle America, getting ready for a joyous year without a gubernatorial election in North Carolina.
Looking back through his page recently, my favorite line was from April, when he tried to make real change, real progress, by tagging our governor in a note of his own.
"You are killin me here dude," Pat McCroy wrote. "Think you'd be up for going by your middle name?"
Pat McCrory never responded.