Editor's Note (Febuary 2019): Coming a Long Way
And a long way to go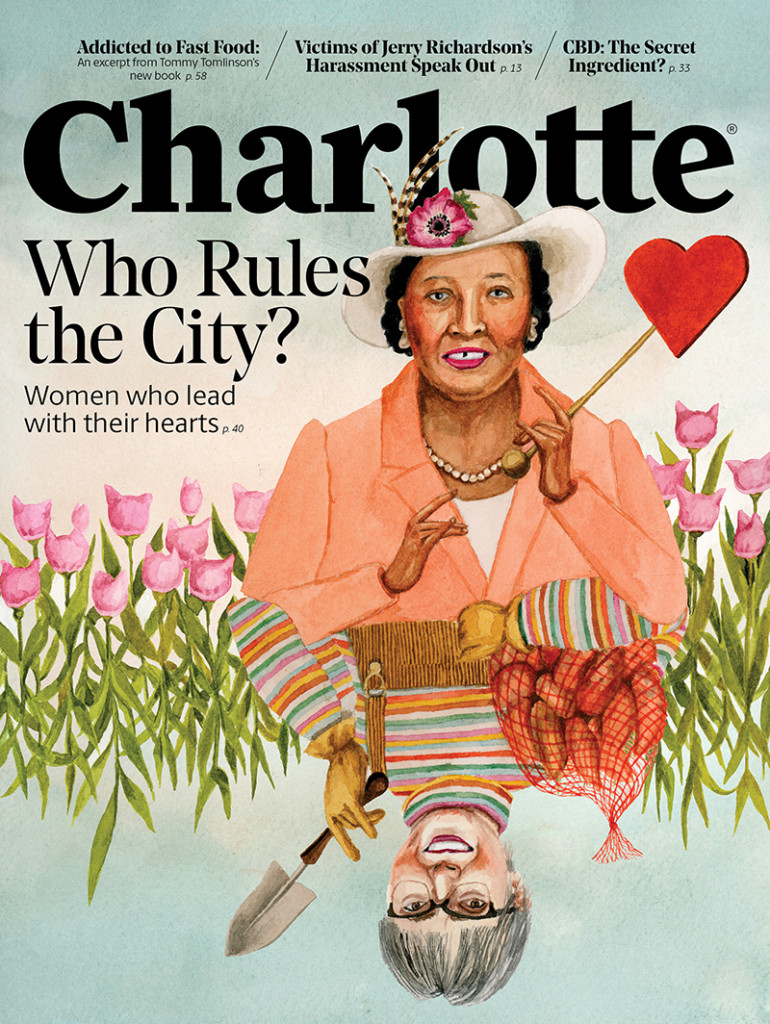 CLUMPS OF HAIR fall to the floor as Deborah Triplett buzzes off her brown locks with an electric shaver. Bright red lipstick frames her wide smile. "It feels so liberating," she shouts over the sounds of Janet Jackson's "What Have You Done For Me Lately." Triplett holds up a clump, takes a look at it, and says, "What have you done for me lately?" She shrugs and drops the hair to the ground as if tossing a piece of garbage into the bin.
On October 12, Triplett was diagnosed with lung cancer—one tumor the size of a lemon in her right lung, one mast in the center of her chest the size of a child's hand. The doctors showed her the X-ray—the mast's veins stretch like extended fingers—and gave her a 35 percent chance of survival.
"I'll take that chance," she remembers telling them. "My attitude is, 'I'm going to kick cancer's ass and get through it.'"
Triplett is a longtime photographer in the city who has worked with Charlotte magazine for about 10 years. What does a photographer do when she's about to lose her hair to chemotherapy and radiation treatment? Well, a photoshoot, of course.
A camera flashes as Triplett poses on a black stool in denim overalls and a red long-sleeved tee. She glides the shaver over her scalp until there's more hair on the floor than on her head. Throughout the entire video of the photoshoot, which she posted on Facebook in November, she keeps smiling. I'm still not sure how someone maintains her optimism in the face of a cancer diagnosis.
A smile is like a suit of armor. Like the saying, "kill 'em with kindness," Triplett is battling cancer with an army of pearly whites—and winning. Her progress stuns her doctors. She tells me in early January that the tumors have almost disappeared and that she'll soon be done with radiation and chemo. She plans to turn her bald head into a canvas, inviting friends to paint it and add designs in henna.
In this magazine, the issue we long called "The Women's Issue" because we couldn't think of a better name, live stories of resilience, optimism, anger. No common story or catchall title can encompass all women, thank goodness.
As I write this, the most diverse set of lawmakers in U.S. history is being sworn in. That's why this "Year of the Woman" was so meaningful—it wasn't just white women elected to public office in larger numbers than ever before; it was women of color, transgender women. That's what made 2018 different from the last "Year of the Woman" in 1992.
Emily Ethridge writes about this shift of representation in local politics here, but includes the women who have done political work for decades. They're women like Betty Chafin Rash, the third woman ever elected to the City Council and the first to serve as mayor pro tem, and U.S. Representative Alma Adams, who's on the cover wearing one of her trademark hats.
Here, Amy Rogers introduces us to four women fighting for food security in households throughout the city. They're not the policymakers but the women on the ground, picking turnips from the soil and delivering them to neighborhoods with limited access to fresh produce.
Taylor Bowler, Charlotte's associate editor, interviews talented black female chefs who are making a heck of a lot more than sandwiches in the kitchen.
There's also Viv Bernstein's piece, in which the victims of Jerry Richardson's sexual harassment ask why the former Panthers owner's statue remains outside Bank of America Stadium. The women signed nondisclosure agreements, so they're not named. Yet they're still brave to speak out. Reporting abuse and talking about its effects, even anonymously, is immensely difficult. They deserve respect for their courage.
These are all women who rule the city—whether they're making policy decisions, feeding entire communities, or speaking up for what's right. Or inspiring others with a brightly colored bald head and a big smile.