Editor's Note (June 2017): Winning Tickets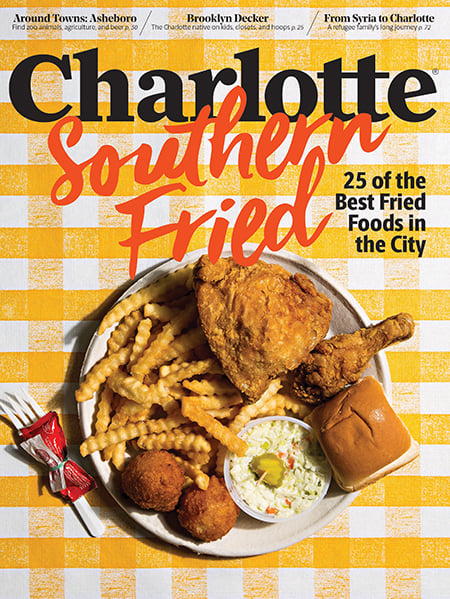 BACK IN 2004, I lived in a small town with a big lottery winner. He was a retired truck driver, and he'd stopped by a convenience store a few miles from his home one February afternoon to buy five tickets. When he read the winning numbers in the paper the next day, he told his wife, "Sweetheart, I've got those numbers." The entire $239 million payout, the largest in Mega Millions history at the time, was theirs.
But, "it didn't excite me all that much," the man would say later, so he didn't claim his prize immediately.
Our town of about 24,000 residents in Virginia's Shenandoah Valley went berserk for weeks trying to figure out who'd won. We side-eyed people on the street; we picked random squares of paper off the sidewalk, just in case. Our dreams were dashed when the man came forward six weeks after the drawing, on April Fool's Day. He held a press conference with a toothpick in his mouth. When a reporter asked the expected question—What are you going to do with all that money?—he was ready with his answer: He said he would use it to buy land, "because they don't make no more dirt, you know."
Luck paints the world with unpredictable strokes. I recently met another man who never smoked, barely drank, and ate healthy for 55 years before being diagnosed with head and neck cancer. He tried surgery, chemo, and radiation treatments and still it kept coming back. He was given less than a year to live in 2014, then enrolled in a clinical trial for a new treatment. It worked. He's still alive today, with no signs of cancer.
On the other hand, there's my aunt Mary Anne, my mom's youngest sister. Mary Anne fought off cancer once, but it came back viciously in March. She's the most spirited member of the family, a woman who had a tiki bar built in her back yard—and after it burned down a few years ago had the damn thing built again because you can't set fire to fun. Yesterday, while I was writing a draft of this column about the randomness of luck, my mother texted to say that her baby sister and best friend was being transferred to hospice care. At best, it's unfair.
Back in the fall, Jen McGivney emailed to say she'd like to write a story about refugees in Charlotte: Who are they? What do they do? Where do they come from? She started working on it in November. It was a hell of a project even then. But I remember one night in particular, January 28. I was over at Jen's house for a small dinner party she and her husband, Jim, were hosting. There were six of us there, listening to music and eating great food and drinking excellent wine. I brought a $17 pint of beer. It was one of those nights to splurge, one of those nights where we all were reminded how good we have it.
Six thousand miles away from Charlotte that night, a man Jen had never met sat in Jordan with his wife and four children, crushed by news that the United States had closed itself off to refugees from Syria. They were scheduled to fly out two days later. He'd done everything right. He'd fled his hometown of about 35,000 residents after his own government destroyed it, killing hundreds of citizens like him. To put it in perspective, that would be like the U.S. military invading a town the size of Mooresville. He spent his life's savings to get across the border to Jordan. Then he endured the four-year process of gaining refugee status, including countless background checks and paperwork. Finally, he moved to the front of the line and learned he and his family would resettle in Charlotte. They were ready for their January 30 flight to the U.S. when the bad news came.
The story goes on, though. After a judge lifted the executive order barring Syrian refugees on February 3, the family got on the first plane they could find. Jen met them in Charlotte two weeks later. And they became the focal point of her story on refugees and the roles they hope to play in our city.
It's a good exercise, I think, to remember where you were when someone else went through something major—good or bad. What were you laughing about, worrying about, forgetting about, at those exact moments? When the man in Virginia bought his lottery ticket, I was out on an assignment on the other side of town. When Mary Anne learned she was going to hospice care, I was writing this column on luck. When the man from Syria was stuck at the airport wondering if he'd ever make it to the United States, Jen was drinking wine and laughing with friends.
It's an exercise that reminds you that every moment is different for every person, and that with one twist of fate or luck at some point along the way, they could've been you, and you could've been them.