Editor's Note (March 2017): A City That Punches Up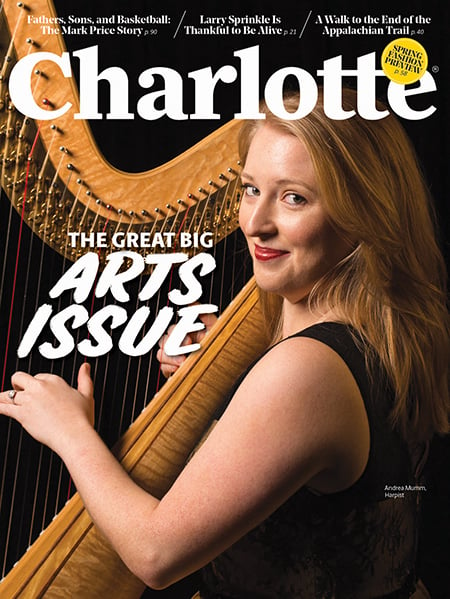 A FEW BLOCKS from my office window at this moment, a cloudy Friday at lunchtime, sad people are in line outside of a yellow brick restaurant in South End to mourn the passing of Phat Burrito.
In the same hour, we've received a curious package of samples at our door, from another restaurant whose financial future hinges on beans and tortilla wraps, this one a chain. The timing of the death of a local burrito restaurant and the pitch from a larger one could be pure coincidence, but on days like this, when a neighborhood favorite disappears, it's hard not to be a little suspicious of the corporation.
We're wired for this big-guy-versus-little-guy competition, especially in Charlotte. Skinny Steph Curry led little Davidson College to the Elite Eight and later became the NBA's MVP. At 5-foot-3, Muggsy Bogues dribbled circles around the NBA. We can't mention Hugh McColl without also saying that he's just humble Southerner from Bennettsville, South Carolina, who built the country's biggest bank; or that Jerry Richardson came from tiny Wofford College; or that Bojangles' started right here off of South Tryon Street.
In March, we have a feature story about Charlotte 49ers' basketball coach Mark Price, a small-town boy from Enid, Oklahoma, who became one of the NBA's best players in the 1980s and '90s. It's a terrific and thought-provoking story, and timely: This month also marks 40 years since UNC Charlotte enjoyed the most Charlotte of all Charlotte sports stories, when the quiet university built on a dairy farm created a lot of noise thanks to a team led by a player named Cornbread.
The basketball team had only recently moved up to Division I when Cedric "Cornbread" Maxwell led the optimistic 49ers into the 1976-1977 season. "If God isn't a 49er," he's quoted on the cover of the fall 1976 edition of Charlotte magazine, "then why is the grass Mean Green?"
That was a confident pitch for anyone in Charlotte at the time. The city was about 15 years into a growth spurt that continues today, but still, it was small—the population in 1977 was about 335,000. The following spring, though, Maxwell and the 49ers became the original Cinderellas of March Madness, knocking off Michigan—the No. 1 team in the country—in the regional finals to advance to the Final Four.
Five thousand people greeted the team at the airport after that game, and the city was all over the national news. ABC recorded a three-minute story that included soundbites from locals, all of whom had similar responses to the team's surprising success.
"It shows Charlotte's right up there with everybody else," one man said.
"It's a beautiful city," a restaurant owner said. "It just needs something like we've had happen here to wake up people to realize that."
The next weekend in the national semifinals, UNC Charlotte was tied with Marquette, 49-49, with three seconds left. Standing underneath his own basket, a Marquette player tossed an inbounds pass clear across the floor. Cornbread Maxwell was the first to touch it, but only with a fingertip, and the ball flipped into the hands of Marquette's Jerome Whitehead, who dropped it in as time expired. Many people in Charlotte still believe Whitehead didn't get the shot off in time, but the officials' ruling stood up against their complaints. Marquette went on to beat North Carolina in the title game, and Charlotte still waits for its day as a champion.
It seems like the city is constantly on the cusp of … something. That's certainly true in the local arts scene, which we explore in depth in the new issue. A few months ago, I had coffee with local Pecha Kucha founder Manoj Kesavan. He's a passionate defender of the underrepresented and an advocate for the arts "middle class." He, and many others, believe Charlotte has done well at providing a market for young upstarts and attracting big shows at places like the Belk Theater. But what happens to the middle, he asks?
I don't know the answer, but it seems that this question is the central question facing our city in 2017, in all arenas. We recognize now that we can't be a story of only of opposites: of rich and poor, big and small, Cinderellas and juggernauts. Finding the space in between will be what takes us from here to … somewhere.