Editor's Note (March 2019): Please & Thank You
The lesson five strangers and a shag carpet taught me about music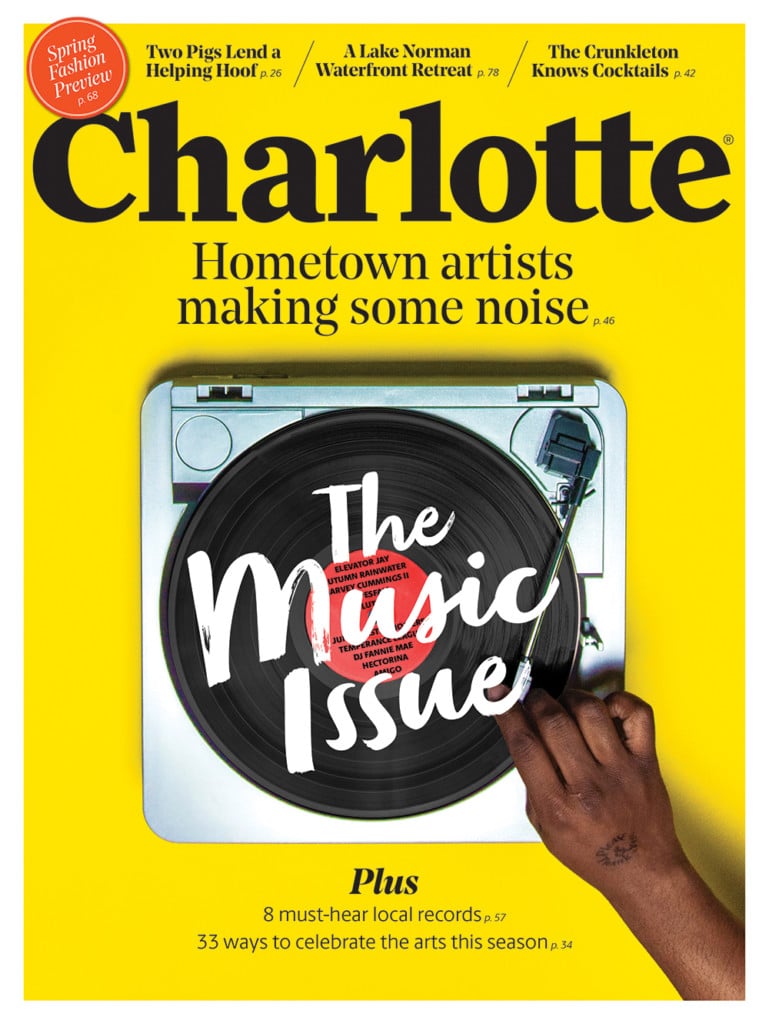 IS THERE anything promptu about seeing a show at Snug Harbor? For every band I've seen at the Plaza Midwood venue, it's always been a last-minute decision: If the set starts at 10:30 p.m., I'm calling the Uber at 10:28.
Spontaneity is also why I love Snug. The bartender asks, "What beer do you want?" I shrug and say, "Just give me whatever is cheapest." The friend I drag along asks, "What band is even playing?" I say, "Does it even matter? You'll love them."
A couple of days after New Year's 2017, I decide to go see a friend's band (Asheville-based Votaries, which has since stopped playing together). They're playing last, so I stand on the dimly lit dance floor and watch the two opening acts, Camp Howard and Shadowgraphs, and bounce on my right knee to the rhythm of the bass guitar.
Before Richmond-based Camp Howard's encore, the bandmates tell the crowd they're looking for a place to stay that night. Otherwise, the minivan they drove the four hours from Virginia in would be their bed.
Without really thinking, I offer the floor of my 900 square-foot, two-bedroom apartment in Plaza Midwood that I share with a roommate. A few hours later, five guys in their early 20s carry bundles of blankets and pillows up the two flights of stairs, plop onto my living room floor, and fall asleep. They're gone by 9 a.m. the next morning—leaving a single packet of Earl Grey tea on my kitchen counter and a thank you note.
I've now had Camp Howard—or at least parts of the band—grace my carpet three times. The group taught me more than just Southern hospitality, a concept that's relatively new to Delaware-raised me. These five strangers taught me what it takes for a local music scene to survive.
Charlotte, in its obsession with banking and entrepreneurship, has never been known for having a vibrant arts landscape. As I started my research for our music issue, I thought, maybe we're just collectively missing something? Maybe we're just not paying enough attention to our hometown artists.
This past year has been a great one for music. WFAE, Charlotte's NPR station, produced Amplifier, a podcast about the city's music scene. Charlotte Center City Partners and AvidXchange launched Music Everywhere, an initiative that aims to strengthen and promote local music. Amos' Southend reopened two years after its closure. Rocker-at-heart Eddie Z celebrated 25 years in the musicians' rehearsal space he's created. And dozens of local artists released new albums that are so good, you might assume they emerged from a vibrant music mecca like Nashville or Atlanta.
We've also seen music landmarks like the Excelsior Club, a venue where Louis Armstrong and Nat King Cole once performed, threatened with demolition. Our cover story is about Charlotte's thriving hip-hop scene, but in her research, writer Allison Braden learns just how difficult it can be for artists to find a stage that's welcoming. Here, Michael Graff takes us to Montgomery's Legacy Museum and lynching memorial on a music-filled bus with 50 other Charlotteans. He writes of music's power to examine the South's painful history. All the music in the world can't fix everything, though.
Before entering a show at Snug Harbor, a bouncer checks IDs and marks hands with a stamper the size of a can of soda. "Please & Thank You," it reads.
At the end of any good show, concertgoers scream at the stage: "Encore! Encore!" They're practically begging for more music. What if we all tried "thank you" and "please" instead? Bands usually return to the stage, wave, and play a couple of more songs regardless of what we shout, but maybe a little more gratitude would help our music scene really boom.