Editor's Note (November 2016): A Week in September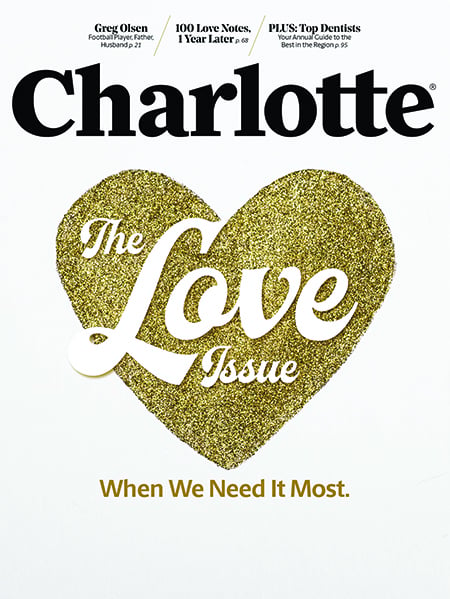 I HAD ANOTHER BUNCH of words written here about a week ago. But that was before.
They were half-decent words, too, about a very decent man, our publisher, Richard Thurmond, who helped build Charlotte magazine into what it is today. Rick's leaving the magazine for a new job, a good job, after 21 years, and he deserves all the praise that's been heaped upon him since he made the announcement.
I've learned a lot from Rick, but nothing more than this: Charlotte is a city that moves forward, and if you're a person who likes moving forward, you'll love living here. Who wouldn't want to be a part of that? Optimism. Hope. Prosperity. When Rick offered me this job, his old job, in 2013, I said yes, bring all that on. But that was way before.
You can't work at this magazine without loving Charlotte. Kristen Wile, our senior editor, came here after working at The Washington Post. Contributing editor Greg Lacour lived in New Orleans and Nashville, both widely recognized as more culturally interesting Southern cities than shiny Charlotte. But he's grown to love it here. Contributing editor Andy Smith lived in West Virginia when he and his wife decided they wanted to move to whatever city felt most welcoming to them. Charlotte was here, arms open. Photographer Logan Cyrus grew up in Ohio, served in Fallujah during the Iraq War, and has been here for nearly a decade. Jane Fields, our art director, has lived in Hawaii for crying out loud, and she loves it here more. Katie Gates, our associate art director, is from Iowa. She misses cows, but she loves it here, too. Associate editor Adam Rhew grew up here. He doesn't have a choice.
I spent my first 17 years in Maryland, and my brother still lives in Baltimore. In April 2015, I sat in my Plaza Midwood condo and cried watching the events that followed Freddie Gray's death, when Baltimore residents, furious over unanswered questions about another black man dying at the hands of police, took to the streets and burned down a CVS and tossed rocks at cops. Baltimore, to me, is one of the most complex and interesting cities in the country, with blocks of poverty right next to blocks of affluence. It's a gritty, tough, passionate place with many warts and callused hands—and crab cakes everywhere. None of that showed up in national television coverage. Whenever I mentioned the idea of visiting Baltimore to my Charlotte friends, they reacted with chills: You're going where?
Underlining their bias toward Baltimore was a bias toward another place, this place—and the belief that what happened in Baltimore would never, ever happen in Charlotte. But that was before.
This past week, while we were on deadline with "The Love Issue," a Charlotte-Mecklenburg Police officer shot and killed a black man named Keith Scott in the University City area. Within hours, protests led to water bottles and bricks being flung at officers, and a fire broke out on Interstate 85. The next night, Wednesday, a man named Justin Carr was shot to death during a demonstration in uptown. Protests carried on through the weekend, and criticism of our city's leaders grew more pronounced every day as images of the unrest went around the world. My brother texted one night: "It does remind me of Baltimore."
Our team—all those people mentioned earlier— responded with grace and gumption, not only providing thoughtful perspective and images of the events on our website, but also making sure we made deadline with the November print magazine. To quote an email from Greg, "I'm proud as hell to work with all of you." Same here.
I'm writing this on the Monday after. I don't know what will happen between the time we send this to the printer today and the time you see the magazine.
But I do know that this was Charlotte's turning point, the moment when we went from an innocent, uncertain teenager to a complex adult with flaws that run deep. We've written about those flaws before. Half our schools are segregated by race. In some neighborhoods, you can go a full day without seeing a white person, and in other neighborhoods, you can go a full day without seeing a black person. We are a city where statistics show it's nearly impossible for a child born into poverty to rise out of it. This week didn't happen this week. This week happened when we were kids.
Getting old is hard, but it's the only way forward.
---
This article appears in the November 2016 issue of Charlotte Magazine
Did you like what you read here? Subscribe to Charlotte Magazine »
---