Editor's Note (November 2019): Friends You Can't Forecast
Regardless of weather, travel's payoff shines in the people you meet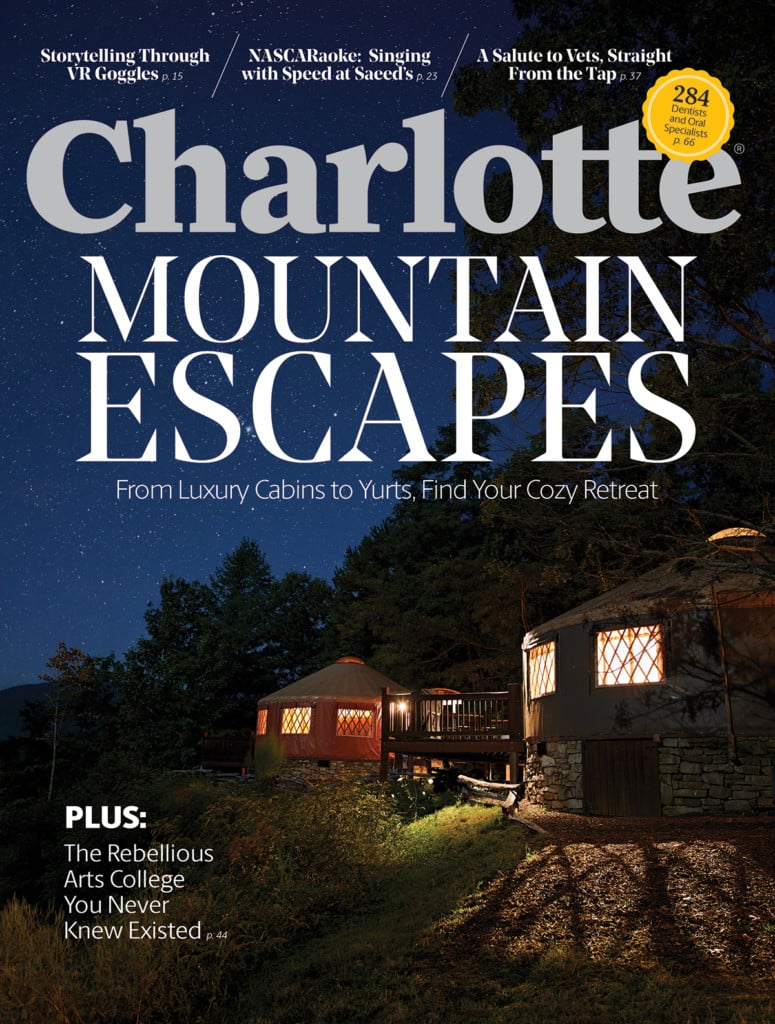 THE FIRST SNOW I experienced in Charlotte was in January 2016. It was the biggest snowfall of the year; three whole inches covered the city streets, and icicles formed on the branches of deciduous trees along Queens Road.
I had flown into Charlotte Douglas International the day before, hoping to escape the worst of the storm up North. (The same blizzard dumped up to 16 inches in my home state of Delaware.) I was still deciding if I wanted to move to Charlotte, so I planned to visit a museum or a new brewery and tour a few apartment complexes. Maybe in the neighborhood people called "No Duh"?
But Charlotte was closed. No tours today, apartment managers told me. Restaurants and museums posted on social media that they'd return tomorrow or the next day. Besides TV vans, the frosty streets were empty.
Thankfully, Free Range Brewing was open. The Villa Heights spot was just six months old—the taproom was pristine, and the board games were intact. A family with kids played in the corner, and a few others who had walked there in sweaters and muddy boots sat on bar stools and sipped from pint glasses. For a few hours, I sat inside with friends—some old, some new. We talked, sipped stouts, and watched the snow pile up on the decorative tractor in the parking lot.
That afternoon, cozied up inside Free Range, I could see a life in Charlotte. I could see myself as a regular on those bar stools or supervising my future children as they played Jenga. It wasn't the shiny skyscrapers or thriving banking industry that made me want to live here. It was the people.
In this month's issue, our team heads to five high-altitude destinations for our mountain getaway guide. Writer Anna Van Erven looks into winter activities in Beech Mountain. Senior Editor Greg Lacour "glamps" in a yurt outside Bryson City. Associate Editor Taylor Bowler lets her son lead the way in Jonesborough, Tennessee, and I seek out wine in Murphy and a fun trek around the curves and dips of a Haywood County highway.
As we reported these pieces, it wasn't the attractions or the views from the Blue Ridge Parkway that captivated us. It was the people that made these destinations feel warm, like home.
Whenever I road-trip to a new town, I set an itinerary, make reservations at a local restaurant or two, and pack clothes that align with the weather forecast. This ensures I get to experience what I came there to see and do, but it's the unexpected people I meet along the way that stay with me.
On my trip to Maggie Valley, those were my hosts, Tom and Sue Knapko, whom you'll meet on page 60. As we finished up this issue, I got a postcard in the mail. On one side was six pictures from my visit. On the other, this message: "Thanks for staying with us. We look forward to your next visit. We hope you enjoy this 'fridge pic!!!'" Signed, "Tom & Sue." I grabbed a magnet and added the glossy card to the front of the mini fridge in my office.