Editor's Note (Oct. 2017): Shared Habits
Let those you admire most influence and inspire you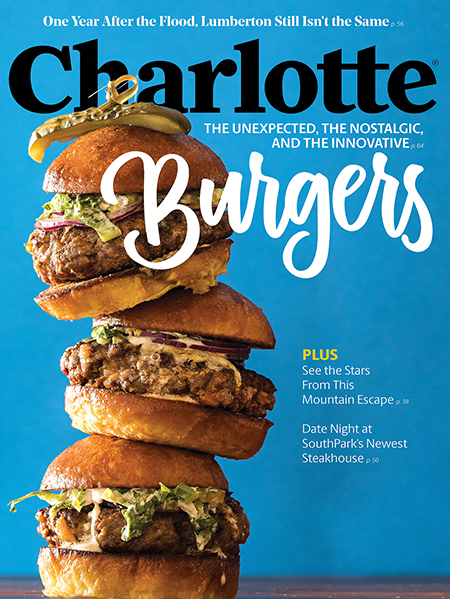 AS I SIT HERE, trying to find words worthy of following Michael Graff's, I'm clicking my pen incessantly. Michael stepped down as editor of Charlotte in August to pursue a fulltime writing career, leaving the magazine in my hands. That means this space, where Michael used to tell stories that inspired and enlightened us, is in my hands, too. No pressure.
I never used to click my pen. The sound irritated me. I'd hear it coming from Michael's office, three cubicles away. Click, click. Click, click. Sometimes he would do it with his mouse, too. Click, click. Click, click. I'd pop my head in to see if the distraction might get him to stop. He'd be sitting there, elbows on his desk, pen in his right hand, up near his chin. His thumb was in constant motion, up and down, Michael looking at his computer as though he was waiting for the words to form—just as I'm doing right now.
I suppose we pick up habits from the people we admire, and there is a lot to admire about Michael. His willingness to share his gift for storytelling with younger writers has shaped many careers, including mine and that of Adam Rhew, who was promoted to senior editor at this magazine. Adam was always a talented journalist, but Michael's careful leadership helped him become an award-winning writer after a career in TV. When you read Emma Way's story about Lumberton and the town's hopes for recovery one year after Hurricane Matthew, you'll think you're reading something by a writer with decades of experience. Emma's in her early 20s; this is her first feature in the magazine, written with guidance from Michael.
Of course, I've learned a lot more than an annoying habit from my former boss, but this new nervous tick just shows how much a person's influence can saturate us—and how important it is to surround ourselves with people who have a positive one.
It's a difficult time in our city, in our state, in our country. We could all benefit from surrounding ourselves with Michaels, people who always question how they can make the world a better place, starting right here in our city. As always, you will find those people in this magazine.
Stefan Latorre's morning radio show answers questions from Latinos unsure about their legal rights. From him, we can learn to understand the fears of others. We can care about all children, not just our own, as Charlotte-Mecklenburg Schools bus driver Linda Reid does. After spending time in Lumberton learning about what it was like to lose everything in just a few hours, Emma drove back up there on a weekend, bringing with her bedding and supplies to help one of the women in her story move into a new apartment. We'd all be better off with some of Emma's empathy. Maybe you picked up this magazine because of the burgers on the cover. But you're here, reading about all these people worth admiring.
How will you let them influence you?