Editor's Note (September 2016): Funerals and Weddings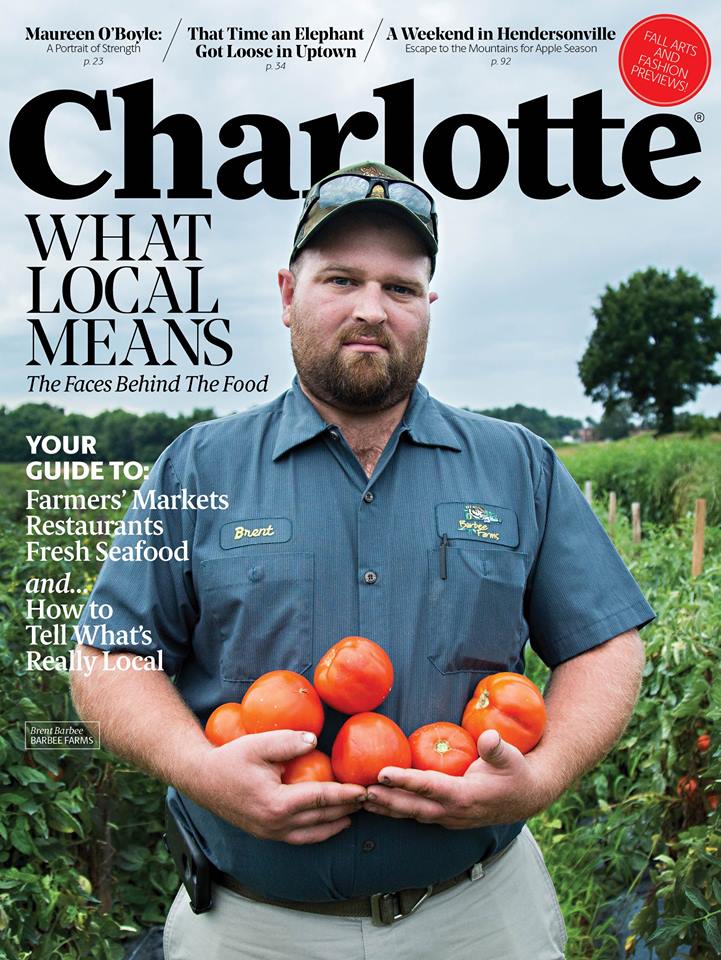 THE FUNKY PLACE that never closed was set for demolition, but they decided to get married there anyway. Two months before the big day, she ran the Big Sur Marathon in California. At mile 23, there's a famous fountain where runners stop and eat strawberries. For some reason, the strawberries made her feel sick. She pressed on, though, and when she reached the finish line, he was waiting with a Diet Coke and a sign. On the sign was a picture of their three animals, two tabby cats and an Australian Shepherd—B.B., Sophie, and Snoop Dogg (the dog).
"These guys want me to ask you to marry me," the sign read.
"I need to keep walking or I'm going to throw up," was her answer.
Her stomach settled eventually and she said yes. That's how Bob Nixon and Melissa Bell got here, the back patio of the Common Market in South End, on June 9, 2016, their wedding day. He's 58 and she's 34 and they have everything in common except that. They're cyclists and runners and friends. They met at a marathon 12 years ago and started dating right away. They oversaw the opening of the Inside Out Sports store in South End in 2007.
The Common Market South End opened six months later. They became regulars and pals with the staff and owner Chuck Barger. So when they asked Barger if they could get married there, it was no surprise that he said yes. It was also no surprise that he said the store had to remain open during the ceremony.
The groom wore orange shorts and a black T-shirt with a tuxedo outline; the bride wore an orange dress. She's from Colorado and became an Oregon State Beaver. He's from Gastonia and became a fan of orange and black KTM motorcycles. They both root for the Denver Broncos.
The couple had about 70 guests at the wedding, from wannabe rappers to motorcycle buddies to the bride's parents to their 99-year-old neighbor, Edna Hilton, who chugged a beer out of a pint glass that read, "Craft Be Cherished; Rules Be Damned."
Every guest wore a small badge with a picture of Bob and Melissa's other cat, Wee Cat, who died in January. A Wee Cat badge was a guest's ticket to the open bar. If you had one, you drank free. If you didn't, you were an extra on their big, orange wedding day—the smokers and the sober ones, the wallet chains and the money clips, dresses and jeans, black and white, gay and straight. Barger and his business partner, Blake Barnes, built this place for everybody. It's a store with hats for cats, dark roast coffee named Sexy Power, a Sexy Power stamp on your deli receipt, and T-shirts with Team Sexy Power on the front.
Despite the vows this place made and the vows made in this place, no business opens without closing, and nothing stays sexy forever, at least not in the same way.
This month, we unveil the new Charlotte magazine. Our art team, led by Jane Fields, worked on the look for nearly a year. Jeremy Mickel, one of the country's leading experts on fonts, developed the new "Charlotte" nameplate on the cover. We changed the structure to better reflect the city: The Buzz, with in-the-moment stories, is first. The Good Life, a lifestyle section about making the most out of living here, comes second. Food and Drink now sits third in the lineup, followed by the features, followed by comprehensive guides to what to see and where to eat this month, followed by Ron Stodghill's back-page column, Last Call.
We're sending this issue to the printer on a Friday, July 29. The Common Market's last day is tomorrow, the 30th, as it makes way for a new development. Some people call the closing a sign of a neighborhood losing its character. Barger called it a "season finale, not a series finale." Still, regulars are treating it like a funeral.
Bob, funny enough, once helped his dad run a grading business, clearing land and trees for new development. Now he manages the Velodrome in Rock Hill, a bicycle course where people pedal in circles. Melissa just took a new job as a clinic coordinator in the cancer center at Novant Health. "Nothing's changed," Bob told me in July, "except, I guess, my love has really deepened for her. I just feel like there's something else in the room about us now."
Maybe you wouldn't have held your wedding at the Common Market. Maybe you think it's a silly story in a silly place in a changing neighborhood where most residents are from somewhere else. After all, the Common Market South End was only open for eight years. The show Cheers ran for 11.
But a place can mean whatever you want it to mean, and that Thursday evening in June, a couple of modern-day American fitness expert hippies said their vows here. After the reception they gathered some guests for a group jog, a few dozen people a few beers deep, and they all went running out of their dying hangout wearing a button of a tabby cat on its second life.
---
This article appears in the September 2016 issue of Charlotte Magazine
Did you like what you read here? Subscribe to Charlotte Magazine »
---