Editor's Note (September 2019): The Day I Started Up With NASCAR
The King of racing reinforced the lesson: You learn sports through their people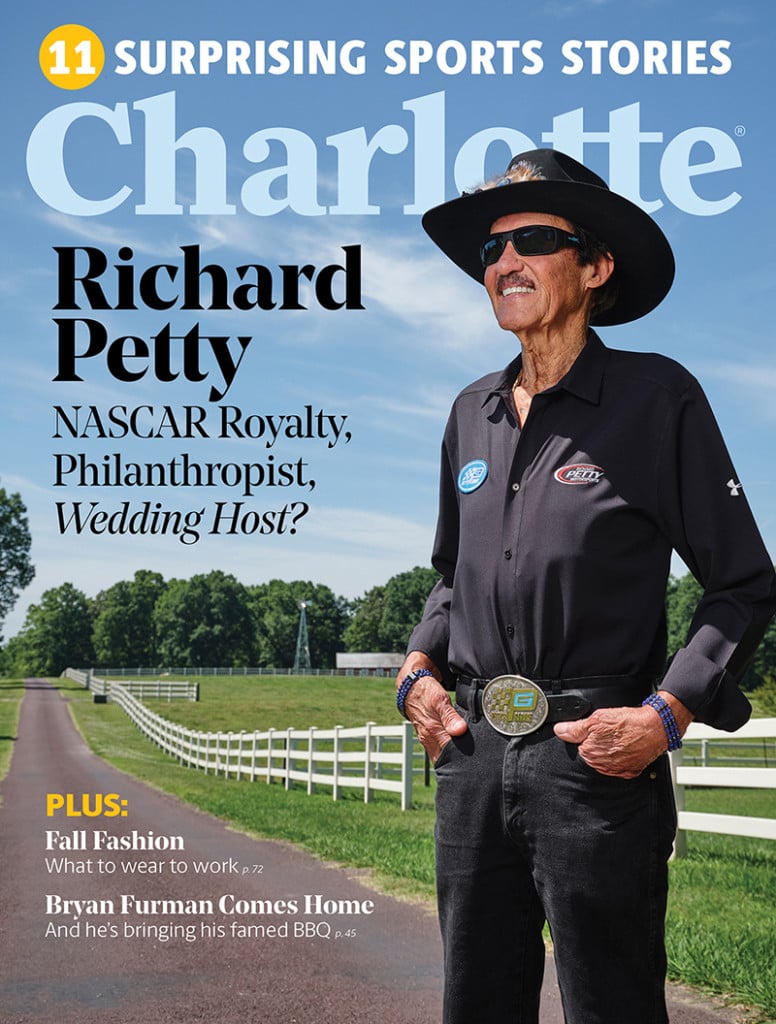 I SAW MY FIRST STOCK CAR RACE this May at Charlotte Motor Speedway. It was an INEX U.S. Legend Cars race, a smaller event two days before the big Coca-Cola 600. A crowd of about 15 watched with me in bleachers that could have fit 92,984 more as the starter waved a green flag—go!—and then, a lap later, a yellow one.
"What does that mean?" I shouted over the buzz of engines to James Bickford, a 21-year-old, semi-retired stock car driver and entrepreneur who invited me to see his client and friend, rapper Joey the Kid, race. "Caution," he explained. "It's like a yellow street light. The drivers have to slow down while they clean up debris."
I'm glad I asked, because this happened at least 20 more times in the four races we observed. At each yellow flag, we'd speculate over who'd pull ahead and win. I bet on a white, boxy car—I thought it looked like Herbie—with a driver who at every break swung his door open and fanned it to circulate the air, as if he was waving a massive palm leaf on some remote beach.
The white car didn't win, but that afternoon, racing won me over.
About a year and a half ago, I didn't even know who Richard Petty was. I met "The King" in June 2018 on a press trip in the "Heart of N.C.," a region about 90 minutes northeast of Charlotte. The Heart of N.C. includes Randleman, where Petty lives and operates, among other things, a wedding venue called Reverie Place. When I saw his name on the itinerary for our Saturday dinner, I shrugged and focused on the meal—"barbecue, hushpuppies, baked beans … banana pudding, and sweet tea!"
Over dinner that night, a lanky 6-foot-2 man in a black, feathered cowboy hat ambled over to the pavilion where I ate with a group of journalists and bloggers, Randleman town officials, and Petty's two daughters, who manage the venue. A few people put down their banana pudding and went over to shake his hand or politely ask for a photograph. He didn't say much, mostly just smiled and nodded at his guests. Eventually, I asked for a picture, too.
A few months ago, while we were planning this issue about athletes off the field (track, court, rink, et al.), I pulled out the picture I took with Mr. Petty and suggested we write about Reverie Place. Jodie Valade, who knows much more about sports than I do, drove to Randleman to interview the 82-year-old and his daughter about the wedding business. Rusty Williams photographed Petty on a hot June afternoon in direct sunlight. (Petty usually wears sunglasses, even indoors, but he needed them that day.)
When Jodie asked him about Reverie Place, Petty made way for his daughters to explain the details. That's in part because he doesn't handle day-to-day operations, but it's also who he is: soft-spoken, charming, and—aside from his trademark hats and belt buckles the size of bumper stickers—humble.
This issue is full of people like that—athletes and pitmasters, philanthropists and business owners. I hope their stories make you fans of people you never knew about before, and sports you may have ignored.