Editors' Picks: National Sandwich Month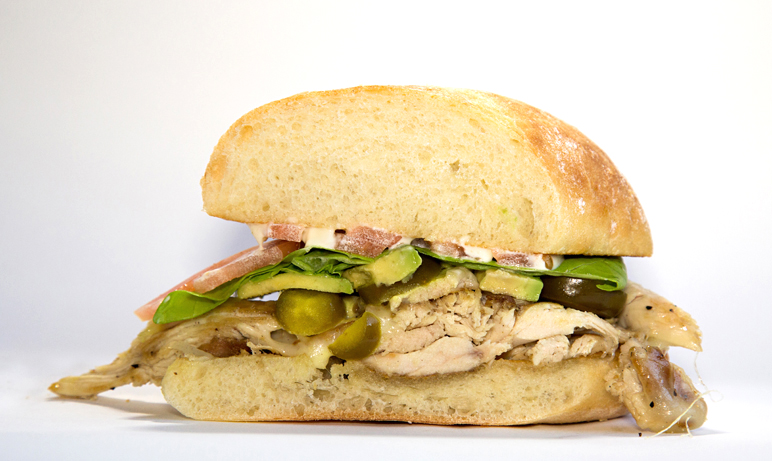 What makes a sandwich good?
Is it its parts or is it the sum of its parts? Is it the bread or can a wrap be a sandwich, too? Is it the memories enveloped in it, a certain sandwich packed by Mom in a lunchbox each day? Or is it the innovativeness, the newness, the novelty of having never tasted something so delicious between two pieces of bread?
Whatever it is, it wasn't hard to find our favorite Charlotte sandwiches. August is National Sandwich Month, so we're toasting to our favorites here.
Bean: Cheesesteak hoagie
As a vegan, it's sometimes hard to find unique sandwiches. (How many portabello melts can one really eat?) Bean creates a vegan Philly cheesesteak with seitan, vegan mozzarella, and mayonnaise. It's messy, gluttonous and all that a sandwich should be. (Honorable mention goes to Common Market's chickenless salad if for no other reason than because I haven't found vegan chicken salad sandwiches anywhere else in town.)
Jared Misner, writer
Pickled Peach: Ham sandwich
I don't usually get very excited about sandwiches, but I love the ham sandwich at the Pickled Peach in Davidson. It's served on grilled challah and topped with ham, brie, and pickled peaches.
Allison Hollins, general manager
Sunflour Baking Company: Egg, bacon, and cheddar sandwich (the No. 4!) on a cheddar biscuit.
It's enormous and the egg comes in a weird, pre-made square, but it's so rich and cheesy (ordering it on the cheddar biscuit is key!) and delicious. It's often a special Sunday treat, and when I have one, I don't have to eat for the rest of the day. (Honorable mention goes to Deli St.'s Thomas Ave. wrap because it incorporates four of my all-time favorite foods: hummus, avocado, artichoke, and olives. Heaven.)
Jodie Valade, writer
Deli St: St Julien
The bolillo roll is so soft and warm you could curl up in it on a chilly November evening. But you won't be alone. Prepare yourself for a fellowship of quality Italian cold cuts, creamy provolone, mixed with fresh lettuce, tomatoes, onions, and roasted red peppers with a splash of oil, vinegar and oregano. Honorable mention: The Cold Sicilian at Rhino Market. It's totally worth fussing through the 7 miles of butcher paper it's wrapped in.
Logan Cyrus, photographer
Crispy Bahn Mi: #1 Crispy's Favorite
Fresh, a little spicy from the jalapeños, and, of course, crispy, this sandwich is my favorite in the city. And it's only $4.95. I once overheard someone asking for ketchup here; don't be that guy. (If you had asked me before Owen's closed, I would have said its Angry Steve sammy. R.I.P.)
Emma Way, editor
Sunflour Baking Company: Egg, cheddar, and avocado sandwich
Get this breakfast sandwich on one of Sunflour's warm cheddar biscuits, and there's no way you'll have a bad day. It's big enough that you can save the second half for lunch.
Taylor Bowler, associate editor
Poppy's Bagels: Pork roll, egg and cheese sandwich
As a Jersey boy, I grew up eating these every Saturday morning. I was thrilled when Poppy's started making these — although they call it Taylor Ham. (They're from North Jersey, and I'm from Central Jersey where it's called Pork Roll.) It hits all of the important things you need in a Sammy; it's meaty, eggy and cheesy. and it's on a bagel! Not just for breakfast anymore.
Honorable mention is split between Duckworth's cheesesteak and Sandwich Max's Max'd Out.
Peter Taylor, photographer
Rhino Market: Hot Roast Beef
"Hot Roast Beef" isn't the most elegant name of this bunch, but this isn't a list of twists on confit d'oie. Rhino packs a ciabatta bun with beef, cheddar caramelized onions, mayo, and banana peppers. It's a simple, yet rich concoction: If an Arby's roast beef is in mono, this Rhino Market sandwich comes through in 5.1 Dolby digital surround sound.
Andy Smith, digital content director
Brooks' Sandwich House: Cheeseburger
In truth, a few places in Charlotte may prepare burgers that are, in some technical sense, "better." But nothing satisfies like the glorious, wax paper-wrapped mess Brooks' has served since 1973 from a modest hut on North Brevard Street. You get a patty (or two) hot off the griddle, plus Brooks' homemade chili, onion, and mustard, and shower afterward.
Greg Lacour, senior editor