Editors' Picks: Our Favorite Cocktails in Charlotte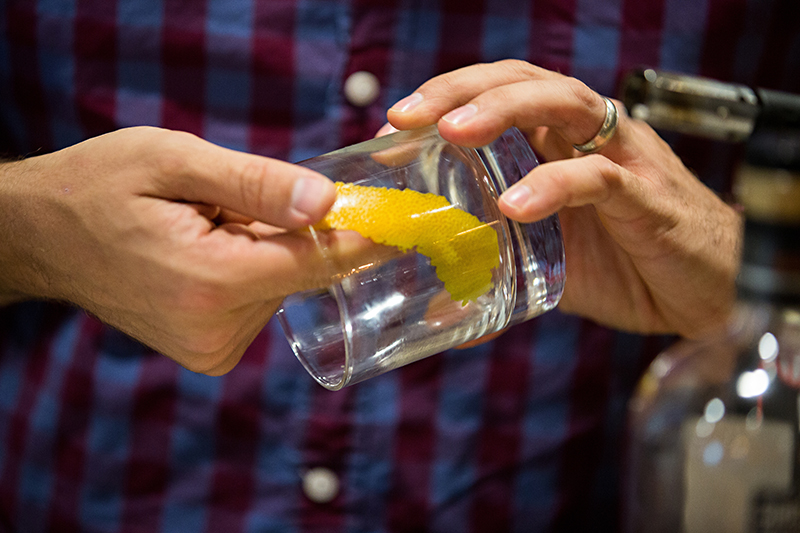 SUNDAY MIGHT be Mother's Day, but don't let that overshadow the obviously forgotten, yet also important holiday of World Cocktail Day on Saturday. Yes, on Saturday, the world hoists its martini, coupes, margarita and highball glasses to the cocktails that burn our throats and soothe our souls.
To celebrate the day, Charlotte magazine staffers and contributors share the Charlotte cocktail they'll drink to celebrate this Saturday.
Cheers, Charlotte.
---
"I'll take the Soigne West at Kindred over any drink in the city. But I'm currently on assignment in Cuba, so chances are I'll be on the hunt for the city's best mojito when I get back."
Adam Rhew, associate editor
---
"If you can find a stronger or cheaper cocktail than the gin gimlet at Thomas Street Tavern, I'll buy you that drink."
Jared Misner, writer
---
"I'm a simple fellow, so I'm generally in awe of most craft cocktails I've had in this life. Haberdish, Dogwood, the Punch Room, Stagioni — the bars at these places never disappoint. But truthfully, my favorite cocktail is Green Spot Irish whiskey on the rocks, mixed with a book or good friends, on my front porch."
Michael Graff, editor
---
"The Dark and Stormy at Sabor is the king. I know this because my family goes to Sabor's Taco Tuesday every week. But because of this holiday, we must also have a Taco Saturday this week."
Andy Smith, digital editor
---
"Amanda Britton, mixologist at 204 North Kitchen & Cocktails, makes the best Old Fashioned I have had since I left Atlanta."
Garrett Heaberlin, publisher
---
"I like bourbon. I once asked Bob Peters at The Punch Room for his best bourbon cocktail. He grab(bed) a glass, dropped in an oversized hunk of ice, poured the bourbon over it and handed it to me. 'Nuff said."
Peter Taylor, photographer
---
"Does the $5 well whiskey and tall boy Pabst Blue Ribbon at Dish count as a cocktail? If not, I had a (couple) wonderful Negronis at The Cellar (at Duckworth's). I feel like the plural form of Negroni would still be Negroni."
Logan Cyrus, photographer
---
"While I write about beer day in and day out I can appreciate a good cocktail. And that, my friends, comes in the form of Some Pig at Halcyon. It starts with Makers 46 washed in bacon fat (!!) with orange bitters, maple syrup and a pinch of kosher salt. Oh, and it's served with a piece of bacon in the drink. Incredibly well done."
Matt McKenzie, writer
---
"Tough to beat a gin and tonic at (where else?) Gin Mill, especially if you're going rooftop on a hot day."
Greg Lacour, writer
---
"My favorite cocktail is from Dogwood Southern Table & Bar, where (my husband) Jon and I drink on a nearly weekly basis. It's called celery lemonade, and it's my favorite because I don't love celery or lemonade, but I can't get enough of this drink, made with gin. It's refreshing and flavorful and I love being surprised."
Kristen Wile, senior editor
---
"Adam stole my favorite (Soigne West at Kindred), so my next choice is The Banker from 204 North Kitchen & Cocktails, which is essentially its Old Fashioned. It's not too sweet, and (it's) a perfect drink for a cold weather, cozy cocktails kind of night."
Katie Gates, associate art director
---
"I typically drink wine, but a margarita at Sabor is unavoidable on $4 Fridays!"
Jane Fields, art director
---
"More Than Words from Colleen Hughes at Haberdish, (is) a riff on one of my all-time favorite cocktails, the Last Word. This one is made with yellow instead of green Chartreuse, lemon instead of lime and a citrusy Cocchi Americano Bianco instead of maraschino liqueur. It's light, bright and perfect for heading into summer. A close second would be the Margarita Jalapeño from Comida."
Cat Carter, writer