Educate Your Palate, Moulin Mint, Disco for Diabetes and More, Nov. 12 to Nov. 15
Galas, balls and discos, oh my! Charlotte's got a lot this weekend.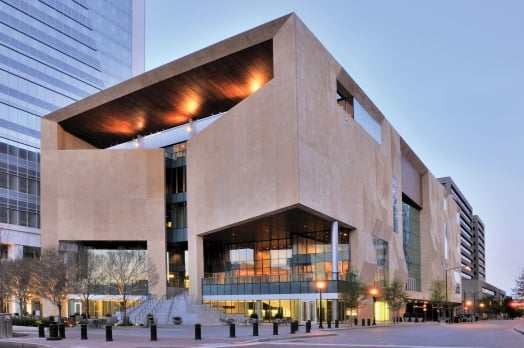 Friday the 13th is here, and, fittingly, we've got some scary-good happenings here in the Queen City this weekend. We're talking galas, balls and discos, oh my. Enjoy this beautiful weather and go have some fun, Charlotte. See y'all out there!
Thursday, Nov. 12
Educate Your Palate
While the kids are the stars of tonight, this event is really for the adults. Professional chefs are paired with "junior chefs" (Read: kids) tonight in a cooking event all to benefit Classroom Central. Tickets are $125 and include cocktails, beer and wine. The evening is from 6 until 9 at Discovery Place, 301 N. Tryon St. Buy your ticket here.
Friday, Nov. 13
Twenty-One Dreams Under the Stars Gala
The Bechtler Museum of Modern Art hosts this fancy-schmancy gala, and you're cordially invited. This gala benefits the Down Syndrome of Greater Charlotte, and your ticket includes heavy appetizers, two free drinks, a silent auction and more. Tickets are $80 to the party that begins at 6 p.m. and lasts until midnight at 420 S. Tryon St. Buy tickets here.
Moulin Mint
Journey back to 19th-century Paris with the Young Affiliates of the Mint for Fall Ball 2015: Moulin Mint. This annual ball celebrates the "golden age" of the City of Lights. This black-tie affair includes French food, an open bar, live music and access to the Mint's galleries. Tickets are $100 for members and $120 for nonmembers. The party begins at 8 p.m. at the Mint Museum Uptown, 500 S. Tryon St. Buy your ticket here.
Ja Rule at SUITE
Remember Ja Rule? No? Well, he's at SUITE tonight anyway. Doors open at 9 p.m., and cover is $20. The show is at 210 E. Trade St. Buy tickets here.
Friday the 13th Balloon Drop
Superstition says this night is supposed to be bad luck. Let's hope not because Whisky River is dropping $1,300 in cash and prizes from the ceiling at 12:13 a.m. The event is free, and you could walk out a whole lot luckier. The balloon drop is at 210 E. Trade St.
Saturday, Nov. 14
Carolina Renaissance Festival Party Bus
If jousting and ale weren't enough for you, how about we add a party bus to the mix? Talk about a designated driver. The bus meets at Bonz Smoke and Taphouse, 2100 South Blvd., at 11 a.m. and leaves at 11:45 a.m. An $18 ticket for one or $32 pair of tickets gets you entrance to the festival, a bus ride to and from and liquor and beer on the bus. Buy your tickets here.
Disco for Diabetes
Throw on your bellbottoms and grooviest garb for a disco night to support the American Diabetes Association of Charlotte. Turn back the clock tonight at Roxbury,116 W. Fifth St. Groovy, baby!
Beer, Bands and BBQ Bash
This alliterative party helps support Care Ring, a local nonprofit that provides health care to low-income Charlotteans. If the beer, bands and barbecue weren't enough, that's surely reason enough. A $25 ticket buys you two craft beers from Triple C, a souvenir cup and photo and live entertainment from two acts. Triple C is even brewing up a special beer just for this event. The bash is from 5 p.m. until 9 p.m. at 2900 Griffith St. Buy your tickets here.
Strange Brew
Unknown Brewing hosts this competition between local breweries that challenges the brewers to "compete against one another by brewing, filtering or infusing the strangest beers ever created." A $20 ticket gets you entrance into the contest, free "strange" food and beer for the evening and access to the live music all night. The evening starts at 6:30 at 1327 S. Mint St. Buy your ticket here.
Sunday, Nov. 15
Rural Hill Oyster Roast
Ready to have a shucking good time? Rural Hill hosts its oyster roast today with $10 baskets of roasted oysters, live music, bonfires and hayrides. The event is free, but oysters have to be claimed before you come. Rural Hill is at 4431 Neck Road in Huntersville. Claim those shellfish here.
Panthers vs. Titans
Carolina plays in Nashville today at 1 p.m., but that's no excuse to not cheer on our team. Here are two bars serving up great specials to help you enjoy the game.
Jack Beagle's
This NoDa spot serves breakfast from 9 a.m. until 1 p.m., so if you time it just right you can score the tail end of breakfast before the game starts. After the game, feel free to indulge in $6 double Blood Marys or $3 tallboys of Pabst Blue Ribbon and Miller High Life.
Lebowski's Neighborhood Grill
Grab lunch along with $4 Bloody Marys, mimosas or screwdrivers today. This Dilworth spot at 1524 East Blvd. is technically a Buffalo Bills bar, but with the Panthers doing so well, we're sure at least one TV will show the game.
Verify dates, times, prices, and other info at the web addresses listed for each event.
Be sure to bookmark www.charlottemagazine.com/Blogs/Dusk-Till-Dawn to stay plugged into Charlotte's nightlife and social scene. Click here to sign up to receive the weekly Dusk Till Dawn e-newsletter.
Want your event featured in Dusk Till Dawn? Follow me on Twitter @Jared_misner and let me know about your event, or send me an email at dusktilldawnblog@gmail.com.
Send Jared an email at DuskTillDawnblog@gmail.com, or send him a tweet @Jared_Misner.

Also by Jared Misner:

→This Weekend's Social Events
→Bowling For Books, First Friday Fort Mill, Electric Luau Party, Soulmatic Carolina Music Fest and More, Aug. 6 to Aug. 9
→The Moon Walk, Candy Fest, Silly String Party, Booze Cruise and More, July 30 to Aug. 2
→Christmas in July, More Christmas in July, National Dance Day, National Tequila Day and More, July 23 to July 26