Eight Reasons Why Last Week's Storm Was Not Charlotte's 'Atlanta Moment'
We saw the most snow we've seen in years, but that doesn't mean we handled it as badly as our big sister in Georgia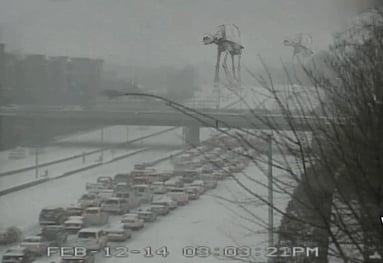 Last week, Charlotte was hit with more than eight inches of snow, which brought the city to a standstill and sent thousands of school kids into their yards to make snowmen before heading back inside to play Call of Duty. It was a fairly innocuous affair. A lot of people got a few days off from work. Many Starbucks were closed, so people got to re-kindle the budget-conscious wizardry of their home coffee makers. And people like me attempted to have their dog pull them around the neighborhood on skis. It was fun while it lasted.
But let's contrast this to the experience of our sister to the southwest, the suburb-obese car-drunk Atlanta. On January 28, that city was hit by what seemed like a piddling two inches of snow. Two! It turned that city into The Day After Tomorrow, with day-long traffic jams, finger pointing and angst. A smart post-mortem from Politico shifts the blame from the actual snow itself to decades of terrible regional planning, but holy crap, the opening paragraph would just be a bit overwrought if it wasn't actually true:
On Tuesday, snowfall of just over 2 inches shut down metropolitan Atlanta's roads, schools, churches, government offices and businesses. Thousands of flights were cancelled at Hartsfield-Jackson International Airport. More than 2,000 school children were separated from their parents, and spent the night in buses, police stations, or classrooms. It seemed that the only places open were Waffle House and Home Depot, the former serving hash browns and coffee and the latter opening up its stores as makeshift shelters. People who didn't camp out in supermarket aisles and hotel lobbies were trapped in cars for 10, 16, 20 hours as they tried to make commutes that normally take just 30 minutes.
This time around, Charlotte was treated to some Atlanta-like problems, namely a traffic jam on Independence Boulevard last Wednesday that stopped the outbound lanes near I-277 for hours. It was this scene that led CNN and others to ask the following question:
But did Charlotte or Raleigh have an Atlanta moment? Many in the Carolinas were telling stories of woe yesterday. Some told tales of being stuck in traffic for hours on icy, dangerous roads. Some had to seek shelter in malls or at work. Sound familiar Atlanta?
It does sound familiar. But was this a pivotal moment for Charlotte? Did this storm break the city?
No. And here are eight reasons why, one for each full inch of snowfall we saw during last week's storm.
1. Hours vs. An Entire Day
Sure, traffic backups and car surrenders happened in other parts of the city too, but the Independence Boulevard jam was the worst, and got the most coverage. It even spawned a Facebook page and a hashtag, #cltstuck, designed to get help to people who were stranded. TV stations showed video of a line of motionless buses, cars and trucks (save one). That video and pictures began to circulate, and BAM, Atlanta Moment.
Except it wasn't. Some people left their cars on Independence Boulevard, but within a few hours, it'd cleared up, and looked eerily empty during the afternoon rush hour:
Outbound Independence at 277 at rush hour looks like this. #ncsnow pic.twitter.com/uB08HuOgdj

— Kevin Ridley wcnc (@kjridley) February 12, 2014
Contrast that to Atlanta's Snow Jam, which trapped some people in their cars and trucks for an entire day, and led to at least one baby being born on I-285.
Reading about the Atlanta traffic jam & saw this pic,not envious of the poor people stuck in their cars #atlantasnow pic.twitter.com/Zq6aawYRh5

— Speakers Corner (@Speakers_Corner) January 29, 2014
2. A Game of Inches
Let's take a look at how much snow actually fell during both storms:
When it comes to snowfall forecasts, we all have a Threshold of Macho. At some point, you go from I could drive in that to START BURNING THE FURNITURE FOR WARMTH. Two inches, the amount the Atlanta saw on January 28, seemed to be merely shrug-worthy. But eight inches? SHOW SOME RESPECT. When the bulk of that eight-inch snowfall hit Charlotte last Wednesday, all schools and most workplaces were already closed. The day before, on Tuesday, Charlotte-Mecklenburg Schools dismissed two hours early, in the midst of some snowfall, which wasn't really sticking to streets. But wait, you say, both Charlotte and Atlanta dismissed schools early ahead of the storms, instead of closing them outright. So what's the difference?
3. Timing
In this respect, we may have just gotten lucky. Many schools around Atlanta waited until noon or later to call off school during the January 28 storm, but by then, the snow had already started. That decision led every SUV-wielding parent into the street, along with every commuter trying to leave midtown to make it out into the burbs. In Charlotte, there was some bemusement as schools dismissed two-hours early on January 28. Light snow didn't start falling until 3 p.m. here, which meant some people initially laughed at CMS online, then totally forgot about it as they watched the pretty snowflakes fall later on that evening. During January's storm AND last week's storm, when CMS did dismiss two hours early, it did so before the bulk of the snow fell. Any time CMS is not in session, there's a noticeable drop in traffic. But what this DOESN'T explain is why there wasn't a heart-attack inducing slam of traffic in Charlotte like there was in Atlanta.
4. Commuting Times
People, for the most part, don't have as long of a commute in Charlotte. The map below, from WNYC, shows the average commute times for every spot in the country. Eyeballing it shows a commuting time of 20-25 minutes or so for the areas surrounding Charlotte, and 25-30 minutes for the areas around Atlanta. Anecdotally, while we like to complain about traffic here (see I-485 near Pineville, I-77 heading toward Lake Norman), anyone who's been in Atlanta can see it's much worse. So why is it so much shorter?
5. Sprawl
The City of Charlotte, at last check, had roughly 775,000 people living in it. That makes it, astonishingly, more populous than the City of Atlanta, which has about 444,000 residents. But the Atlanta METRO area is far larger and contains far more cities, more than 60. Hence, 6 million people live in metro Atlanta, compared to 2.3 million in metro Charlotte. We have a few suburbs, namely Mint Hill, Matthews, Huntersville, Pineville, Cornelius, Mt. Holly, Belmont, and so on. Around here, suburban refers more to places like Highland Creek, Steele Creek, and Ballantyne, all of which are actually within the city limits of Charlotte. Yes, Charlotte is one of the least compact cities in America, and yes, we have sprawl here, but as of now, we don't have nearly the population. What's more, we remain the only Southern city with a light-rail system, one we plan to expand, while Atlanta's MARTA commuter rail doesn't really travel to Atlanta's commuter-filled suburbs. Which brings us to the next point.
6. Coordination
In Atlanta, people throw around the term balkanized. All of those suburbs don't like to work together on much, especially on things like transit and regional planning. By contrast, Charlotte has been annexing land for years and years, to the point where it's almost out of land in Mecklenburg County to swallow. There is some coordination between the city and county, namely on things like police and parks. Yeah, Ballantyne feels like it's paying the taxes that keep the rest of the city running, but imagine a Charlotte where Ballantyne, the University Area, and SouthPark were their own cities. They would be much less likely to share their snow plows with uptown Charlotte or, say, Wesley Heights. It'd be much harder to send idle plows at UNCC down to a snowpocalpyse in Steele Creek. Also, Charlotte is by and large covered by one school system: Charlotte-Mecklenburg Schools. In the Atlanta metro, dozens of suburban school districts all have to make their own decisions about things like transportation and early dismissal.
Explained another way: we all like to complain about homeowners' associations, but imagine a condo complex without one. It'd turn into a every-man-for-himself zone. Imagine how inefficient it'd be if everybody made separate calls to guys with backhoes, asking them only to clear out their personal parking spaces. Who would plow the entrance to the parking lot? Where would you dump the snow? Wouldn't it be cheaper to team up and get one guy to clear the whole lot? HOA's seem like annoying moneysuckers until you encounter a problem that's too big for you to solve on your own.
7. Southern Cautiousness
Ever heard the term "abundance of caution"? It's officialspeak for taking a REALLY conservative approach. You might use the term as you slather on SPF 100 sunscreen as you prepare to walk to the neighbor's house on a partly cloudy day.
But in Charlotte, the abundance of caution worked, mostly because of the forecast. It also worked because we know we don't have the resources to keep the roads clear like northern cities. Hell, Kansas City has upwards of 200 plows, and Indianapolis and Columbus call their road crews the Snow Force and Snow Warriors, respectively. Charlotte's Department of Transportation has 32 plows, but shares some of the plowing and salt brining with the state DOT. But in the South, silly as it seems, a few flakes of snow is a good enough reason to shut things down. Storms like this happen, maybe, once a decade. Charlotte averages about six inches of snowfall per year. That's probably never going to be enough to justify an army of plows with a nickname like Snowface Killahs. As cliche and annoying as it sounds, when mayor or governor so-and-so goes on TV in the South and bangs the phrase "Stay off the roads," into your head like a hammer on an anvil, they usually know what they're talking about.
8. We still did better than Raleigh
Quite possibly the craziest snow photo we've ever seen, yesterday in Raleigh: http://t.co/k9P4g1Y8fo pic.twitter.com/ec5L57f4Z4

— Slate (@Slate) February 13, 2014