El Thrifty, Optimist Hall's Largest Tenant to Date, Opens Tomorrow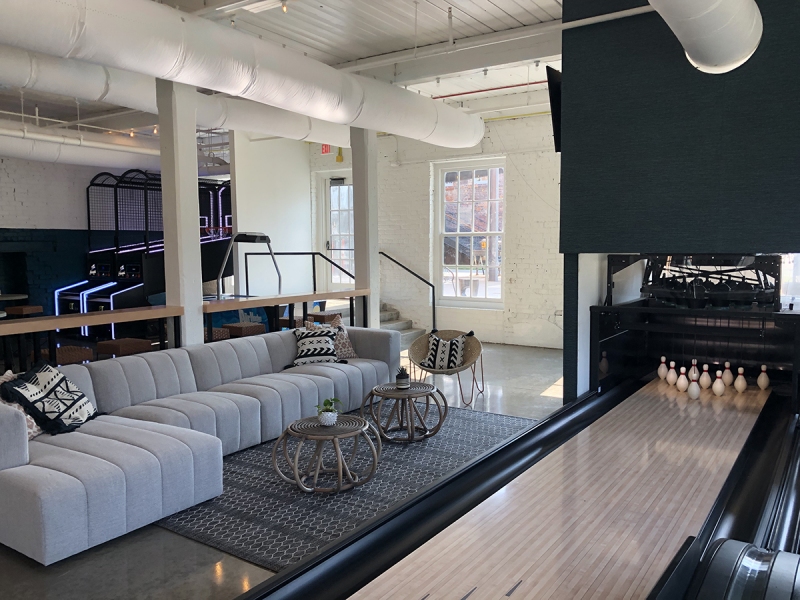 El Thrifty, a Mexican cantina and gaming venue, opens this Thursday in Optimist Hall. At 6,931 square feet, it is the largest tenant to open so far at the food and retail hub in the Optimist Park neighborhood, just north of uptown. (It will have limited hours and a condensed menu until October 10.)
This is the second venture in Charlotte for partners Reid Olsen and Joe Lariscy, who opened Queen Park Social in 2017, and the second location for El Thrifty; its Greenville, South Carolina, location opened in late 2018. "(Optimist Park) is another booming area," Olsen says, explaining El Thrifty's expansion to Optimist Hall. "I think Charlotte is really hungry for this kind of venue."
El Thrifty is divided into two main rooms that offer very different experiences: one room contains the dining area and L-shaped bar, and on the other is what manager Drew Tatum calls the "boom boom room," because of how loud it can get between a DJ booth, duck-pin bowling lanes, and other arcade games like shuffleboard and fúsbol. Duck-pin bowling costs $25 to rent a lane for an hour, and a majority of the other games are pay-per-play with a credit card swipe.
EMMA WAY
The 85-seat restaurant's menu is led by chef Sean Appleby, who previously worked at Kindred and Legion Brewing. Dishes include chicken torta with avocado crema and queso, octopus with ancho chile, and a variety of tacos. Entrées range in price from $4 to $28. Grab cocktails (and beer or wine) from the bar or order drink specials (think mezcal- and tequila-based drinks) from a traveling bar cart.
Outside is a 30-seat patio with views of the skyline, swinging chairs, and a golf simulator. El Thrifty was designed by Charlotte-based House of Nomad, who traveled to Guadalajara, Mexico, to ensure the interior fit the Mexican-inspired theme.
At the end of this month, El Thrifty will host its first large-scale event with a three-day Halloween Fiesta from October 31 to November 2. Except various DJs, face-painting a la Dia de Los Muertos, and staff and guests in costume.
EMMA WAY