Elegance, Ease in a Myers Park Tudor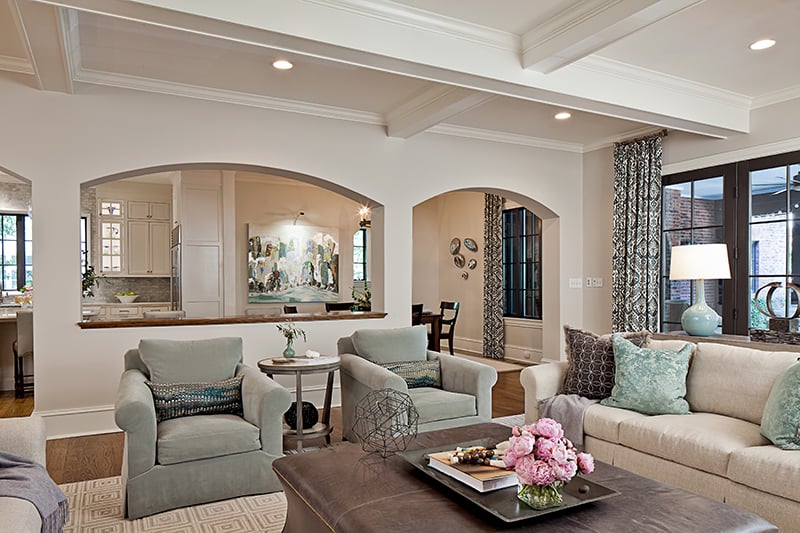 WHEN ANDREA SMITH hired designer Anne Buresh to brighten up her family's Tudor-style home on Queens Road West last summer, she issued a challenge: Have the house ready to host the street's holiday party in December.
"It pushes us," Buresh says of the deadline. "We all know that feeling. You have company coming and you start cleaning out your closet."
The Smiths bought the home in 2015, and their chief complaint was how gloomy the rooms felt. "It kind of looked like a dark log cabin," Smith says. "I'm big into light, and it just had dark chandeliers, dark wood paneling—just dark."
After agreeing to focus on just the first floor, Buresh set out on an aggressive schedule to brighten and lighten the space, including the foyer, family room, dining room, and a billiards room. When she meets new clients, Buresh tries to channel the family, to understand how they'll use the redesigned space. "I almost have to get into character," Buresh says. "I want to know what they wear, what they do, where they travel, everything about them."
Buresh needed to strike the right balance: comfortable enough for the Smiths' three teenagers, but elegant enough for entertaining. Smith is the chief administrative officer for Bank of America and chair of the Charlotte Chamber. "They're movers and groovers, so they wanted that chicness, but not intimidating at all," Buresh says.
For the family room, where kids often sit sideways in chairs and sprawl across couches, Buresh chose two deep Hickory Chair sofas, comfortable chairs, and what she describes as a "gargantuan" gray leather ottoman. She paid special attention to the family's traffic flow through the room, arranging the furniture in a way that made for easy, natural maneuvering. "It's like a custom suit," Buresh says. "No matter how much you spend on it or what it looks like, it has to fit."
One of the trickier design challenges was the billiards room—a space the Smiths wanted to feel bold, almost clubby. "They wanted it to have a punch to it," Buresh says. The family chose striking red paint and artwork from Picture House Gallery, both of which indicate the house isn't your typical stuffy Queens Road manor.
To soften the transition to other rooms in the house, Buresh added a blue-gray Stark rug with a muted design, along with simple linen drapes.
Shades of soft blue appear throughout the first floor: in throw pillows on the family room couches, in a dining room rug, and in complementary landscape artwork on the walls. Pleated silk curtains—hung as high toward the ceiling as possible—lift the dining room, making the space feel larger and, consequently, brighter.
Smith's busy professional life became an asset during the redesign.
"She's on the quarter-hour when I'm there, and I'm very aware of that," Buresh says. "I have all my ducks in a row before I get there."
With the Christmas party looming, Smith and her husband, Sean, knew they couldn't agonize about their style choices. "(Buresh) would show us a few things, and we would pick, pick, pick," Smith says. "We know what we like; we're quick to prioritize."
The house, of course, was ready in time for its debut. Guests entered the foyer, walked past the custom Tritter Feefer console table and a stunning painting from Picture House Gallery, and drifted through the open floor plan, mingling from one room to the next. The party, a Queens Road West tradition, was a success.