Elizabeth Gets Passion8
After a long-awaited move from Fort Mill, a restaurant adds another gem to one of the city's best food neighborhoods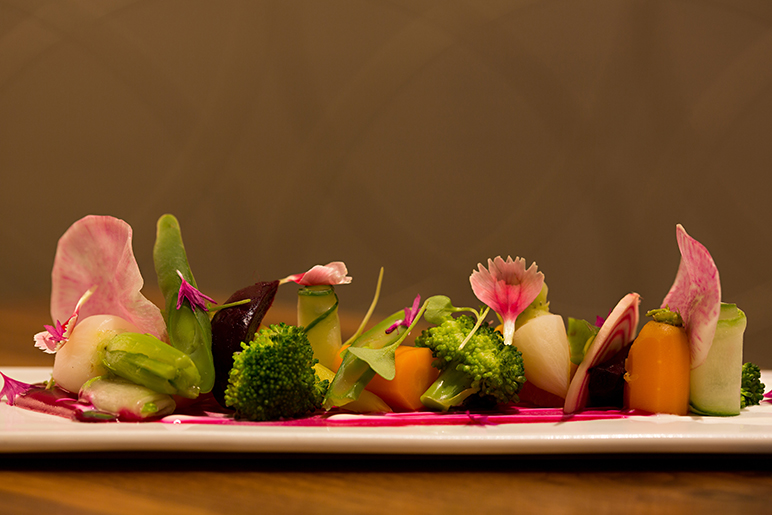 The move was a long time coming. Passion8 owners Jessica and Luca Annunziata were at a point where something needed to change. The husband-and-wife team first opened the restaurant in Fort Mill, South Carolina, in 2006 and turned it into a standout in the region's food scene. But the space was too small, and the culinary team couldn't grow.
This fall, the Annunziatas reopened in Elizabeth—and they feel as though they've found a home. "The Elizabeth neighborhood is just the right place," Jessica says. "It's young and vibrant and incredibly hip." Some of Charlotte's best-loved restaurants sit in the historic neighborhood, including The Fig Tree, Carpe Diem, and Customshop.
Inside Passion8, things are different in the new spot. The Fort Mill location was known for its comfortable, romantic feel. It was small (with less than 50 seats) and had touches that made it feel like "my grandmother's house," Jessica says. The new location is sexy and sophisticated, but with several rustic elements. The tables are designed by Scott Meguid of Bull City Designs in Durham, who crafted the tabletops out of North Carolina walnut. Draperies, created by Teresa Hinkel of Hinkel Inc., in Monroe, are dark and velvety, and add softness and elegance to the sleek space.
Most important, the food has evolved. Although the Annunziatas will stay true to their local, sustainable, and seasonal roots, they've added dishes to give the new location a new identity. A first-course menu has everything from meat to seafood to vegetables. The calamari Cubano ($15), a dish from the old Fort Mill location, remains, but it's one of only a few dishes to make its way to Elizabeth. A cheese and charcuterie plate ($18), which on a recent visit included a sweet and spiced pork terrine among other house-made toppings for the giant olive-oil crackers, was nearly enough to feed two. A fall vegetable plate ($9) had al dente seasonal vegetables set atop a goat cheese and beet puree. To wash down the varied bites, Passion8's bar has seasonal cocktails using locally sourced ingredients. The Fig Manhattan ($12), for example, uses figs from Burton Farms along with Larceny bourbon.
Main courses—which will change with the seasons—have evolved, too. The English short rib ($37), which comes from Hickory Nut Gap Farm in Fairview, and wild-caught U-10 scallops ($33) are standouts. The short rib arrives flanked by creamy mashed potatoes.
Despite its ability to serve and seat nearly 120 diners, the restaurant still manages to feel intimate and upscale, the kind of place you go for date night or to celebrate with friends. On opening night, Jessica stood with her husband, Chef Luca, under the low lights and, with soft music playing in the background, told her first diners, "This is 15 years of working together for something. We've worked to our potential and now we have the capacity, the staff, the love, and the passion to create something wonderful."
---
---