Elvis Has Re-entered The Building
My interview with one-fourth of "Million Dollar Quartet"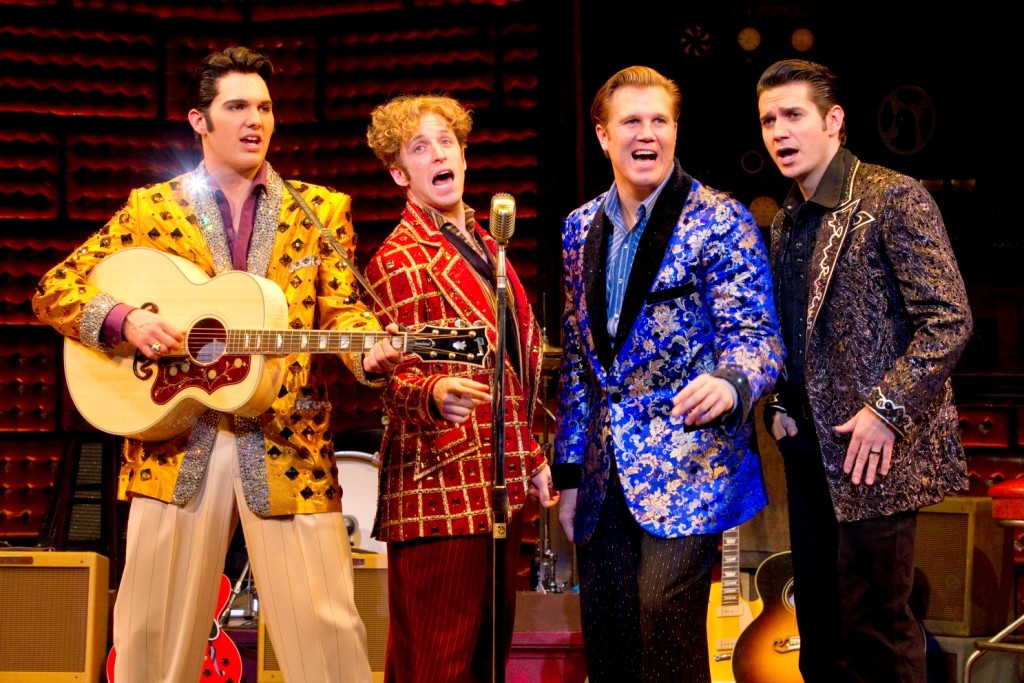 The resemblance is uncanny.
Cody Slaughter looks like the King of Rock and Roll. The fact that he sounds like him, too, meant a career as an Elvis impersonator was a possibility. There are plenty of those out there, but few have earned the praise of Elvis Presley Enterprises. Twenty-year-old Slaughter, from Harrison, Arkansas, was named the "Ultimate Elvis Tribute Artist" in 2010.
Slaughter makes his theater debut in Million Dollar Quartet as The King — a role some say he was born to play.
In the musical, Elvis meets up with three other legends-to-be in a recording studio in Memphis. The time is 1956, and he, Johnny Cash, Jerry Lee Lewis, and Carl Perkins were not yet the idols they would become. The musical reimagines the night they met and includes "Blue Suede Shoes," "Fever," "Great Balls of Fire," "I Walk the Line," "Whole Lotta Shakin' Goin' On," "Folsom Prison Blues," "Hound Dog," and more. Elvis & company rock The Knight Theater beginning Nov 22 as part of the Broadway Lights series. Find out more.
Charlotte magazine caught up with Slaughter, who's been touring since September in the show that's probably going to prove to be his Big Break.
Charlotte magazine: I read that you were an Elvis tribute singer and that this is your first theatrical role. Are you surprised to be part of Million Dollar Quartet, or was acting always part of the plan?
Cody Slaughter: This is my first time being part of a Broadway show. I had done the Elvis thing. Growing up, it was always Elvis stuff. It's what got me here, and I love it. But, I've always wanted to act. So, this is a dream.
CM: Since you were an award-winning Elvis tribute performer, did the Million Dollar Quartet people find you through Elvis Presley Enterprises? Or, did you find them?
CS: It was a little of both. I had been in Memphis playing at the Orpheum. The producers came to a show there and saw me. We talked about a year later, and I auditioned for them.
CM: How long have you been doing your Elvis thing?
CS: The first time I did Elvis, I was in second grade. But, I was twelve or thirteen before I performed as Elvis in front of an audience. I've played Branson. I toured with D.J. Fontana, who was Elvis's original drummer. But now, with Million Dollar Quartet, I can finally say, "I'm an actor."
CM: How much of this show is true?
CS: Most of it. That's what's so cool about this show. This recording session really happened. These guys came together in Memphis just once and then never again. The audience will learn so many things about these singers. You know Elvis had a twin brother who died at birth? Well, all four of these guys had brothers who died. Johnny Cash's brother died in a sawmill accident.
CM: Did they all discover this about each other that night in Memphis?
CS: We don't know. We don't know what all was said that night. But, there are all these facts about each of the singers that come out in the show. Jerry Lee Lewis hadn't yet married his cousin in 1956, but that comes out in the show.
CM: So, the show plays with time a little bit?
CS: Exactly. There's lots of biographical stuff on these singers that is naturally woven into the story.
CM: Your character, Elvis, was from Memphis. So, it's understandable why he was there in 1956. How'd the other musicians wind up there?
CS: Well, Elvis was born in Tupelo. His family moved to Memphis when he was young. He wanted to be a singer, and the first song he recorded was for his mama. Johnny Cash was from Arkansas. Like Elvis, he was signed to Sun Records. Mr. [Sam] Phillips, the producer, hired Jerry Lee Lewis to sit in as the piano player for this session. He wasn't at all famous yet. Carl Perkins was mad at Elvis because Elvis had recorded his "Blue Suede Shoes." All of that comes out in the show.
CM: So cool! I can't wait to see it. Do you have to change your voice to sound like Elvis when you're singing? Or, do you naturally sound like Elvis?
CS: I have a Southern accent, so I don't have to do much. But (changes voice and sounds exactly like Elvis), Little Lady, I don't know, some people say I do sound an awful lot like The King.
CM: Oh, you are good. I love it! Thank you for your time.
CS: Thank you. Thankyouverymuch. Aloha.