Emmy Fashion
Red Carpet Rundown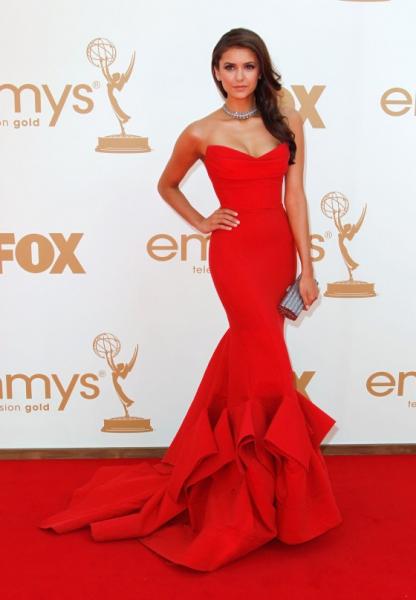 Awards season is upon us again! I, of course, planned to tune in to the 63rd annual Emmys for my main men–Rob Lowe, Jon Hamm, and the other usual suspects–but Red Carpet fashion kept me entertained in my wait. Don't mind if I do! In case you missed any of the 5,000 hours of pre-show fashion coverage or Fashion Police today, here's my call on who owned it and who should never have bought (or borrowed) it:
Best Dress: Racy rouges and utlra-femme, fitted fishtail gowns owned the night, but Vampire Diaries' Nina Dobrev (I suppose she should know how to rock blood red) stole the spotlight in Donna Karan. Her flat-as-a-pancake stomach and perfect cleavage should also have sent Giuliana Rancic, who wore a similar take on the trend, packing. Then again, Dobrev did have pretty unbeatable arm candy in Ian Somerhalder.
Props to Cobie Smulders, though, for daring to wear an unexpected color during the awkward autumn transition; I loved her in bold aqua by Alberta Ferretti.
Worst Dress: Apparently Julianna Margulies had been eyeing her dog's Elizabethan collar (cone) when she consulted her stylist. Her prom-gone-wrong frock, by Armani Prive, looked like it had been studded in crystal paper weights, and it definitely didn't do her any favors in the figure flattery department. Thank goodness she was a winner on the stage (Outstanding Actress in a Drama Series–"The Good Wife") because she certainly lost her marbles on the Carpet.
Stayed tuned for rundowns of all of the season's soirees!