Encounter Between Charlotte Educator, Legislator Shows Why Rally Mattered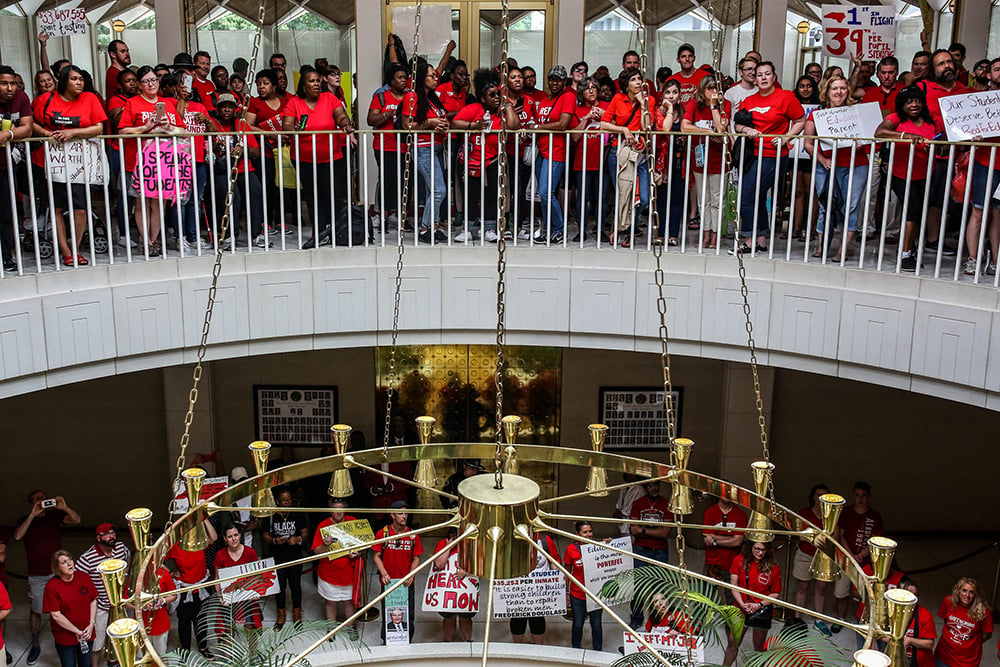 EIGHT MINUTES BEFORE the North Carolina Legislature convened at noon on Wednesday, Rep. John Autry stepped into the doorway of his Raleigh office wearing an apple made of construction paper on his lapel. It read "Char/Meck."
At the same moment, 30-year-old Rickey Hill happened to walk by with a tan bookbag strapped over his shoulders. The two had never met, Hill an eighth-year social studies teacher at Sedgefield Middle in Charlotte, and Autry a seasoned public official who represents Charlotte. For all the noise and national attention around days like Wednesday, with thousands of North Carolina's teachers marching down Raleigh's Fayetteville Street to the General Assembly building to argue for better pay and working conditions, they are made for quiet connections just like this.
Hill grew up in Onslow County in eastern North Carolina. Just two generations ago, his grandparents were sharecroppers. He's a black man who remembers coming home from school as a young boy to hear his grandmother ask what he wanted to be when he grew up. She counted only three careers as true professions: doctor, lawyer, and teacher.
Hill chose teacher. He was just six years old at the time, but he started sketching out mock lesson plans. He even drew up a seating chart for the classroom he hoped to lead one day.
"This is all I ever wanted to do," he says now.
After he graduated from high school in 2006, he enrolled in the education program at UNC Charlotte. He earned his bachelor's in 2010 and took his first teaching job in Charlotte-Mecklenburg Schools soon after.
In 2016, he moved to Sedgefield Middle School and became a seventh-grade social studies teacher. He finished his master's degree from Queens University this spring. Everywhere he goes, his colleagues love him: "He is … amazing," says Jennifer Tyler, a sixth-grade math teacher at Ranson IB Middle. She chokes up as Hill talks about the career and what it means to him.
"We have pitied teachers instead of empowering teachers," Hill says, his voice getting louder. "Every time you tell somebody you're a teacher, every time you tell somebody you teach middle school, what do they say? 'Awwww.'
"I'm a professional. I'm just as much of a professional as the man who's walking up Trade and Tryon to go to the Bank of America building."
Sometimes it can feel like less, though. Hill's had students jump out of chairs when they see a roach and classrooms that turn cold in winter. He went through the first three years of his career with no raise at all.
"You can't use our passion for your own advantage," he says of the legislators he met with Wednesday. "You can't say, 'Well I'm not going to fund the passion because they're going to do it anyway.'"
Teachers around the state had the same conversations. In Asheboro, 24-year-old Javier Carranza is in his second year teaching fourth grade. Carranza grew up in the area, loves his school, his kids, his district. He loves that the superintendent knows him by name. But he's tired, too. He teaches to tests, he says. He has an assistant for all of 20 minutes every day. He could go on and on about his troubles.
They all could. That's the universal characteristic of teachers: You spend most of your time as the only adult in the room, so when you get around other adults, you let it out. And when you get around thousands of other adults who happen to be teachers, you give them the social security number of your frustrations.
At 11 a.m., Carrenza was on the third-floor patio of the legislative building, looking out as lines of them walked down Fayetteville Street in red shirts and hats and signs that all said something. Rest assured, if you go to a rally full of teachers they're going to bring reading material.
On shirts: "Straight Outta Funding."
On signs: "Don't make me use my teacher voice."
Other shirts: "Even Librarians Can't Keep Quiet Anymore."
Other signs: "Think I'll give up? Ask me how long I wait to pee!"
And listening, that's also a part of a teacher rally.
"Remember, remember, we vote in November," they chanted.
"This is amazing," Carranza said.
Some lawmakers, mostly Republicans, have taken issue with Wednesday's walkout. They note that these same teachers have gone from 47th in the country in average salary four years ago to 39th today. They'd also like to note that they're pushing to raise the salary again this year, by about 6 percent. Democrats and Governor Roy Cooper say that's not enough. They say that with inflation, teachers make less than they did before the 2008 recession, and they'd like to raise the average salary by about 8 percent, which they would pay for by eliminating a planned tax cut for people making more than $200,000 a year. Naturally, that doesn't sound great to Republicans, and the earth spins 'round … or it doesn't spin at all. It's hard to tell which sometimes.
By 11:30 a.m., the red shirts wrapped the building and filled the chamber. Outside, a tuba player's beat grew faster and livelier. Teachers danced in the rain.
And a 30-year-old middle school teacher who grew up the grandson of sharecroppers in eastern North Carolina walked into the only state government he's ever known. Some lawmakers' offices had welcome signs on the door: "Teachers Refuel Here!" read a small chalkboard outside of Nash County Democrat Bobbie Richardson's door, inviting the guests in for refreshments. "Teachers Have My Full Support," a printout beside Wake County Democrat Yvonne Holley's door said. Other offices were closed. A few of those had signs, too. "Teacher Pay Facts," read one on Carteret Republican Sen. Norman Sanderson's window. "9.5% Pay Raise Vetoed by Gov. Cooper."
Whatever reasons lawmakers had for keeping their doors open (free Instagram PR!) or closed ("We're working and you should be too!"), Hill and the rest of the red-shirted marchers left with an idea of who was eager to listen to teachers unload their troubles, and who wasn't.
When Hill saw Autry standing there with the "Char/Meck" badge, he had his questions ready. He started each one with "Where do you stand on __?"
Pay raises. Charter schools. Teacher assistants.
In four short minutes, Autry passed the young educator's test.
"Thank you!" Hill said, turning around to his friends. "Oh, I like him!"
And with that, they knew each other, or something closer to that. Autry said he had to run. The legislative session would start in three minutes. He slipped into the chamber on the second floor and took his seat, and Hill went up to the third floor. The gallery was full, so Hill stood with his coworkers in line, waiting for the glass door to open and let him in.
Michael Graff is a writer in Charlotte. Reach him at michaelngraff@gmail.com.