Envision Charlotte on Paris Pullout: 'Baffling'
Charlotte and other U.S. cities pledge to honor agreement, even if U.S. won't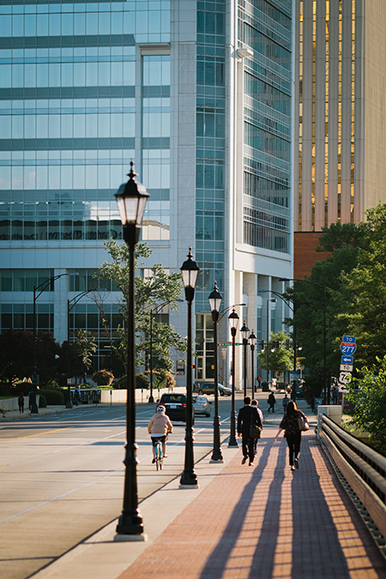 Amy Aussieker, the executive director of the environmental group Envision Charlotte, will travel to The Hague next week for a two-day international conference on sustainability strategies for cities in the 21st century. Aussieker was invited as one of four "high-level experts" in the field, along with Joan Clos, the former Barcelona mayor who now directs the United Nations' Human Settlements Program. Representatives of 30 countries will attend. Aussieker expects to deliver a keynote speech on the first day.
Until Thursday, having attended these kinds of conferences before, Aussieker thought she knew how her global counterparts would react to an environmental ambassador from an American city. "I'm not sure what the questions are going to be this time," she told me Friday. It was a little less than 24 hours after the President of the United States announced the country's withdrawal from the Paris climate accord, the 2015 agreement among nearly 200 nations to set specific goals to reduce greenhouse gas emissions and limit global temperature rises. "I just find it so interesting that anyone would doubt global warming and climate change. When I travel around the world, it's seen as like we're arguing whether the world is round or flat. It's baffling to me."
Charlotte, along with the mayors of 180 U.S. cities and four states, made plain after the President's announcement which side it was on. "Going forward, we have to support clean energy and our environment in every Charlotte neighborhood," Mayor Jennifer Roberts said. "Forward-thinking mayors and cities like Charlotte must now take the lead to act on climate, and I will continue to be a champion for the environment. Climate change is an issue that affects us all, and we do not have time to wait for a new administration."
The city supports Envision Charlotte's continuing efforts with center city businesses to reduce their energy consumption, an initiative that began in 2011. Since then, the owners of 61 of the 64 uptown buildings with at least 10,000 square feet of space have signed a pledge to reduce their consumption by 20 percent. The nonprofit says they're almost there—having achieved a 19 percent drop between the end of 2010 and the end of 2016 through such simple measures as turning off lights and turning up thermostats.
The reduction has saved those businesses an estimated $26 million in energy costs since mid-2012, Envision says, which bolsters Aussieker's consistent argument that sustainability is economically as well as environmentally smart. "You can meet these standards. It'll save you money," she said. "You don't have to be some tree-hugging, hippie liberal."
Not, I'm tempted to add, that there's anything wrong with that. But the idea that concern for the environment carries a cultural stigma is part of the problem; witness the flurry of celebratory tweets Thursday night by people who promised to run their air conditioners full blast and light massive charcoal fires as a kind of ritualistic middle finger to the buy-the-world-a-Coke crowd. It's infuriating enough that the debate exists. But the debate itself is riven with misunderstanding, false assumption, and bizarre illogic. The President himself contributed to the absurdity by referencing Pittsburgh, of all American cities, as the kind of blue-collar town whose manufacturing industry would benefit from U.S. withdrawal.
In fact, as numerous commentators noted and Pittsburgh Mayor Bill Peduto indicated, the Steel City has become an international sustainability model: a formerly polluted industrial center that's transformed itself into a hub for high-tech and green jobs and environmentally conscious development. "They're cutting-edge on all of the innovative programs, data, green infrastructure," Aussieker said. "They speak at every conference I'm at."
The haste with which cities and Democratic-leaning states such as California and Massachusetts announced their commitment to the international agreement signals a worsening of the already stark divide between urban and rural/small-town communities, a topic that's been widely discussed since Election Day. Communities with voters committed to the idea that withdrawal will help resurrect American manufacturing won't look kindly on their urban counterparts' embrace, in their view, of a global scam designed to undermine U.S. interests, and them. That the idea has no connection to reality is small comfort to those of us living in an increasingly fractured and uneasy nation, and to those like Aussieker trying to make the case for American leadership on a front the President just abdicated.
"We're going to continue to work on this. I think there's more of a sense of urgency now," she said. "I think that over the last couple of months, you've seen cities and states take more of a proactive role in a number of areas, and I think you'll see more of that."