EpiCentre Craft Brew Crawl, Throwback Thursday, Crazy Hats and Burly Beards Pub Crawl and More, Nov. 5 to Nov 8
The theme of this weekend is, well, there is none. Charlotte has the most eclectic offering this weekend. Enjoy it out there, Queen City!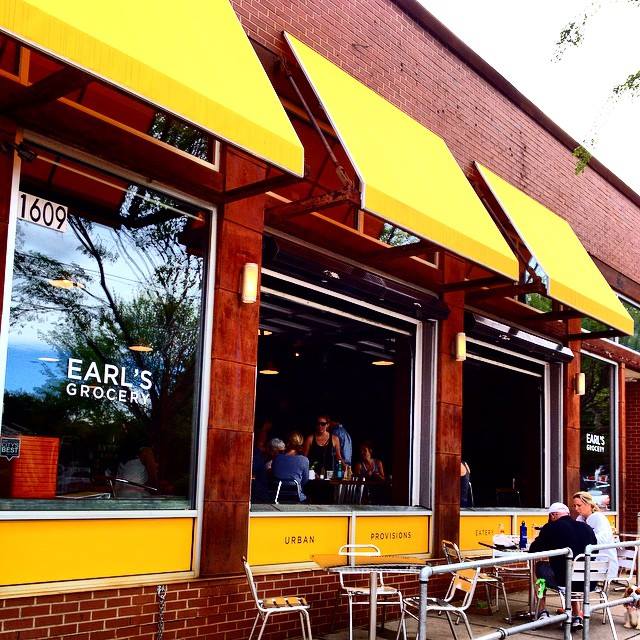 Our Panthers are unbeaten, and we survived Halloween. We can't really ask for anything else. This weekend features one final Halloween-themed event for those who just can't give it up, a few bar crawls and a Sausage Fest. Charlotte is nothing if not eclectic. See y'all out there!
Thursday, Nov. 5
Throwback Thursday: Connect to Disconnect
Leave your phones at the door tonight (Really. Your phones are collected at the door.) and disconnect to remember what a simpler time before phones was like. This evening is devoted to the decade that brought the Internet to life, the '80s, and it features snacks and drinks from that decade. The fundraiser supports Digi-Bridge, an organization that works to increase teachers' access to technology. The '80s night is at Earl's Grocery, 1609 Elizabeth Ave., from 6 p.m. until 8 p.m. If you think you can go a full 120 minutes without your phone, tickets are $30. Buy them here.
Dinner with the Ghost and the Devil: Part Two
If you're still holding on to Halloween, you're in luck. This ghost tour and dining event is back for its second and final round. Begin the evening by taking a walking tour of some of Charlotte's spookiest locales, including Fourth Ward's Settlers Cemetery, and listen to some of the Queen City's oldest ghost tales. Dinner and drinks are at Dandelion Market either before or after the ghost tour. Tickets are $55 per person or $95 per couple. Dandelion Market is at 118 W. Fifth St. Times vary. Buy your ticket and find more information here.
Crazy Hats and Burly Beards Pub Crawl
If after reading the name of this event, you still don't know what to expect, we really can't help you. The crawl starts at 6 p.m. at Dolce Vita, 3205 N. Davidson St. the event is free.
Friday, Nov. 6
EpiCentre Craft Brew Crawl
If craft brews are your poison, and let's be honest, this is Charlotte, so it probably is, tonight's your night. At least nine EpiCentre bars are participating in this crawl devoted entirely to craft beers. Beginning at 6 p.m. at Rooftop 210, 210 E. Trade St., beer lovers then travel to BlackFinn, StrikeCity, Vida Vida, Bubble, Whisky River, SUITE and Vida to wet their whistles. Tickets start at $20 and get you entrance to the bars and a free glass. Buy your ticket here.
100-Words Film Festival and After Party
The annual film festival celebrating films that contain exactly 100 words is back. The event is on both Friday and Saturday evenings, beginning at 8 p.m. Ticket prices vary, but this year's screenings are at McGlohon Theater at Spirit Square, 345 N. College St. But because this is a nightlife section, we're also concerned with the after parties. Tonight's after party is at the Seventh Street Public Market, 224 E. Seventh St., immediately following the screenings. Saturday's after party is at Rooftop 210, 210 E. Trade St., also immediately following the screenings. Buy tickets here.
All-Black Masquerade Ball
Come dressed all in black tonight and prepare yourself for a masked evening of food, drinks and dancing. Masks are provided at the door. The ball is at Howl at the Moon, 210 E. Trade St., from 6:30 p.m. until 9:30 p.m. Tickets are about $20. Buy them here.
Boots, Barrels and Brews
It's our version of Sophie's Choice. Will it be local whiskey or local beer? Lucky for you, you'll get to try both tonight as local distillers and brewers will be at Whisky River with samples of both for you. The evening starts at 8 at 210 E. Trade St. Tickets are $10. Buy them here.
Saturday, Nov. 7
Hammers and Ales
ToolBank works to get, well, tools in the hands of local nonprofit organizations who need them. A $25 ticket to the organization's annual event include two craft beers, food, music, games and a silent auction. The event starts at noon at C3 Lab, 2525 Distribution St. Buy your ticket here.
Sneaker Con
If your life goals include having a room for your shoes, this event is for you. More than 50,000 shoes from more than 150 vendors are expected to be at the convention with everything ranging from the old classics to the newest releases. The shoe-tastic event is from noon until 7 p.m. at the Charlotte Convention Center, 501 S. College St. Tickets are $20, and you can buy yours here.
The BIG One Cornhole Tournament
The winning team at this tournament will walk away with a cool $700, so this is the real deal. Second and third place teams go home with $200 and $100, respectively, as well. Teams of two cost $40 for an entrance fee, and the tournament is capped at 32 teams, so you might want to enter quickly. Slate Billiards, 200 E. Bland St., hosts this tournament from 12:30 p.m. until 5 p.m. Register here.
SausageFest 2015
This one's a lot more PG than the name implies. For the fourth time, JJ's Red Hots closes down its parking lot and invites you to share in all the sausage and beer glory your heart desires. Aside from sausages and beer from local breweries, your $35 ticket also gets you access to live music from Time Sawyer & The Whisky Dollars, treats for sale from King of Pops and Hart's Soda Shop, corn hole, giveaways and more. The fun is at 1514 East Blvd. from 3 p.m. until 7 p.m.
Sunday, Nov. 8
Panthers vs. Packers
Fresh off its Monday night victory against the Indianapolis Colts, the Panthers are at it again to try and keep its unbeaten record alive. The Panthers take the field against Green Bay at 1 p.m., and these two bars are a great place to watch the game (if you don't have tickets, which is an even better place to watch it!).
Whiskey Warehouse
This Plaza Midwood bar with a killer rooftop has a handful of specials today while you watch the game on its host of TVs. Get your engines started with $2 mimosas, a $4 Bloody Mary bar and $4 Stella Artois. Whiskey Warehouse is at 1221 The Plaza and opens at 11 a.m., which is two full hours before the game.
Angry Ale's
Wet your whistle and cheer on the boys of Carolina with these drink specials. This Montford spot is featuring $3 mimosas, $15 Bud Light buckets and $4 Bloody Marys and mimosas. Outdoor and indoor TVs make sure you'll have a great time whatever the weather may be. Angry Ale's is at 1518 Montford Drive.
Drag Queen BINGO
This new South End spot debuts its weekly Drag Queen BINGO tonight. The evening features drink specials, the chance to win prizes and, obviously, drag queens. Try this new venue out! The event at The Dirty Hippie, 5208 South Blvd, has free admission.
Verify dates, times, prices, and other info at the web addresses listed for each event.
Be sure to bookmark www.charlottemagazine.com/Blogs/Dusk-Till-Dawn to stay plugged into Charlotte's nightlife and social scene. Click here to sign up to receive the weekly Dusk Till Dawn e-newsletter.
Want your event featured in Dusk Till Dawn? Follow me on Twitter @Jared_misner and let me know about your event, or send me an email at dusktilldawnblog@gmail.com.
Send Jared an email at DuskTillDawnblog@gmail.com, or send him a tweet @Jared_Misner.

Also by Jared Misner:

→This Weekend's Social Events
→Bowling For Books, First Friday Fort Mill, Electric Luau Party, Soulmatic Carolina Music Fest and More, Aug. 6 to Aug. 9
→The Moon Walk, Candy Fest, Silly String Party, Booze Cruise and More, July 30 to Aug. 2
→Christmas in July, More Christmas in July, National Dance Day, National Tequila Day and More, July 23 to July 26