Erin & John
October 12, 2013: Atherton Mill & Market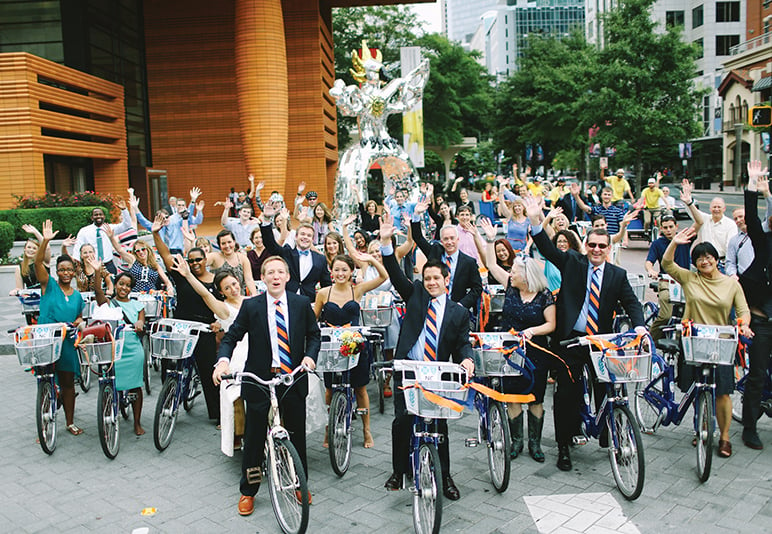 Photographs by Anna Naphtali
Erin Sanderson and John Zugelder passed each other every day on their walks to work. They relocated from Chapel Hill to Charlotte about the same time, attended the same church on Sundays, were both passionate photographers, and lived in the same neighborhood. But they might have never met if Erin hadn't mistaken John for an employee in the camera aisle at Best Buy.
Their authentic reception incorporated all the Charlotte things that helped them fall in love. They chose a color palette reminiscent of their sunrise bike rides through Freedom Park. With help from Charlotte B-cycle, the city's bike-sharing system, more than 65 wedding guests biked or rode in pedicabs across town from St. Peter's Catholic Church to Atherton Mill and Market, as onlookers cheered and clapped.
Hey Love! Events designed a rustic wedding setting, with long farm tables, market lights, and centerpieces of peach crates and hydrangeas. The Tin Kitchen passed appetizers of roasted-beet and goat-cheese skewers, and bratwurst meatballs with homemade sauerkraut and horseradish mustard. Good Bottle Co. passed out craft sodas, and guests dug into a trio of tacos—brisket, spicy salmon, and potato hash. Sticks and Cones dished up pumpkin sundaes with graham-cracker crumble. The couple then pedaled into the sunset for a Spanish honeymoon through Toledo, Cordoba, Seville, and Madrid.