Essay: A Charlotte Native Remembers Fish Camps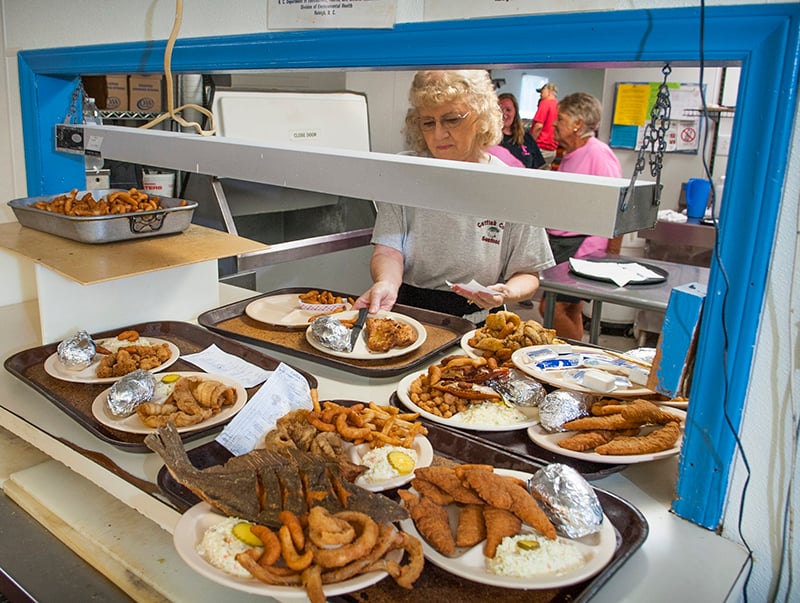 WHEN I WAS a kid, I was friends with a pirate. He sat on a stool with a gold-rimmed tricorn propped on his head, a regal red justacorps open over a poet shirt, and a single cavalier boot on his right foot. He had no left foot, just an honest-to-god peg leg stretching from the knee down.
Captain Windy was always waiting when we walked into Riverview Inn. I had a signed picture of him tacked to my bedroom door until I graduated high school. When my dad was growing up, Windy had a Saturday children's program called Adventures in Pirates' Cove that ran on WBTV. Windy used to give away boxes of toys each week to one lucky winner of a pirates' map contest, and the way my dad tells the story it might as well have been the Powerball.
The restaurant where Captain Windy stood guard served the standard fish camp fare. Catfish and flounder, perch and bass, fillets or whole, salt-and-peppered or plain. There was Calabash shrimp and green shrimp, jumbo shrimp and fantail, boiled shrimp, and before I slip any further into that Forrest Gump soliloquy, clam strips, oysters, deviled crab, coleslaw, and hush puppies for days.
Riverview Inn stood on the Mecklenburg side of the Catawba River just two and a half miles from our front door off Moores Chapel. Most times we crossed the bridge into Gaston County to dine at one of the other five fish camps within 10 miles of the house. Twin Tops, Stowe's, Lineberger's, Catfish Cove, and Graham's were all rooted along the South Fork. Looking back at the sheer number on that small stretch of river, it was a culinary culture every bit as rich to the state of North Carolina as Lexington barbecue. These were restaurants born of necessity, dives tied to the hungry stomachs of the mill workers they were built to serve.
One of the earliest belonged to a man named Luther Lineberger, who, during the early 1940s, worked at the textile mill in Cramerton and cooked at Hand's Fish Fry on the side. Luther also used to fry fish along the river one day a week at a cabin owned by a man named Armstrong. On Saturdays, people would bring him fish they caught and he'd clean and cook their catch, his side business and ones just like it being the origin of the term "fish camp." Wasn't until 1948 that he opened a restaurant, at the time nothing more than a small, one-room dining hall. As time went on the local fishermen no longer supplied the cooks with fish from the river, but the name stuck just the same.
Raymond Stowe went to work at Lineberger's when he was 13 years old.
"(Luther) finally quit the mill and started doing it full-time," Raymond remembers. "He added onto it about three or four times and it kept getting bigger and bigger. And then in the late '50s, that's when I was about 12 or 13, my mother was already working for him, but he built a big fish camp and he didn't think he'd ever fill it up, but they didn't get it built good and he was already adding onto it."
Raymond grew up in the heyday of fish camps. Born and raised in Belmont, few alive are as tied to the local tradition. Aside from owning Catfish Cove for nearly three decades, he always loved eating dinner at Graham's, and it was his uncle, Fred Stowe, who started Stowe's. But it was there at Luther's place that Raymond took to the grease.
"Lineberger's back in the late '60s and all the way into the '70s, they opened up at four o'clock and they'd have a line there till 10," he says. "There was one week, I used to go to Charlotte and pick up fish for them, and I remember back in the early '70s, I went to Charlotte every day and picked up flounder and bass and trout, and they sold 2,600 pound of flounder in one week. I mean, that's a lot of anything. You know, they'd use like eight, nine hundred pound of catfish a week. I might use a hundred pound a week now."
By the time I was born in the early '80s, the millwork was still going strong but the tightknit culture was unraveling to modernization. Still, there were six fish camps dotting the banks of the river within 10 miles of my house.
When my mother's parents came down from the mountains to visit, they always wanted to go to Twin Tops. When I was real little, I preferred Graham's because they served frog legs, something I still keep in the freezer, though anymore I have to buy them off some fellow on the side of the road in South Carolina. My dad wasn't all that picky, but he likes to remember Stowe's. The founder's son, Hal Stowe, pitched a single game for the New York Yankees in 1960. When he took over the camp in 1972, he covered the walls of the restaurant with autographed pictures of the greatest players to ever take the field, men such as Mickey Mantle and Whitey Ford, players my father idolized.
Everyone who grew up going to fish camps as a kid talks about the same thing: the candy aisle, because whether it was Lineberger's or Catfish Cove, the selection was something that would've stopped Willy Wonka cold. You did your best to strike a deal while you ate your supper. You begged your parents to let you pick something out if you cleaned your plate. And that's the thing about fish camps: The memories are so often the same. The difference is that you were a Lineberger's family or you were a Stowe's family. You grew up going to Twin Tops or you grew up going to Graham's. Where you went was a matter of tradition and loyalty. And if there'd ever come a war, my family would have fought on the side of Catfish Cove.
***
ACROSS THE SOUTH FORK where a short dam breaks the river just upstream of the bridge, a sign with a long-whiskered catfish tipping his top hat stands at the edge of the road. There were always people fishing there at the spillway, little fires glowing at the edge of woods where fishermen made camp, and as a kid it seemed magical—the empty beer cans, the tug at the line, the half-lit faces of men sleeping in the woods. Dad would steer down into the parking lot and we'd wander in past stray cats begging for scraps outside.
It's funny how you never forget certain things, memories like photo albums crammed with dusty images and tiny details. I remember a giant tiger oscar in the fish tank next to the Please Wait To Be Seated sign. I remember striped bass mounted to pieces of driftwood on the walls, the bucktail jigs that had been used to catch them still hooked firmly in the fish's mouths. I remember the sound the chairs made as they skirted across the floor, the sweet smell of cornmeal when the waitress slid a tray of  puppies into the center of the table, none of us waiting around.
We dug in and ordered our drinks with our mouths full, mumbling, "Tea," with one hand covering our lips so as to maintain some small crumb of table manners and decency. Sometimes Dad would order whole flounder, other times catfish or oyster stew. Mom always had Calabash and my sister washed back and forth between catfish and flounder. My uncle ate everything, and my grandmother, later in life when Alzheimer's took her mind, ordered grilled chicken that, half-finished, she'd wrap in a napkin and shove in her purse. As for me, I wanted the same thing then that I want right now, the same thing I'd order if I was minutes from the electric chair. Give me a half order of whole catfish salt-and-peppered, the little ones, with onion rings and a salad, coleslaw, hush puppies, and tea.
***
NOWADAYS, your choices are slim. Of all the fish camps that used to line the river, two remain. Catfish Cove and Twin Tops stand right where they've been for decades, and the food is just as good as it's always been at both. Raymond says the fall started in the '80s when cities and towns in Gaston County began passing liquor by the drink. That was when the steak houses came, the big chains and fast food joints popping up on every corner. Like countless other places, the camps were swallowed up by urbanization and progress.
That progress is why it's so hard for me to go back to the place I grew up, because everything I loved for the most part is gone. It's strange feeling nostalgic at 33 years old, but this is a world that can't keep an iPhone more than a year and mine is a culture on the verge of extinction. I watched it first with places like Shuffletown, little holdout spots of country where my family used to race cars and shoot pool and drink beer from brown paper bags. When Byrum's General Store closed its doors on N.C. Highway 160, Steele Creek drew its last breath and was buried in the sprawl. Each evening, five o'clock traffic backs along Wilkinson Boulevard from Main Street in Belmont across the river to Moores Chapel and beyond—and what was once so different, another county, another town, seems little more than a suburb anymore. Townhouses and apartments take the place of mill villages, and what I remember fades a little further, a little further still.
Earlier this summer, I drove down from where I now live in the western North Carolina mountains and I took my dad to supper. The river was high from summer rain, water the color of Yoo-hoo running south toward forever. Dad hung a left at Dale's Superette, where he used to buy blue tubs of nightcrawlers to take me fishing, where I used to drink Cheerwine slushies stoned out of my teenage mind. We wound through the backside of Belmont and in just a few minutes we were there.
At the table, I watched children wrestle by the candy aisle, waitresses dancing a short order waltz across a crowded floor with heavy trays balanced on palm and shoulder. The air smelled just like I remembered, honeyed with hush puppies crisping golden in the fryers. Across the room, I spotted the waitress who'd served me food since I was 10 years old, a beautiful woman named Tonya with caramel skin and a smile that creased her eyes. I was mesmerized by the sound of the place. The dining room echoed with laughter, with people smiling and talking and swapping stories, a sort of familial music that's deafeningly absent from the chains that drove the other camps out of business.
Just a few days before, I'd sat with Raymond in a back booth, both of us staring out at the South Fork's passing, and I asked him what he thought was at stake, what we stood to lose when the last of it was gone. At 72, Raymond just shook his head and smiled and said he didn't know, and I got the feeling I was getting a little too sentimental for his liking, that he wasn't up for romanticizing the gone and the going away.
"I've been blessed," he said, his pale blue eyes unshaken as he glanced back at the kitchen ready to return to work. "It's been a good life. We put out good food and people keep coming back," and what else is there to say?
When the food came, I ate my plate down to a pile of bones. The room was filled with regulars who'd driven from wherever their lives had taken them to order the same plates from the same waitress who'd served them for as far back as they cared to remember. Every weekend, customers flock from Fort Mill and Concord, Salisbury, and beyond to sit a spell and remember, longing for something old and familiar in an age with no time to stand still. For a brief moment, even those who sit alone find themselves amongst family.
For an hour or so, we gather at the table and are home.
David Joy is the author of the Edgar-nominated novel Where All Light Tends To Go, as well as the novel The Weight Of This World, published by Putnam Books in early 2017. He lives in Webster, North Carolina.