Essay: A Childhood in Boy Scouts, a Lifelong Love of Cooking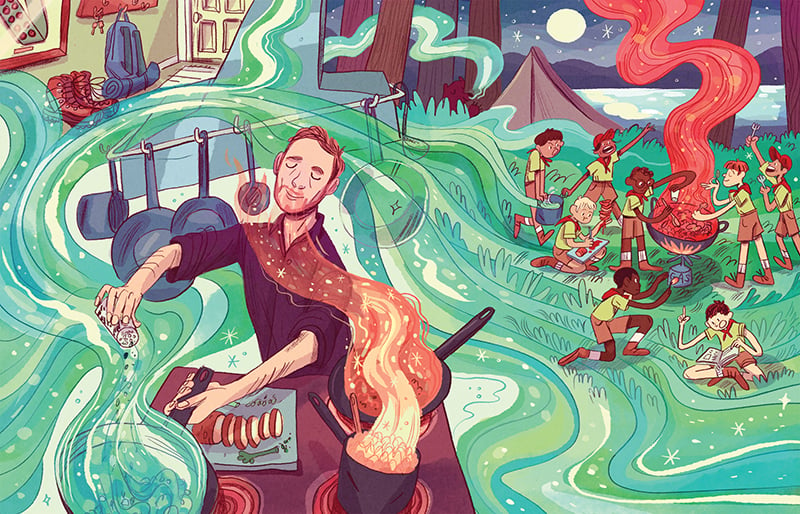 THE CAST IRON SKILLET of paella was bigger than a manhole cover and heavy enough that I needed a partner to carry it. Cubes of chicken and dollops of chorizo poked out from vegetable-studded saffron rice. A spiral of black and gray shells, mussels and clams, dotted the surface of the dish.
We were starving, the eight of us, having smelled the aroma of sweet onions and searing meat for hours. Before we could eat, though, there were just two things that had to be done: Someone had to fetch water. And Tom, a human version of the Peanuts character Pig-Pen, needed to dig his plastic silverware out of the bottom of his backpack.
We had been cooking over a fire at a campsite in The Middle of Nowhere, North Carolina. We were also 14, inexperienced in the kitchen, and had just debated whether the Spanish dish we were about to eat was pronounced "pay-la" or "pie-ay-uh." (It is the latter, I know now, but it being the '90s, no one could look up the answer on his phone.)
We scarfed down the food. It was the first time most of us had eaten mussels. We thought they were fine, but a lot of work compared to big forkfuls of chicken, rice, and vegetables.
None of us found this scene unusual; our Boy Scout troop went camping every month, and cooking an exotic (to us) meal under the stars was familiar.
A bunch of teenagers, cooking for themselves, without adult supervision, successfully plating paella. Of course, it was anything but normal.
I thought of that camping trip one night last summer in my South End kitchen, as I was poaching eggs and sautéing lardons for a Lyonnaise salad.
"Who taught you to do that?" my girlfriend asked, taking a sip of her sauvignon blanc.
"My scoutmaster, kind of."
She was incredulous. Her impression of Boy Scout cooking was similar to what many people conjure: Beanee Weenies and s'mores, with maybe a Pop-Tart or two thrown in for good measure. But for my Boy Scout troop in Charlotte, which I joined 20 years ago this spring, it meant omelets and stuffed peppers, pot roast and blueberry cobbler. In crude outdoor kitchens at campsites across North Carolina, I learned how to bake a cake, fillet a fish, and mince garlic. We scrubbed our pots and pans, flashlights tucked under chins, with water we boiled over the fire.
***
"CAMP COOKING!" my tattered copy of The Boy Scout Handbook exclaims. "As dawn breaks over the mountains, camp cooking is the sound of bacon and eggs sizzling over a backpacking stove."
Learning to cook in the woods is part of being a Scout, a requirement for moving up in rank toward the coveted Eagle rank. But my troop took that requirement far more seriously than many other units. If some Scouts ate oatmeal for breakfast, and the handbook talked about bacon and eggs, we made French toast with a warm fruit compote.
There were weekends that I ate better on camping trips than I would have at home. (Sorry, Mom!) Our family's tastes were traditionally American. We ate well but simply: meatloaf, pork chops with rice and vegetables, casseroles. I was a picky eater, and my parents were amazed by the ways in which I was willing—spurred by peer pressure and the kind of hunger that comes from being in the middle of a forest with nothing else to eat—to stretch my palate.
Within a few months of joining, I'd taken to the wilderness kitchen in the same way my buddies picked up fishing or knot tying. Before every trip, we'd plan a menu, make a shopping list, and collect money. Our leaders would have to approve the menu (mainly to ensure that we weren't bringing junk food), but otherwise, it was our decision. We used back-country cookbooks as inspiration, varying the degree of difficulty based on the type of trip we would be taking. An excursion to a state park, with easy access to car trunks and coolers, meant we could plan elaborate dinners. A backpacking adventure on the Appalachian Trail called for lightweight, often freeze-dried, meals.
Our tastes weren't always refined—we ate plenty of Slim Jims and trail mix—nor were our attempts guaranteed to be edible.
Once, on a snowy night near Sugar Mountain, we added half a cup of cornstarch to a stew instead of the half-teaspoon the recipe dictated. Wet, cold, and hungry, we lifted the Dutch oven lid to find something that resembled a beef-flavored cinder block. We routinely cut our fingers while chopping vegetables with pocketknives; I had to toss out a bunch of potatoes after bleeding all over them. And chicken sometimes didn't cook as long as it should have. If you think your experience with food poisoning is bad, you've never been ill in a remote campsite where the bathroom is a hole you just dug in the ground with a plastic shovel.
***
I DECIDED to recreate my handbook's joy of "camp cooking!" one Saturday this past January, on a hike at the Anne Springs Close Greenway in Fort Mill. It was a typical winter day around here: deceptively bright, warm in the sunshine but chilly enough for gloves in the windy shade. I planned to hike eight or nine miles, with a loaded pack, to break in some gear for a backpacking trip I'm taking to South America this month. I'd brought along a new camp stove, still in the box, and a freeze-dried meal—beef stroganoff with noodles—that I wanted to prepare about halfway through my hike. It wasn't the type of gourmet spread my troop would have cooked on a normal campout, although we did eat this exact meal on a trek in New Mexico when I was 15.
It had been awhile since I was alone in the woods, and I quickly became lost in my thoughts. Leaves and gravel crunched underfoot, and the bare branches above rustled when the wind blew. My cheeks flushed a little; I stopped to pull off my fleece jacket. I couldn't help but smile. Before long, I reached the halfway point, where I planned to stop and eat. I paused, contemplating the chore of unpacking the stove and food there on the side of the trail. And I considered the easy four miles back to my car, and my real kitchen a half-hour's drive beyond that.
To hell with this, I thought. I shouldered my pack and pressed on.
By dinnertime, I was back in my apartment kitchen preparing cacio e pepe, pasta with a glossy black pepper and cheese sauce. It's a simple dish that requires only a handful of ingredients. As I minced the garlic, I thought about the first time I attempted mincing, on a camping trip in the McDowell Nature Preserve two decades ago. It's a skill I take for granted today, although it seemed like an adventure at the time. My first taste of Parmesan came in the woods, too, but I took longer to like it.
Those camping trips changed me, even though I wouldn't understand that for years. In the woods, cooking was a means to an end, something we did because we were hungry. As an activity, it ranked well below canoeing or skeet shooting on our list of favorite wilderness pastimes. It wasn't like we were running back to Charlotte eager to show off our knife skills or demonstrate the proper way to flip an omelet. I was somewhat embarrassed about being a Boy Scout when I was a kid—my school friends would have been ruthless if they saw me wearing a sash of merit badges—but the truth is, I've never had a better wingman than the cooking skills I picked up on a couple of hundred nights in the woods with my muddy, stinky buddies.
As I reached for the fridge to grab a bottle of wine, I thought about those camping trips—and how nice it would be to put my dirty dishes in the dishwasher instead of scrubbing them by flashlight.
ADAM RHEW is the associate editor of this magazine. He earned his Eagle Scout award in 2002. Reach him at adam.rhew@charlottemagazine.com.