Essay: Can Charlotte Make You Happy?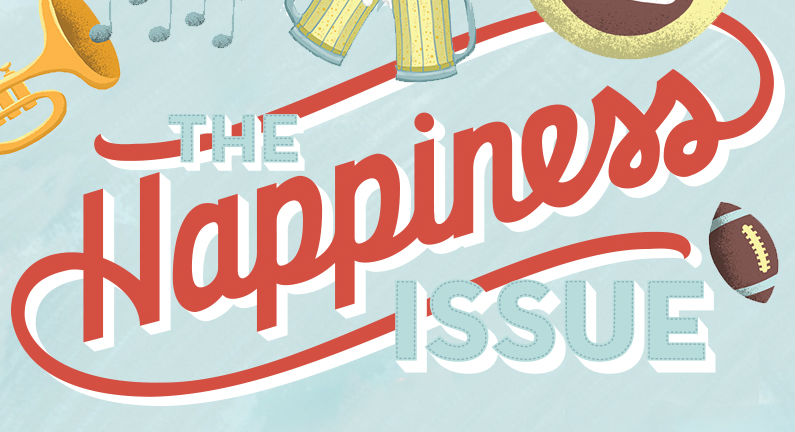 WE RELUCTANTLY handed our five-dollar bills to the disinterested bouncer, squeezed inside, and angled toward the bar for a round of Bud Light. The place was called the Frozen Dog, and it was dark, steamy, and dumpy. It had nothing to offer except that other people were there. I don't remember if it served food. Bass Ale was the premium beer. Sometimes there was live music, but it was inaudible over the din. This was where my buddies and I would go on weekends, to this terrible bar behind Park Road Shopping Center, in a low-ceilinged building that's now a taekwondo school.
Twenty years ago in Charlotte, if you were young, a sense of desperation pervaded, at the Frozen Dog and everywhere else. The only decent jobs were in banking, and the only good bars weren't very good. You didn't come here to make yourself happy. Charlotte was a rest stop on the way to somewhere else—grad school, back home, somewhere bigger, better, more promising. Most people I knew left. Those of us with weaker imaginations stayed.
Judging by the number of yoga classes offered around town, we may be breeding the most flexible metro populace in the country.
Now, Charlotte gleams with an Instagram sheen. New breweries built with old materials are filled with gorgeous, laughing, and seemingly rich Millennials. Judging by the number of yoga classes offered around town, we may be breeding the most flexible metro populace in the country. Scores of new apartment buildings boast amenities that rival those at all-inclusive resorts in the Caribbean. So many fancy cars! So many fancy grocery stores! So many startups and meetups!
If you're just out of school, Charlotte is rich with possibility. If you've had your dreams dissolved or your will broken by other, tougher cities, Charlotte beckons. Come. You'll be happy here.
***
CAN CHARLOTTE make you happy? That is, of course, an absurd question.
Charlotte can't make you happy.
Charlotte is a place, and that's not what a place does. Places that we believe make us happy tend to be places where we aren't. Where we honeymooned. Our hometown. Where we went to college. That diner that closed. Those places aren't making us happy; the memories are.
Which brings me to New York City.
On the first weekend of December 2014, my wife and I traveled to New York City for an anniversary getaway.
Neither of us has spent much time in New York, but we love the city in all its messy glory. We ate at the counter of a foodie-famous restaurant with an unpronounceable name, then saw Idina Menzel belt her way through the musical If/Then. We enjoyed a long, boozy dinner at a fantastically hip Lower East Side joint. I nursed a hangover while we strolled the High Line. We saw the holiday department store windows—all of them—and took a selfie with the Rockefeller Christmas tree. We were quieted by the 9/11 Memorial.
The temperature never got above 38 degrees. It rained for 36 straight hours. Still, the city inspired us. Yet here is the scene that stuck with me: moms, navigating the subway or a stoop or a crowded sidewalk, pushing strollers, trying to keep the cold, cold rain off their babies. All of this just to get some groceries or toiletries or maybe a birthday present. Winter had barely begun, and as I watched the scene play out over and over, I realized that for all of its magnificence, New York City is a hard place to live, even for the people who can afford it.
New York, like many other cities, conspires against you. It doesn't give a damn whether you are happy.
***
THIS PLACE? Charlotte sits back, shyly rooting for you. Charlotte won't make the first move, but once you act, the response can be exponential.
For a good chunk of the 21 years that I've lived here, I thought I wanted to leave. I was born and raised in Tallahassee, Florida, went to college just outside of Charlotte, spent six months in Europe, lived in Atlanta for an unsatisfying summer, then ended up here in 1994.
The house my wife and I have lived in since 2002 overlooks Briar Creek, and our deck feels like it's up in the trees. The deck came with a hot tub. The hot tub hasn't worked in five years and I'm now afraid to lift up the water-logged cover, but before we had our daughter, my wife and I would each grab a glass of wine or a Tervis of bourbon and relax there on Friday nights, dreaming out loud.
We called them Friday Night Ideas, because they often did not hold up in the glare of Saturday morning. Like you, I have big dreams. For years, I couldn't shake the feeling that things were happening—really happening!—in other cities, and I was missing out. Most were fantasies of moving to Brooklyn or Boston or Chicago. It's not that we were unhappy here. It's that we were convinced that another, bigger, fancier place could make us happier, just by us existing in it.
These are ironic thoughts, given our professions. Since 1995, I've worked for the magazine that is named for this city. Since 2001, my wife has worked at a museum that tells this city's story.
We never left. Maybe we didn't know how; maybe we didn't have the courage. Maybe we possessed more wisdom than we knew. Or maybe Charlotte just numbed us into contentedness. Which, as it turns out, is another way of describing happiness. But we'll get to that.
***
GARRETT TICHY, 31, has lived here for eight years. "I didn't like Charlotte for seven of them," he tells me. He would have left, he says, if he hadn't bought a house. He managed video game stores when he came here from New York; now he's a partner in a two-person digital marketing firm. We're talking over a couple of Birdsong Jalapeño Pale Ales in a hip new place called Draught. It's in the shadow of Bank of America Stadium, just across the street from his office, which is in a coworking space that he co-founded.
For those first seven years, Tichy waited for Charlotte to make the first move. "I felt that Charlotte didn't do a good job engaging me," he says. Then he adds, "I don't fault Charlotte for that."
Last November, he went to his first #InstaBeerUpCLT, a networking happy hour that tends to attract people working in creative fields. He came home beaming. His wife asked him, "Why are you so excited?" He told her he met some amazing people.
The next day, he decided to launch a monthly speaker series. The first event took place two months later. He missed it because his first child came early. The series is called #WeLoveCLT, and it's a hit, often filling up the 120-plus seats only hours after Tichy opens the RSVP list.
After waiting for the city to come to him, Tichy, who has not liked Charlotte 88 percent of the time he's lived here, finally made the first move. "I've never been happier in my life," he says.
I ask him who else I should talk to about this question of whether or not Charlotte can make you happy. He tells me about an artist named Cece Stronach. A few days later, I meet her for coffee at a place called the Mayobird, in Dilworth. She came to Charlotte at about the same time Tichy did, in 2008. She did clerical work for a big health-care company. After five years, she went back home. Home is Wisconsin. She says she "hated Charlotte" so much, she moved back to a place where the average temperature in January is 13 degrees.
In the summer of 2014, after two years back home, she was ready to move to a small, artsy town in New York called Troy. But her sister was still here and had started a family. So Cece flipped a coin. (Seriously, she flipped a coin.) Charlotte won.
But here's the thing: If you come to Charlotte to pursue happiness, you're not likely to find it.
When she came back, she saw a different Charlotte. Before, she says, "I was living in my future." She didn't like who she was or what she did, and this city, dammit, was not doing its part. This time, she pursued art full-time. She collaborates with local chefs, painting beautiful still-lifes of their most inventive dishes. She hasn't had to take a corporate job, and her first show was this fall at a local brewery. She's become involved with #WeLoveCLT and other groups. She smiles when she says it: "I've found my people."
***
THE COLONISTS believed that America was a place that would make them happy. So much so, they considered it an inalienable right granted to them by God, and Thomas Jefferson wrote it into the Declaration of Independence. It's part of our DNA. That document demands we chase happiness forever. Baby, we were born to run.
But here's the thing: If you come to Charlotte to pursue happiness, you're not likely to find it. In fact, the more you chase happiness, the more elusive it will become. Some modern philosophers call it "the happiness paradox." It means happiness is a byproduct of other pursuits, like satisfying work or a secure and loving relationship. A friend of mine, Mark Peres, told me about the paradox in our country's creed over lunch at The Liberty, a restaurant in South End that is owned by, yes, a native Brit and an American.
Mark and his wife moved here from Ft. Lauderdale in 1999 to launch a startup business when entrepreneurs were not as in vogue in Charlotte as they are today. His company failed, and he was soon out of sorts with his career. He faced a "yearning—a feeling that significance is elsewhere."
It is precisely that yearning, which American culture prescribes, that can lead to sustained unhappiness. Humans have a unique ability to adapt quickly to their current reality. We are happier after we get married—for about two years. Then we go back to our pre-marriage happiness level. The 50-inch TV thrills us, until it starts to seem too small, and then we crave the 60-incher. Psychologists call this hedonic adaptation. It's why the big house or the fat raise won't make us happy unless we're able to find happiness in nonmaterial things—a relationship, a chance meeting, a beautiful painting, a perfectly grilled steak.
Last year, an outfit called the National Bureau of Economic Research named Charlottesville, Virginia, the happiest city in America. The London newspaper The Guardian sent a reporter to investigate. The reporter talked to a UVA research neuroscientist named Chip Levy. I love what Levy told him. The reporter paraphrased Levy as saying that in Charlottesville, "people don't become so caught up in the pursuit of happiness—at the restaurants, walking in the mountains, drinking fine wines—that they forget, in effect, to be happy."
"We're happy to be happy," Levy said of the town where Jefferson's Monticello is the top tourist attraction, "not just to pursue happiness."
Levy is on to something.
At his lowest point, between careers, my friend Mark sat at his computer at midnight and launched a website. He called it Charlotte Viewpoint, and it covered arts, culture, and urban issues—all things he cares about deeply. The site still exists, though Mark moved on after 10 years at the helm. That work gave him a powerful sense of place and a new network of friends.
"I embraced Charlotte," he says with a laugh, "and significance followed." He's now a professor of leadership studies at Johnson & Wales University, where he teaches a course called "The Good Life."
***
THINK ABOUT all the major investments made in Charlotte over the past two decades, since those bleak nights at the Frozen Dog. Light rail. Sports arenas. Museums. Public art. Urban parks. Greenways. (Note to Charlotte: Let's add public schools to that list.) Think about all the places that have filled in the civic cracks between the big stuff. Breweries. Coffee shops. Indie music venues. (Note to Charlotte: Let's stop tearing those down.)
None of those things will make you happy. All of them create opportunities for shared experiences, for connections with people we know and people we don't know yet. Having them makes it easier to be "happy to be happy," as Chip Levy put it.
This past spring, my wife had to work on a Saturday. Her office is uptown, so I dropped her off and took our four-year-old daughter, Molly, to Romare Bearden Park. The weather was perfect. Molly played in the fountains and ran through the grass. I noticed activity across the street at BB&T Ballpark. Game today. So I asked Molly, "Want to go to a baseball game?" She had never been to a baseball game, and because she answers "yes" to any question that begins with "Want to go," she responded with a hearty affirmative. We walked to the box office window, confirmed that tickets were available, and I called my wife.
"Want to go to a baseball game?"
"Sure, we can talk about it at home."
"Let me rephrase. The game is in an hour. I am buying tickets right now. Do you want one?"
Molly ate ice cream out of a miniature plastic batting helmet. We visited the giant dragon behind centerfield. I attempted to explain to her how the game worked, to the amusement of the fans sitting around us. Which led to conversations with a couple who had just moved to Charlotte and a guy in town on business. I smiled almost the whole time. We did not pursue happiness that day. We just made a little bit of an effort. And Charlotte came at us with everything she had.
I haven't thought about leaving Charlotte for a long time. There have been lots of other moments like that Saturday. Picking up my morning coffee at the Common Market South End. Watching Molly dance her way down Tryon Street in a New Orleans-style second line parade as strangers filled in behind. Exchanging nods with the regulars at the Dowd YMCA. All the times people have told me how much they appreciate the work we do at this magazine.
Can Charlotte make you happy? Still no. But it puts happiness at arm's length. It's, like, right there.
Richard Thurmond is publisher of this magazine. He can be reached at richard.thurmond@charlottemagazine.com or on Twitter: @rthurmond.
---
This article appears in the November 2015 issue of Charlotte Magazine
Did you like what you read here? Subscribe to Charlotte Magazine »
---