Essay: Milkshakes and Memories at Mr. K's
Family traditions at the South End spot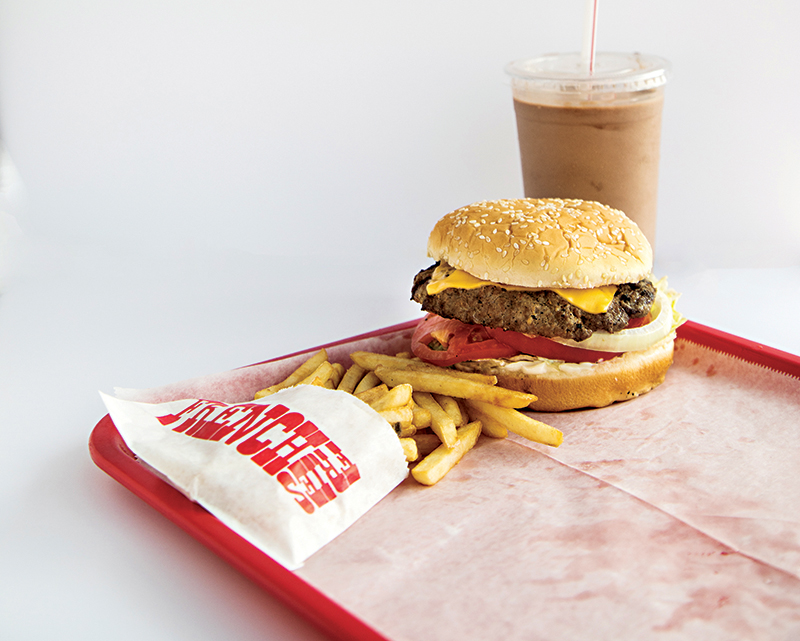 THE BURGER JOINT beside a strip club, as odd as it sounds, is where I go to relive my childhood. It's lunchtime at Mr. K's on South Boulevard, and smoke from the flattop fills the restaurant, packing up against the ceiling tiles. I'm waiting in a hard-backed booth while an ice cream machine grinds, mixing my chocolate milkshake.
I've also ordered a hamburger—hold everything but the bun—and fries, exactly what I chose when my parents took my younger sister, Elizabeth, and me here as kids. We'd go on weekends, from elementary school until we left for college, after a stop at the farmers' market and before we picked up Dad's dry-cleaning. Elizabeth started calling it Mr. C's for some reason, and that name stuck. I always hesitate when saying the name out loud now, certain I'll revert to our silly nickname.
People say that this city destroys its history, that we tear down our old buildings, don't cling fast enough to memories. Perhaps that's true. But for native Charlotteans such as me, Mr. K's—which celebrated its 50th anniversary in 2017—is a grease-stained, onion ring-scented, iconic piece of the past, an enduring symbol of childhood.
Funny enough, I'm the only member of my family who ordered a burger and fries on our weekend trips to Mr. K's. Dad and Elizabeth went for hot dogs and onion rings. Mom chose a grilled cheese sandwich. Elizabeth, who's always hated chocolate, would ask for a vanilla soft-serve cone dipped in a cherry coating. The pinkish ice cream would inevitably trickle down her arms, but she didn't care.
A server brings over the plastic red tray bearing a plain burger, a paper pouch of fries, and my milkshake. I squirt some ketchup onto the sesame bun, smash it back together like I did in elementary school, and take a bite.
There is an actual Mr. K, Theodore Karres, who emigrated from Greece in the 1960s. He stopped first in Chicago, where he ran a dry-cleaning business, before settling in Charlotte. He opened an ice cream stand in a round building on South Boulevard in 1967 and named it Zesto. Ice cream was all you could buy, and Mr. K would stick his arm through a little glass window and serve you the cone himself.
A couple of years later, he added hot dogs to the menu. By 1971, the restaurant had a new building on the same site and a new name: Mr. K's. The prices changed, and the menu expanded a little. When Hurricane Hugo came through Charlotte in 1989, Mr. K's was one of the few businesses that somehow never lost power. The Karres family kept the lights and air conditioning on, serving food to Charlotteans whose spirits were as depleted as their refrigerators.
In the early '90s, about the time I can first remember eating there, Mr. K hung a bunch of Carolina Panthers memorabilia on the walls. He retired in 1996—his daughter and son-in-law run the business now—but the Panthers gear remains. There are burger shacks in other cities, but the black and blue say this one is ours. It belongs here.
South End, as we all know, has changed plenty since Mr. K's first opened. Across the street at Atherton Mill, developers are about to spend $100 million to create a huge complex of shops and offices and apartments. I hope the people who will live and work there walk across the street and order a burger at Mr. K's. That'll help keep it here another 50 years, I figure. If not, I would chain myself to the exterior of this place to keep someone from demolishing it.
As I slurp my chocolate shake, I think about all the memories this rectangular box of a building holds—for the Rhews and for thousands of other Charlotte families. I close my eyes and imagine coming here one day a few years from now, a little girl of my own sitting across from me, soft-serve ice cream running down her arms, an empty red tray on the table.