Essay: Saying Goodbye to Dale Earnhardt Jr.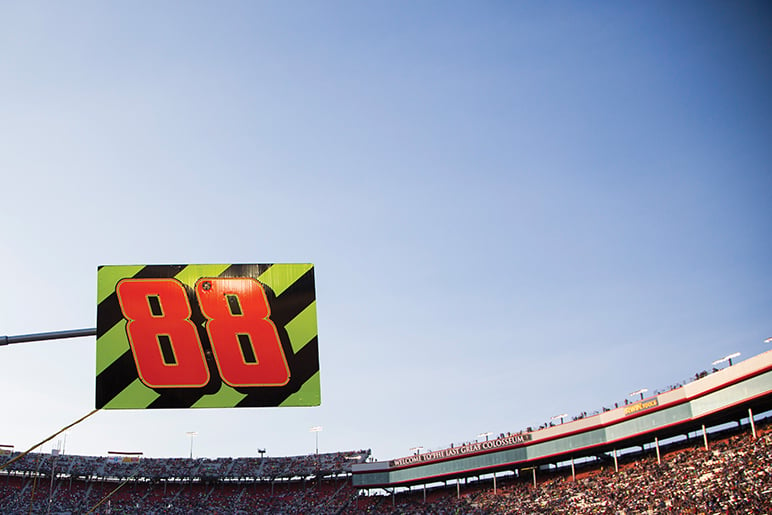 THE MOST INTERESTING CONVERSATION I ever had with Dale Earnhardt Jr. was about how he couldn't win a race. It was early 2014, before the season started, and he was more excited to get back in the racecar than at perhaps any time in his career. He was emerging from a much-discussed years-long slump, and his return to the elite ranks of the sport gave him perspective on just how far he'd fallen—and just how much better the top was than the bottom.
Sitting in an office at Hendrick Motorsports headquarters near Charlotte Motor Speedway, he laughed about how even NASCAR chairman Brian France had lamented his slump. Just a few years earlier, in 2009, France had said that NASCAR without a good Dale Jr. was like the NBA without the Lakers or Celtics. "You're like, 'Damn, dude. I can barely get my ass in gear on the racetrack, much less try to win races," Junior said. "I'm so far off from being competitive I can't even imagine trying to carry, trying to bring excitement to the sport every week.' But now that we're running good, it's realistic to think we could go out and win the championship and do something awesome for the sport."
I thought about that conversation this morning when I read that Earnhardt Jr. would retire at the end of this season. On the track, he never accomplished "something awesome" for the sport. I'll leave it to others to analyze his career, but I know this: The manner in which he is retiring says a lot more about him, all of it good, than any list of his wins.
He walks away from the sport with 26 checkered flags, more than $100 million in race winnings, 14 Most Popular Driver Awards and inevitable questions about unfulfilled promise. But to analyze him only through what happened on the track is to miss the point. Through his willingness to talk openly about his struggles with head injuries, and his ultimate decision to quit driving, he showed a snarling hot-take sports culture obsessed with accomplishment that there are things more important than trophies, checks, and championships.
I can't think of another high-profile athlete whose retirement would bring about so much relief among his fans and peers. Not to put too fine a point on it, but Dale Earnhardt Jr.'s dad died of a head injury he suffered while driving a racecar. And head trauma will now bring Junior's career to a close. We should be relieved we get to say goodbye to him on his own terms. We should be grateful that while the rest of the sports world lies and obfuscates about head injuries, he tells hard truths.
Racecar driving can be a horrifying way to make a living. Safety innovations in NASCAR—many of them discovered at the research and development facility in Concord and implemented in the wake of Dale Earnhardt Sr.'s death—have diminished the danger. But eventually age or a decline in talent (or, lately, the demands of a sponsor) force drivers to give up. That decision has been made easier by how lucrative the job is. According to Forbes, Earnhardt Jr. makes more than $23.5 million per year.
In pursuit of fame and fortune, other drivers moved to Charlotte, became overwhelmed with life here, and then moved away. But Dale Jr. grew up famous. He was born and raised here, never left here, and it's hard to imagine he ever will. He's so Charlotte he still loves the Redskins. He has been a part of Charlotte's sports scene since before Cam Newton started high school. And it's likely he'll remain a visible role, whether it's on TV or through owning a race team, production company or Whisky River, a bar at the Epicentre.
People will make a big deal about what Junior's retirement will mean for NASCAR. He was and is the most popular driver NASCAR has ever had. But I have looked for and been unable to find any empirical evidence that his presence in races dramatically increased attendance or ratings. In fact, NASCAR attendance and ratings continued to tumble even during his career resurgence of the last several years.
No, his retirement is not good news for NASCAR. But the bell isn't tolling for America's most popular form of motorsports, either.
I have written about NASCAR for 15 years and covered both of Dale Jr.'s Daytona 500 wins. I've tried to pinpoint why he gets the reaction he does, both from fans (who adore him) and writers (same). Part of it is that we think he's cool as hell (which is part true, part not, see: banana and mayonnaise sandwiches and computer geekdom). The main reason I believe Earnhardt Jr. is the most popular driver in NASCAR history is simple human compassion. We all lose our fathers. None of us lose them like he did.
We watched his dad die on live TV in 2001, found out at the same time he did, and then we mourned with him in a publicly cathartic way that has no precedent in the modern sports world. After that, you might have rooted for Jeff Gordon, but you felt for Dale Jr.
So last summer, when Earnhardt Jr. started to suffer symptoms from concussions, as he had multiple other times in his career, we thought of his dad. We thought of history repeating itself. As Junior sat out half of the points paying races last year, he was bluntly honest about how bad things were, and it was easy to see that the end of his career was near for him, if only he would take it. He was about to get married (and he did in the winter), and he planned to start a family. It became obvious that both of those things are more important to him than chasing trophies.
But then his health improved. He showed up in the TV booth at Talladega and Martinsville and charmed the racing world again. He seemed like his old self—maybe even better, as he openly shared the perspective he gained from facing his own mortality.
As triumphant as his return to the racecar in this year's Daytona 500 seemed, it also carried an air of theatrical dubiousness, as if strapping on the helmet again squeezed out all the very real and scary problems he faced during the previous nine months. The media covered it like we forgot the difference between can and should. I was glad, I suppose, that he could return to the racecar but I really would have preferred that he didn't.
The pressure on Dale Jr. to "carry" the sport and be its face is immense, and the fact he has the guts to walk away from that speaks to him having his priorities straight. He still wants to win. But he wants to be a healthy husband and father more. It's not the "something awesome" he envisioned on that day back in 2014. It'll be better.
MATT CROSSMAN is a freelance writer based in St. Louis. He lived in Charlotte until 2016 and covered NASCAR for 15 years. Reach him at mcrossman98@gmail.com or on twitter: @MattCrossman_.