Essay: The Case for Charlotte Music, Post-COVID
Just as Charlotte began to lay a foundation for something it's notoriously lacked over the years—the ability to sustain a vibrant, distinctive local music scene—the pandemic snatched it away, as it did so much else. Was it a lethal blow? This magazine's longtime editor, now a driver of a local music initiative, grabs the mic to argue: Hell, no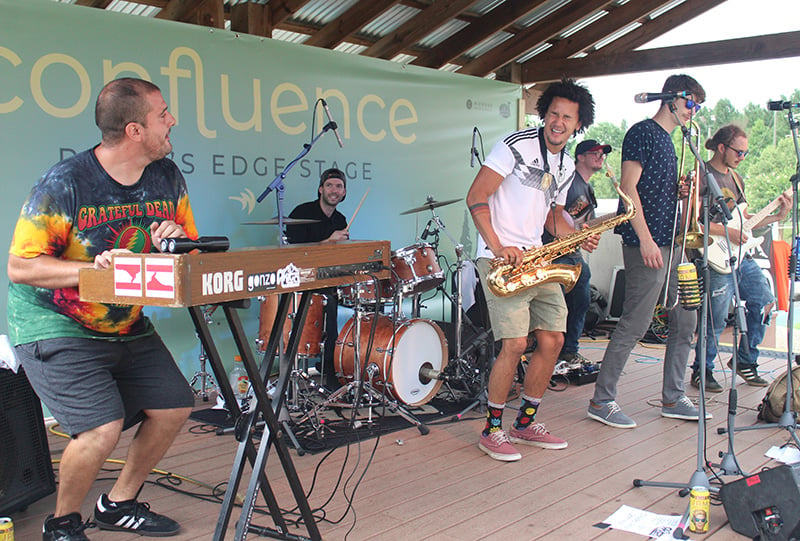 The year 2020 was shaping up to be a good one for the Charlotte music scene.
Going into March, independent venues The Evening Muse and Neighborhood Theatre in NoDa had celebrated a run of sold-out shows. Uptown, the brand-new jazz club Middle C had hit its stride with its own string of sellouts. Charlotte's largest venues, including four Live Nation-owned stages and the city-owned Bojangles Coliseum, Ovens Auditorium, and Spectrum Center were booking more shows than ever.
Any night of the week, you could experience high-quality, local, live music. Heck, pick a night, and you could hear live jazz, which, until the Bechtler started a monthly series 11 years ago, was kept on life support by the legendary Bill Hanna, who died in January. Once a month, at cozy Snug Harbor in Plaza Midwood, Elevator Jay, the bard of Beatties Ford, presided over Player Made, an Ode to Southern Rap. At Comet Grill in Dilworth, some of the city's best bar bands lit up the place three or four nights a week. On Sunday afternoons, local and touring bands contorted themselves into a corner at iconic dive bar Thirsty Beaver and played for hours.
Recording studios were booked with sessions. Local artists in all genres worked on new material. Backup players joined big names on cross-country tours. Charlotte's own Jonathan Kirk, better known as DaBaby, was on his way to a second straight Billboard No. 1 record.
For me, more than two years of work was starting to pay off. In late 2017, through my role at Charlotte Center City Partners, I helped launch an initiative called Music Everywhere CLT. Our long-term goal, building on a latent strength of Charlotte, is for music to become an essential element of this city. Through research, focus groups, a survey of 2,000 people, and work with a consultant, we produced something called The Charlotte Music Ecosystem Study and Action Plan. Nerdy, I know. Town halls and meetups followed. We have strategies to boost audience awareness, grow artist resources, develop the industry, ensure equitable outcomes, and organize the music community. All of that is the foundation. Atop it, a killer music scene can flourish.
At 3:30 p.m. on Thursday, March 12, I was scheduled to meet with a few folks in the music community at The Evening Muse. We were planning the first-ever Charlotte Music Week, a follow-up to Confluence, a music conference and festival that debuted at the U.S. National Whitewater Center in 2019. We were shooting for the week before the Republican National Convention in August. The concept: a conference during the day, with guest speakers from Charlotte and all over the country. At night, artist showcases in venues all over town. It would be a regional draw, an attempt to establish Charlotte as a Southeastern hub for music.
I never made it to the Muse that afternoon. My week turned into a dizzying series of meetings with titles like "Public Health Strategy." On Friday the 13th, I tucked my computer monitor under my arm and walked out of my office, not knowing when I would be allowed to return.
***
From 1994 to 2016, while I worked at this magazine, I wrote or edited tens of thousands of words about the Charlotte music scene. I did it because music matters to me. I can neither play a lick nor sing a note, but some of the most memorable nights of my life have been spent inside local music venues.
I also did it because I think music matters to a city. People want to live in cities with lively cultural scenes. Companies want to be in those cities, so they can hire workers. Music is a growing industry. Every record made or concert produced helps create dozens of jobs. Increasing numbers of visitors want to come to cities with great music scenes, and they spend money when they are in those cities.
At a deeper level, music matters to a community. Music unites and inspires. Lord knows we could use some unity and inspiration.
At its core—and this is why I do the work I do—music is how a place expresses itself. Rock, jazz, blues, country, folk—all are American creations (in fact, all are African American creations), and each has its own vernacular particular to the area from which it emanates. Try to imagine New Orleans without jazz; New York without Bob Dylan, Lou Reed, and Patti Smith; California without The Beach Boys. Memphis isn't Memphis without Stax Records and a horn section. Without hip-hop, Atlanta has no soul. Bluegrass is the soundtrack to Western North Carolina.
Charlotte has long sought not only to define itself but to announce itself, and, well, I think that'll be really hard to do without music.
So when COVID ripped out the city's vocal cords, you'd have been forgiven for thinking: Game over. Except I'm hopeful. In fact, I'm more than hopeful; I'm optimistic—and you should be, too. The music community took some punches, sure, and they hurt like hell. But they weren't knockout blows. Artists figured out ways to play. Charlotte showed up with financial and emotional support. Venues banded together.
It will continue to be hard. But Charlotte's music community was busy building something last March, and we are far from finished.
***
Throughout the 1990s and 2000s, venues came and went. Bands surfaced, threatened to break through, then faded. The '90s were promising. Charlotte's first alternative-rock radio station, WEND 106.5 The End, promoted local shows and played local bands. A no-nonsense woman named Penny Craver leased an old cinder block building in then-gritty South End and opened Tremont Music Hall. Everyone played there: teenage hardcore bands and early-career Ben Folds and Ryan Adams. Major labels snatched up promising area bands like Muscadine, Jolene, Lustre, and Sugarsmack.
It didn't last. Radio went corporate. The labels discarded the Charlotte bands, attracted to newer, shinier objects in some other city. The Charlotte music scene seemed doomed to forever stay a stepchild to the Raleigh-Durham-Chapel Hill powerhouse and up-and-coming Asheville, occasionally lunging toward a tipping point, then turning back or being turned away before anyone else noticed.
Sure, there were moments. The Avett Brothers, from just up Interstate 85, headline festivals and sell out large venues all over America. Anthony Hamilton and Fantasia Barrino have 29 Grammy nominations between them, and each has won one. But no one followed in the Avetts' wake. On a 2016 tour, Hamilton and Fantasia sold out Madison Square Garden; the tour's finale at Bojangles Coliseum was two-thirds full—which seemed to validate the widespread perception that Charlotte's music scene underwhelms and underachieves.
Five years ago, the situation seemed dire. In 2015, Tremont Music Hall closed and was soon reduced to rubble, torched by the white-hot real estate market of South End. Not long after, a guy named Nick Karres retired, selling his little bar to ever-expanding Central Piedmont Community College. The Double Door Inn was one of my favorite places on Earth, and I'm far from alone in this sentiment. It was a room that made bad bands sound good, good bands sound great, and great bands transcend space, time, and their own ideas of what was possible.
To this day, what gets me is this: The Double Door slunk away with little outrage from the community, purchased and torn down with your money and mine, tax dollars erecting a four-story CPCC building in place of 40 years of culture. I don't recall a single finger-wagging op-ed, no political grandstanding. Just a too-late petition, a bittersweet memorabilia sale (I still regret not acting fast enough to claim a row of the church-pew seats that my wife would have greeted with her lovely, tight smile), and one secret, last-ditch, failed attempt to secure the building, move it up the street, and reopen it as a nonprofit.
That last bit is a story for another day. My point is that it seemed like the Charlotte music scene, such as it was, had reached its nadir.
Yet while myopic, sentimental sops like me bemoaned the loss of surface accoutrements like old rock clubs, Charlotte kept attracting talent. Singers, rappers, songwriters, players, and producers moved to Charlotte for the same reasons everyone else does: relative affordability, good weather, nice people, accessibility to other places, plentiful jobs. Over the past seven or eight years, the newcomers have turned up the heat underneath the simmering scene.
Leo Solis came here 10 years ago to work as a tour manager. "When I realized how cheap it is to make a record here and how cheap it is to live, it was kind of a no-brainer. I was like, 'I can work with new artists and work with this crazy, untapped potential in this town known as a banking city? I want to stay here.'" Now, Leo and his wife have an indie-pop band (SOLIS). He started indie label Four Finger Records with Jeremy Smith. He produces. He's a sound engineer.
Tim Scott Jr. graduated from Northwest School of the Arts in 2006, then attended N.C. Central. Ever since, he's made music his livelihood. He's a drummer, a music director, artist manager, and talent buyer, and he hosted the monthly South End Jazz Jam for two years until the shutdown. "Since 2017," he told me, "I've seen a coming together of the music community that I've never seen in this city before."
If music is how a city expresses itself, then Charlotte was starting to find its voice.
***
That's what made March so difficult.
On Thursday, March 12, after a show by Eddie Z and the Vault Dwellers, Joe Kuhlmann, co-owner of The Evening Muse, took the staff out for a drink. "I remember telling them, 'This is going to be strange, but we'll survive this. We will navigate this and figure it out.' I remember thinking it was going to be a few months. 'Like, OK, Memorial Day, we'll probably reopen.'"
Now, he's hoping for Memorial Day 2021. Overnight, the Muse went from hosting 45 or 50 shows a month to zero. It was the same all over town. Every venue shut down. Recording studios closed. Events, canceled. Tours, suspended.
"What we do is create music and we release it and we promote and we play it live," Solis says. "And all of those things went away in a matter of days." All of his income evaporated overnight. His wife was pregnant with their first child (they welcomed a baby boy in November), and she worked at a grocery store. They decided she would stay home. Leo found work in the service industry.
A couple of weeks into the pandemic, I helped host a few Zoom roundtables and town halls for the music community. I had this idea to start a microgrant program so musicians could buy livestream or in-home recording equipment. "That's great," one artist said. "But I need that money to pay the rent."
Fair point.
We partnered with Tosco Music and FAIR PLAY Music Equity Initiative to start the Charlotte Music Community Relief Fund. Over 10 rounds of grants, we read so many heartbreaking applications. One singer-songwriter with a decent following went from regular gigs to homeless in a matter of months. (He's back on his feet again.) I can tell you story after story after story.
What worries me most are the stories I don't know. By fall, we had exhausted the fund, $80,000 worth of $500 grants. Not long after that, the federal unemployment bonus ended, then state unemployment maxed out. So many folks were on the precipice, and $500 goes only so far. I know the money made a difference because I read the thank-you emails. But for how long?
***
If you're a musician in Charlotte, you're probably not doing it to get rich. Our research told us that most working members of the Charlotte music community make less than $10,000 a year from music, with little to no safety net. Being a musician is the hard path. You do it because you have no choice. It's who you are.
Imagine being one thing one day, then watching as—slowly at first, then suddenly—you are not that thing anymore, you cannot be that thing anymore, due to forces you can't control or even see. Imagine being a fish watching, helpless, as water drains from the ocean.
Do you know Cyanca's music? I hope so. Cyanca is as talented as any Charlotte artist I've ever heard. She blends gospel, soul, R&B, and hip-hop into a sound all her own, and she can command a stage. She had just signed with a label; her career was ascendant.
Then … "The beginning of the pandemic was extremely overwhelming. It was a lot for me mentally. I didn't have access to a studio. All of my shows were canceled," including a show in London, Cyanca tells me just after Christmas. "It forced me to sit down and focus on the things that matter the most. Family, friends, values. Making sure we're mentally stable."
For a lot of people in the music community, that last part remains a challenge. Charlotte is full of talented musicians who gig five to seven times a week, sometimes playing three shows on a Saturday. Some of them have other jobs; many do not. It's hard work, but the hustlers can make $4,000 to $6,000 a month. That income disappeared, and what left with it was the psychological juice that a musician gets from connecting with an audience. A wise theatre director once told me that live theatre without an audience is just rehearsal. Without an audience, it's not really art.
By summer, the music community started to adapt. Live streams became ubiquitous, and artists and venues got better at them. A few, like Josh Daniel and Sam Tayloe, used livestreams to gain new audiences, grow income, and even raise money for charities. Breweries began booking bands to play outdoors. Restaurants made room for soloists on their patios. Blumenthal Performing Arts started hosting free, limited-capacity concerts behind Spirit Square. Camp North End began hiring two bands every Friday night. My shop put music on the street uptown.
Cyanca regrouped: "I bought a microphone, speakers, keyboard. I made my own creative space in my home." She expects to release a new EP this spring.
"I've been doing virtual shows recently. It's been kind of cool, but it's also been different not being to connect with my fans. And see them."
***
So where do we go from here?
I, for one, am fired up.
As difficult as the pandemic has been, good things have happened.
One, with the leadership of council members Larken Egleston and Tariq Bokhari (music is bipartisan!), the City of Charlotte used federal CARES Act dollars to create an independent music venue fund. It helped ensure that our still-shuttered independent music venues made it to 2021. It was also a symbol, and I hope, a harbinger. As far as I can tell—and I track these things—Charlotte's was the second municipal government in the country (after King County, Washington, which includes Seattle) to create a dedicated relief fund for music venues. With that unanimous vote, Charlotte put music first, and the City Council said, We see you, live music, and you matter.
Two, you helped 160 members of the Charlotte music community when they needed it most. The relief fund raised more than $80,000, much of it through a public fundraising page, and made 160 grants. That effort sent a signal to our music community: We see you, and you matter.
Three, following the relief fund, Music Everywhere CLT launched a program called Communities in Concert. Led by Charlotte musicians El Lambert, Tim Scott Jr., Eddie Harris, and Stefan Kallander, the program provided 139 paid gigs in three months. Artists got paid, audiences got free outdoor concerts, and live music popped up in places where it had never been.
Four, DaBaby happened. He unapologetically reps Charlotte, producing songs here, shooting music videos here, and wearing Hornets teal. Hip-hop is the most popular genre in America, and the most popular hip-hop artist lives here.
Five, Jason Jet opened GrindHaus Studios. The Northwest grad is a songwriter, singer, and producer with talent to spare. The pandemic shut all that down. He took stock. "I'd always envisioned what you could call a YMCA for music. … Live streaming, podcasts, project studios, the big studio, classes, and workshops," he says. For Charlotte's music ecosystem to become the best version of itself, artists need to lead the way. Jason Jet stepped up.
Six, everyone experimented! There are so many ways to make music, sell music, and connect with audiences, but very few local venues and artists had explored what's possible. By necessity, that changed.
***
As winter lifts and restrictions ease, you'll see outdoor live music return. Communities in Concert will return and expand. You'll see live music at Camp North End, the Whitewater Center, on uptown street corners, outside local venues, at shopping centers, beer gardens, restaurant patios, block parties, and neighborhood pools. You'll see socially distanced pod concerts, rooftop concerts, and hopefully concerts in parks. You'll see and hear music everywhere.
Most of that music will be played by Charlotte artists. Take a moment and listen. Think of the artist as a small business. Support live music the same way you keep supporting the local coffee shop because you want it to stick around. Slide a tip in the bucket or hit them up on PayPal. Follow them on social media or your choice of streaming platform. Smile, nod, applaud. Let them know that you see them, you hear them, and they matter.
The experimentation will lead to new business models. Local venues are creating digital components that will generate revenue long after the pandemic. In December, Middle C Jazz launched a monthly membership program for its streams, sort of a live jazz Netflix. Neighborhood Theatre offers a Patreon membership and started Queen City Streams with a diverse lineup of local artists on a high-quality digital platform.
The real work will be done offstage. "Because we started the work of uniting ourselves as a music community almost four years ago," Scott says, "we have the luxury of saying, 'OK, cool, we've all come together, we all realize how much we need each other to survive.' We started to realize that before COVID. Now it's just a matter of finding ways to continue to support each other."
Scott, Cyanca, and others have been holding virtual meetups. "I think the community is super strong," Cyanca says. "It's a lot of love. We buy each other's product, keep the money circulating within the community." She tells me about the producer who helped with DaBaby's latest project and also engineered one of hers.
"I think it really starts with the artists here," Solis says. "The concept of collaboration and community has to be at the forefront. We have incredible and successful artists here in Charlotte that need to elevate other artists. We have some incredible unknown bands that need support. If we can cross-promote and cross-support each other, that will speak to itself." Musicians and record labels he talks to in other cities are taking note: "They are starting to realize there is something happening in Charlotte that's not happening in their city."
Kuhlmann has seen venue owners come together, too. The Charlotte Independent Venue Alliance formed organically in late spring. "There's a new camaraderie and need for all of us to do well," he says. "I think all of us really understand that it's more about working together and creating opportunities not just singularly but as an ecosystem."
The pace of change in the music industry was already fast. COVID sped it up. Artists make almost no money from Spotify and other streaming services, and the most reliable way to sell records and CDs was, until last March, at shows. Recorded music is now just a means to an end: ticket and T-shirt sales, commercial placements, and the hundreds of other ways to earn money from music that have little to do with what you listen to on your iPhone.
There are so many ways to be a part of the music business today. Charlotte can be a city that offers a supportive, equitable ecosystem for all of them. Let other cities be those places where artists exchange their souls for a chance to, one day, write or record a hit. We welcome the artists who are determined to own their own careers, no matter the genre. We will develop accessible workshops and equity-based training programs to help them navigate the business. We will cultivate audience support. We will help venues connect with diverse local artists. This city has the ingredients, the main one being talent. We are learning to value it, nurture it, and support it. On the back end of this pandemic, that talent will take center stage.
Let this year catapult Charlotte toward claiming its place in the national music ecosystem. Let this be the Year of Charlotte Music.
Rick Thurmond was this magazine's editor from 1994 to 2013 and its publisher from 2013 to 2016. He is now Charlotte Center City Partners' senior vice president for community and economic development and coordinates Music Everywhere CLT, a civic initiative to support local music.