Essay: The End of Eastland Mall
The demolition of a massive mall, and other things I forgot to love enough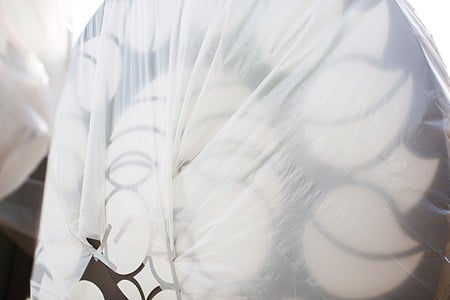 I am lost in my hometown.
I'm on my way to the shuttered, old mall, one of the landmarks of my childhood, to watch the removal of its iconic sunburst signs, which have been designated a historic landmark by the county.
The white facade of the structure formerly known as Eastland Mall glows in the sun. The oblong, amber windows of the old Belk store, behind which glint massive chandeliers, are still intact, and they look like sunglasses from the same era—there was nothing square about the 1970s, including the architecture.
The 90-acre site sits low—down in a kind of valley bordered by Central Avenue, Sharon Amity, and Albemarle roads. I pull into the well-maintained entrance, past a nearly brand-new transit station. The trees in the medians are well-established and still green. The pavement is showing its age, though, veined with weed-filled cracks, browned either by man or seasons. The paint delineating the parking spots is barely visible.
There are four of the large, round signs, one at each main entrance of the mall. Leaf-shaped rays fan out from a geometric face, with round cheeks and puckered lips, as if the face is blowing wind.
I know I'm in the right place when I spot a wooden podium looking miniature and out of place in the vastness of the parking lot. It's last September, and City Councilman John Autry is here, and so is Patsy Kinsey, the acting mayor at the time. Behind them sits a small, flatbed truck with a small version of the sunburst sign. Behind that is a chain-link fence—this is a demolition site, after all.
There is also a woman whom I don't recognize, with voluminous, curly, black hair and a wide smile. She turns out to be artist Martique Lorray, who moved here in 2008 and is the woman responsible for us all being here.
The mall is about to be demolished. The city has just signed a memorandum of understanding with Studio Charlotte, to investigate turning this site into a movie production complex of sound stages and offices.
The last time I was here, I was on my way to work, wearing a Chick-fil-A uniform. That was 20 years ago.
***
Growing up in Charlotte, I swore two things: When I got older, I'd never live in Charlotte, and I'd never work for a bank.
This is what I tell people I meet when they act surprised that I was born here. I always say it with a hint of exasperation, a touch of apology, as if somehow having done both those things was a cop-out, a failure of ambition. We assume the people we meet here are from somewhere else. I do it, too. You can't go home again. I used to wonder why you'd want to, at least for good.
After high school, Charlotte was a comfortable stopover in between more exciting cities: I followed my education to Edinburgh, Scotland, and then moved back to find a job (at a bank, of course). I followed a husband to Washington, D.C., Beijing, and San Francisco before moving back to Charlotte to weather a divorce.
I've been here five years now. The truth is, I love living here. Lately I've been wondering why I was so dismissive of it.
***
Imagine heading out from center city on Central Avenue, or Providence Road, or Independence Boulevard. Imagine a stoplight instead of an overpass at Independence and Pecan Avenue. Imagine Park Road Shopping Center being at the edge of town. Imagine SouthPark and Cotswold as farmland. Everything south of Woodlawn, Wendover, and Eastway—pasture.
The suburban mall boom in the United States began in 1954, when Congress passed a change to the tax code allowing for commercial property owners to deduct almost all the value of their buildings from their income taxes in as few as seven years. Developers clambered over each other in a land rush, as building became more profitable. It also marked the rise of the mega-mall and its smaller cousin, the strip mall.
Park Road Shopping Center was first in 1956, followed by Cotswold Mall (now Cotswold Village Shops) in the mid-1960s. SouthPark Mall opened in 1970, still surrounded by green fields.
These days, we think of SouthPark not just as a mall, but also as Charlotte's premier shopping district. But when SouthPark Mall opened, and for many years afterward, it was staid. In many ways, it belonged to an older era: There was a cafeteria instead of a food court, and my mother says it was not a place where she ever felt comfortable wearing jeans. If you were a kid, you called it boring. All there was to look at was a two-story fountain near the entrance.
The developers of Eastland Mall, which was planned for farmland just seven miles to the northeast of SouthPark, had something very different in mind.
North Carolina natives, the developers traveled all over the country looking at models. They liked the ice rink they saw in California, but not the way it sat in the middle of everything and disrupted foot traffic to the stores; they liked the food court they saw in Toronto, but, again, it was too central. So they put the ice rink in the basement and built the mall up around it—two stories of balconies, with escalators that jutted out over the ice. A huge span of barrel-shaped skylights lit the whole space up—white sky above, white ice below, dark skaters circling like fish in a tank. The balconies were hung with lush ivy and three enormous globe chandeliers. The mall floor was paved with brick-colored tile, and live trees were planted along the walkways. It was lush and cool and damp. The overall effect was of an indoor rain forest—one that happened to have a frozen pond in it.
When it opened, Eastland was the largest mall in North Carolina. Busloads of people came from everywhere to visit. It had a food court (the first on the east coast, which included an Orange Julius, with its wall of plexiglass-protected oranges), a movie theater—and that ice-skating rink. There were plenty of places to loiter. It brought together shopping and recreation in a way that SouthPark did not. Eastland Mall was fun.
***
My first memories are of the ice rink.
Eastland Mall is only a couple of years younger than I am. I was two when it opened in 1975. When I was three, I took ice-skating lessons there. I remember the temperature of the air above the ice, the little ribbons they gave us for skills, one of which was for just showing up. If I managed to participate in the entire lesson, I got to have a Brown Mule (chocolate-covered vanilla ice cream on a stick) that came out of a vending machine. What my mother remembers are the "durn laces" on my high, white-leather skates. I get it: My son is three, and it takes a lot of ingenuity to get him to sit still long enough to get his feet into shoes with just two Velcro straps.
My childhood began and ended at Eastland Mall.
By the time I got to high school, in the late 1980s, I thought I wanted to be a journalist, but all the copy carrier jobs—so-called because they involved carrying paper from the editors' desks to the layout department—at The Charlotte Observer were taken. So the summer after my sophomore year at West Charlotte High School, I worked my first job at the Chick-fil-A at Eastland Mall. By then we lived in Cotswold, and West Charlotte, 10 miles from home, was my school district. At the time, schools were integrated by busing. My friend had a job at Chick-fil-A. We were all kids behind the counter. The manager was a short, mustachioed man who seemed to work hard not to lose his temper with us. It must have been a lonely job. On my first day, I burned my hand so badly on hot coffee that I was worse than useless. I was there two weeks, just long enough to learn to be useful. Then the Observer called, and I quit.
Those two weeks were my last memories of the place.
By the time I came back to Charlotte in 1997, it was understood that unless you lived nearby, and sometimes even if you did, Eastland wasn't the place to shop anymore. SouthPark had undergone a major expansion and renovation, and could finally say that it was larger than Eastland. Eastland was beginning to have a reputation for crime. The neighborhood had changed, too; it had begun to look blighted. The UNC Charlotte Urban Institute noted a marked increase in low-income rental housing in the area. And by 1998, the Eastland property was neither owned nor managed by Charlotteans.
The city has had a vision for the east side since 2001. That vision was formalized by the Eastland Area Plan adopted by City Council in 2003, four years after the opening of Concord Mills, which quickly became one of North Carolina's largest visitor attractions, just as Eastland Mall had been 25 years earlier. The ambitious plan called for protecting and reinforcing the existing neighborhoods by increasing the percentage of owner-occupied properties, and it included several roads and greenways that converged on Eastland Mall at the "town center," which would include a village green and new transit hub.
But it is as if two different departments wrote the document. Volume I, in 75 pages, laid out a series of carefully considered plans, informed by current demographic and market trends and placed in a historical context. Volume II is a four-page, vaguely defined "Implementation Program;" it is, at best, a sketch.
One year before the city adopted its Eastland Area Plan, JC Penney closed its store there. Eastland's owners, Ohio-based Glimcher Realty Trust, tried and failed to sell the property in 2005. JC Penney was followed by Belk in 2007 and Dillard's in 2008, the same year the owners defaulted on their $42 million mortgage. That year, voters approved about $16 million in bonds for Eastland Mall redevelopment; the city bought 1.4 acres of the property for the transit station and also purchased options on the Belk and Dillard's stores.
Sears closed in 2009. The city almost purchased the whole property for more than $22 million, but John Lassiter, who that fall had run for mayor, convinced the City Council that the price was too high. The mall itself finally chained its doors in 2010.
In the decade that followed the city's adoption of the Eastland Area Plan, only the transit hub was built. Today, Charlotte Area Transit System buses drop off passengers at the east side's vacant town center. The area has become like an economically depressed small town, with Main Street all boarded up.
***
A mall, it turns out, can be a unique and complex piece of real estate. In Eastland's case, the anchor stores were owned separately from the main retail space, which was by the time of its closure owned by the loan-servicing firm LNR Partners, Inc. For $2 million, the company sold that part of the mall to Andrew Segal of Boxer Properties, a young investor out of Texas who had plans to reopen the mall as El Mercado, a shopping and entertainment venue marketed to Latinos. That never happened. Nor did anything else.
Covering such a large piece of land in one of Charlotte's most densely populated areas, Eastland Mall was never going to sit there like a decaying piece of old equipment. The city and county governments weren't going to allow that, but they waited until there was no other choice but to buy it outright. In the middle of 2012, the City of Charlotte approached Boxer Properties and the other six owners of the property to purchase the mall in its entirety for a little less than $14 million.
After a year of hearing development proposals, in August 2013 the City Council entered into a six-month memorandum of understanding with Bert Hesse of Studio Charlotte to drill down into the financial details of his $150 million plans for a film studio complex. (The project even includes a wooded back lot, so production crews don't have to haul thousands of dollars' worth of equipment and personnel out of town just to shoot a scene in the woods.)
Hesse had complained to the City Council (and to me) that he was tired of "holding hands," and was ready "to get engaged." His courting of the city worked, in a manner of speaking—the memorandum is non-binding, so it's more like being engaged to be engaged. Hesse laughed when I pointed this out to him—he didn't seem to mind that the city was playing hard to get, as long as it wasn't playing the field.
The city may have prioritized the public-private partnership over its grand plan for a town center for the east side, but it still recognizes the need for something visionary on the site.
And the city, it would seem, is at last beginning to get impatient.
"Whatever goes here needs to be sustainable," then-Mayor Kinsey told me. "We can't have another empty building here after two or three years. This site needs a grand plan."
***
On that day last fall, though, no one is here to talk about grand plans. They are here to talk about four giant signs, the only things that will remain of Eastland Mall.
Lorray, the artist with the wide smile and dark hair, is responsible for their preservation. She and her husband, John Vogler, were driving down Albemarle Road one day, wishing for some public art, which set them wondering what would become of the signs.
She called her city councilman, John Autry, and he made connections for her. The challenge was that there was no one person or department responsible for the Eastland Mall demolition, just as there was no one department solely responsible for construction. Lorray says that at first, she heard, "I'm not in charge of that." But nobody told her no. So she kept going.
Consider the logistics: First, the four, 13-feet-wide medallion signs have to be removed from the building without damaging them. Then they must be removed from the property.
Then stored. If they'd had to pay for it all out of pocket, says Louise Woods, co-chair of the Eastland Area Strategies Team (E.A.S.T., a community group committed to supporting the city's Eastland Area Plan), "the cost would have been overwhelming."
Everyone involved was eager to help. Follow this: City Manager Ron Carlee helped put Lorray in touch with the project managers of the demolition. Environmental Holdings Group, the company responsible for demolishing the mall, agreed to donate the signs back to the E.A.S.T., but would not remove or transport them. Subcontractor JE Dunn Construction agreed to remove the signs, but not to store them. Rite Lite Signs agreed to house them, but not to transport them. So JE Dunn transported them.
I look over at the truck with its big crane idling next to the entrance of the mall, waiting, as so many cars must have over the years. The workmen don't seem to be in a hurry. In fact, after Kinsey speaks, Lorray has to run over and tell them it's time to get started—time to get the last sign off the building.
I ask Lorray why people were so willing to cooperate. "I think a lot of the people working on the demolition used to come to this mall," she says. "There is an intrinsic emotional bond to the place. They are all just excited to be a part of it." I'm looking at this woman who is proud, beaming, accepting hugs and congratulations from everyone as the crowd disperses. She does not seem to be from here. Soon, I'll confirm, she's not. She grew up in Miami, moved to Arizona, and then spent five years in Ashland, Oregon, before moving here in 2008. She says this side of Charlotte reminds her of Ashland.
"We have a real do-it-yourself mentality there," she says. "That's how it is on the east side [of Charlotte], too."
Is it inappropriate to be proud of a stranger? I don't think so. I'm impressed by Lorray's perseverance and effort on behalf of her newly-adopted home. The pride in her neighborhood is contagious. I'm proud of this city, too, my city, for its commitment to her.
In five years, she has been a more active citizen of Charlotte than I've been in a lifetime.
I think about all the times I quit on something, from a career in journalism to an essay, just because I got frustrated and bored with the process. I wonder: Did I quit on Charlotte, too?
Then again, maybe I spurned my hometown because I felt the city was giving up on some of us: At the same time the east side was faltering economically, the city was forced to halt its busing program. (I loved my high school, West Charlotte, which not only gave me a great public education, but also poured middle-class resources into low-income neighborhoods.) I watched, from afar, as my old neighborhoods deteriorated.
There will, of course, continue to be debate about how much investment the city should make in whatever grand plan it chooses to support for the old Eastland site. But maybe my city and I can learn a lesson from Lorray and her neighbors: You get out of a place exactly what you put in.
Melissa Bashor is a freelance writer and editor. She works as the program coordinator for the Master of Fine Arts in Creative Writing at Queens University and as the editor of the food magazine Edible Charlotte. She lives near Freedom Park with her husband and two young sons.