Essay: What I Learned as a New Charlottean at Pride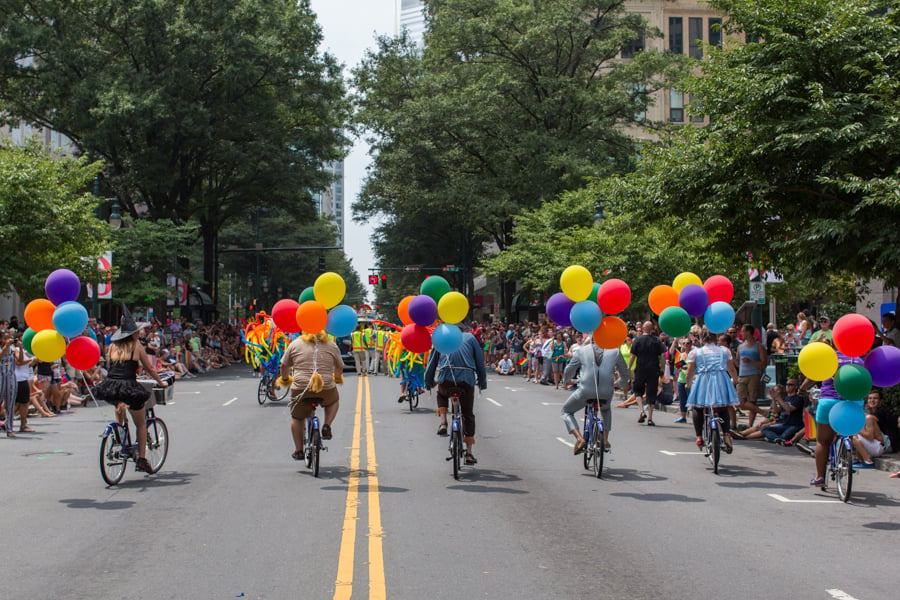 WE ARRIVED THERE LATE, two hours before the festival was slated to end. Driving to uptown, we weren't sure where exactly we were going, but had a vague idea of the festival route and figured we'd just keep driving until we saw rainbow flags. This turned out to be an effective strategy. It was late Saturday night—our second Saturday in Charlotte, the city we now call our home. My wife and I moved here from New York two weeks ago, from a city known as a sort of gay utopia. But we never attended Pride while we were there. This was our first.
I grew up in a small town in southern Alabama, where there was no Pride, no LGBT center, no resources for people like me. It was hard. It was suffocating. I loved the South, this place that had raised me. But I lived with the feeling that it did not love me back.
Moving to New York after twenty-two years in Alabama was overwhelming for the opposite reasons: There was suddenly so much. I worked in the West Village, home to the Stonewall and the bedrock of the LGBT rights movement. I never attended a single gay bar or LGBT event. It all felt very insular, and I felt very much outside. I was, after all, just a lesbian from a small Southern town. Two summers in New York and each year as June rolled around, we found ourselves missing Pride.
Well, thank God for the South, with its late summer Pride celebrations. I was so excited to read that not only did Charlotte have an LGBT center, The Time Out Youth Center, but it had its own Pride festival, and only two weeks after we were set to move in. As the days edged closer—days filled with unpacking boxes, multiple trips to IKEA, and trying to learn how to get around—we almost forgot about Pride. We almost missed it again. My wife was scheduled to work that Saturday and could see no way of getting out of it. Saturday morning came along and we watched the hashtags and Instagram posts roll in. At noon, my wife sent a text: "If I can get off early, can we go? Please?"
We walked along Church Street, across to Tryon and were greeted by a jubilant display of joy and, not to be too on the nose, pride. We didn't arrive in glitter or rainbows, having only a short time to get ready and hardly any of our clothes unpacked, but felt an instantaneous feeling of belonging. We saw couples holding hands, young teens with their supportive parents, and we felt welcomed to this city. It felt very much like coming full circle: finally getting to experience this tradition beloved by my community, in a Southern city with people whose accents sounded like home.
I must admit: I felt afraid. It was a kind of fear my wife, having grown up in a liberal pocket of Delaware, was less familiar with than I was: the fear that the people around you are a danger to you. I've felt this fear my entire life, even when I was in the closet and it was just the fear of being discovered. Part of this fear came from my experience growing up in the South; sure, I'd done my research. I knew Charlotte was relatively LGBT-friendly, and cities tend to be more progressive. Still, I was afraid. But I was afraid in New York, in my own Brooklyn neighborhood littered with with Trump signs and graffiti. Bigotry is not restrained by geography, after all. I put aside any reservations I may have had in the wake of HB2 and the 2016 election when I decided to move here, back down South, back home. I decided it was time to fight, if need be, to exist in a place that felt so natural, so comforting to me. I think this is what made Charlotte's Pride so particularly special to me.
There were protesters, a small group with plain-text signs not big enough to see fully over the billowing rainbow flags. One man held a sign that read "REPENT YE AND BE CONVERTED -", the rest of whatever message covered up by a smaller, more colorful sign: "FAKE NEWS", with a large rainbow arrow above it gesturing playfully to the sign it obscured. No one seemed to be paying either of them much mind; I took a quick photo with my phone and moved on.
There were rows and rows of booths selling anything imaginable. We bought a standard rainbow flag to hang from our porch, but the booths sold a variety of accoutrements honoring Gilbert Baker's flag design: thongs, boas, socks, hats, tutus, and so much more. There were organizations and local businesses with tents set up, advertising free spinal exams and gym memberships. My wife and I jokingly gestured to one booth selling gutter protection: "Protect our gay gutters!"
The crowd was diverse, and beautiful. The band onstage was singing "Fergalicious," a gay anthem. Drinks were cold, the food was fried, and walking down the narrow festival street you really felt that there was love all around you.
As the festival died down, we bought a funnel cake to share (because funnel cakes are a required experience at any public event), and sat on the side of the fountain in Wells Fargo Plaza. The sun had just set and all around us were other couples and groups of friends covered in rainbows and glitter. A younger lesbian couple—they couldn't have been older than seventeen —asked my wife to take photos of them. One of them crawled into the other's lap and they posed with pride flags in their hands. I felt overwhelmed in the best way.
Looking up at the skyline, with its buildings lit up rainbow for the festival, I felt the cool summer air on my skin. In the background, the sounds of the festival very nearly drowned out the lone man walking back and forth shouting scripture. Neither of us checked our phones or took the time to read the news alerts that now come at an alarming frequency. Finally, the festival was ending and we waded back through the crowd and down the street to our car. The streets were filled en masse with our community: People singing and dancing and hollering, like they didn't know the festival was over, or like they knew but didn't care.
We smiled at each other, laughing, and said, "This is our city!"
Alice Lesperance is a freelance writer and editor-in-chief of the site Shakespeare & Punk.