Evangelist Leighton Ford Writes, Paints, and Shares a Bright World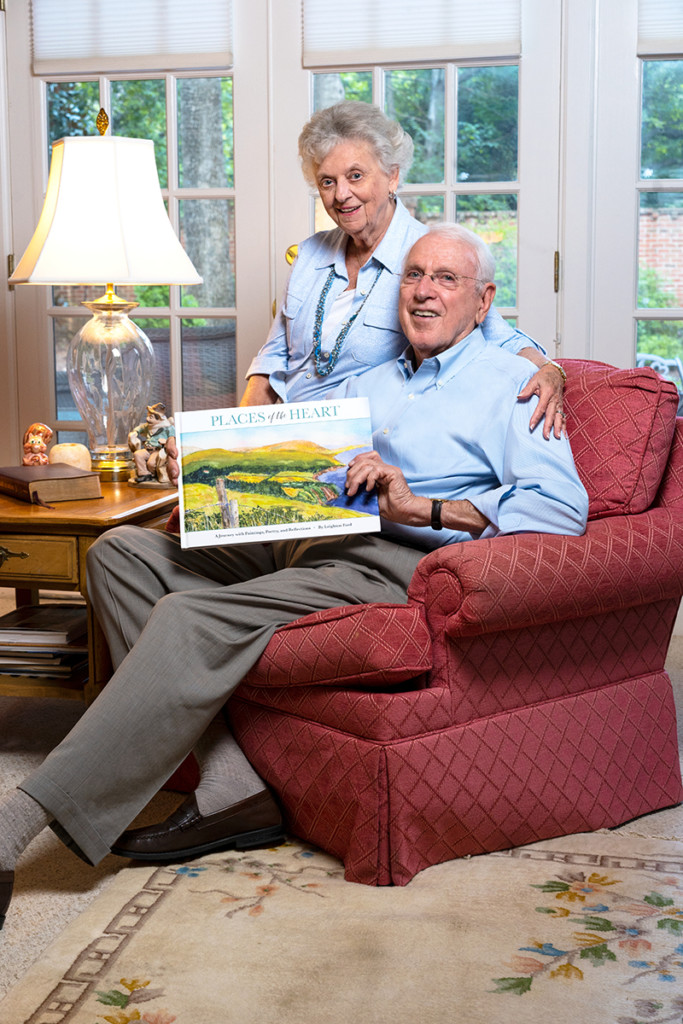 THE WORDS and watercolors that make up Places of the Heart, a book of paintings and poetry by Leighton Ford, celebrate the beauty of the earth. With it, Ford hopes it offers a bit of brightness in a world darkened by ugliness.
An evangelist, first with the Billy Graham Evangelistic Association and now on his own, Ford has traveled to 40 countries to preach and teach. Today his focus is on mentoring young Christian leaders. His focus has always been on sharing the power of Christ to unify Christians regardless of class, color, or culture. His is an inclusive evangelism.
At 87, Ford has endured the death of a son, his daughter's two bouts with cancer, and a heart attack and prostate cancer that struck him within six weeks of each other. Yet he is still painting, writing poetry, and sparking deep conversations. Still trying to help us see life as a gift.
I got to know Ford when I covered religion years ago for the Observer. I wrote about his ministry mentoring young Christian leaders, and he was always patient when I pestered him for information about Billy Graham's latest ailment. Ford is married to Graham's younger sister, Jean, and the family liked to joke that Graham's tombstone needed to say, "I told you so." While helping Ford publish Places of the Heart, I counseled him to brace for calls from the media when Graham breathed his last. His death on February 21 at age 99 came, and the reporters' calls followed.
Places of the Heart is a blend of travelogue and memoir as Ford takes us on the journey of his life, from his time growing up in Canada to castles, sunsets, and lakes all over the world. He paints and writes about flying home from Budapest when a burning odor in the cabin diverted the plane to Ireland. That's how he came upon King John's Castle outside Limerick; its beauty is a reminder to be open to life's interruptions.
Closer to home, he paints a picture of an autumn afternoon in Freedom Park and a woman sitting alone on a bench, lost in thought. The conversationalist in him wants to know her story. The good soul in him leaves her to savor the quiet we all seek. At the home of his brother-in-law in Montreat, he paints the old wooden gate and asks a question: How many people did Billy lead through the gate, to something better in this world, and what comes next?
Ford stumbled across painting when he was in his 60s. Bored with what he was reading, he opened a book on drawing. Something stirred. "Painting expresses who I am," he says. "I hope it gives God pleasure, that I'm appreciating the world He created. I hope it helps people see the places in their own lives and sense the divine presence."
While working on Places of the Heart, we sat and talked, Ford and I, and not just of the book. He and Jean lost their eldest son, Sandy, the day after Thanksgiving in 1981 during surgery to correct a heart arrhythmia problem. He was 21, a curly-headed kid with a big smile. He loved going to school at UNC Chapel Hill, and he loved God and his family. While there have been other challenges in Fords's life, losing a child makes it nearly impossible to see anything on the other side of loss. But if you're going to survive, much less write poems about grace and beauty, you have to find a way around it.
Ford says that the deepening love of his wife, Jean, helped him survive. So did a psychiatrist friend who called regularly to check up on them. So did writing a book, Sandy: A Heart For God.
When Sandy died, Ford says he hit bottom, the absolute bottom. But there, he still felt the presence of a loving God. "We can either fight against the bad things that have happened, or we can let them open us up," he says. So he made the decision to devote his life to helping other people feel God when they, too, hit bottom.
He does it with an artist's eye, a poet's hand, and a faithful man's heart.
---
Places of the Heart ($45) is available at Park Road Books, 3 French Hens gift shop, Anne Neilson Fine Art, Goodness Gracious! at Myers Park United Methodist Church, and GoodNews Shop at Christ Church Charlotte. Order it at artpurveyors.com. Proceeds go to Leighton Ford Ministries.