Events at Heist, Triple C and Unknown highlight this weekend in Charlotte beer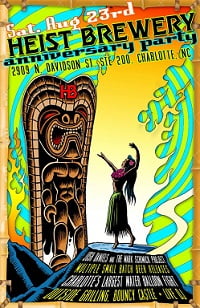 With the weekend approaching, there's a number of Charlotte craft beer events worth checking out. Here's a look:
—As I wrote about earlier in the week, Triple C is celebrating its second anniversary on Friday and Saturday with a number of special beer releases, including Bourbon Barrel-Aged Up All Night and Coming in Hops. That alone is worth the visit Saturday, along with the fantastic bluegrass 80s cover band Love Canon. No cover all weekend, just pay for the beer (and food, which will be available for sale from Sauceman's BBQ).
—Also turning the big two is Heist Brewery, which has a party planned for Saturday with a Hawaiian-themed luau. There will be several small batch releases from Heist's brewers, along with live music from Josh Daniels and The Mark Schmick Project. But perhaps the most interesting part is what's being labeled as "Charlotte's Largest Water Balloon Fight" and the fact that an "adult" bouncy castle will be onsite as well.
—Unknown Brewing is highlighting the ever-growing number of female craft beer fans by teaming up with the Charlotte Beer Babes for "Craft Chicks Hustle Harder" on Saturday. This event is all about the ladies of the Queen City, featuring everything from a relay race with the Charlotte Roller Girls to live music by female artists, DJs and groups to a demonstration by the women of Aerial Charlotte. And of course, there'll be beer. Along with Unknown tapping a special keg brewed by the Charlotte Beer Babes, CCHH is highlighted by an all-female homebrewers competition (to see the complete lineup, check out Amanda Fowler's blog on Cheers Charlotte).
A $10 admission ticket gets you a beer of your choice, and there will also be complimentary food served up by QC Pantry and Chef Rochelle. The event goes from 2 p.m. to 8 p.m., and all proceeds benefit the Pink Boots Society, which helps further the careers of women beer professionals.
Quick Pours: In other Unknown news, the brewery is the latest to join the canning craze, beginning with its Over the Edge IPA. Unknown will also bottle the wonderful Vehopciraptor Double IPA, which will be released next Friday (Aug. 29) in the taproom and hits local bottle shops soon after. Check out Daniel Hartis' post on CharlotteBeer.com for more information … Two events today if you want to get your weekend started early: Birdsong is releasing "Hot Fuzz," a peach Berliner Weiss, as part of its small batch "THURSty THURSday" series, while Good Bottle Co. is hosting a free tasting from Mystery Brewing, pouring Evangeline Saison, Gentleman's Preference Blonde Ale and a special keg of Western Star, a Berliner Weiss with hibiscus and white pepper. … It was announced this week during an N.C. Craft Brewers Guild event held at Olde Mecklenburg's new facility that there would be a statewide beer collaboration featuring more than 20 brewers, including NoDa head brewer Chad Henderson. The beer will be a Gose style and called North Carolina Gose West, made solely with in-state ingredients. The plan is to showcase the beer at this year's GABF in Denver (hence the name), while limited amounts will also be available in the taprooms of the brewers that produced the beer.