Every Voice, Lifted
A music-filled excursion from Charlotte to the Legacy Museum in Montgomery visits the painful stations along the long, hard freedom highway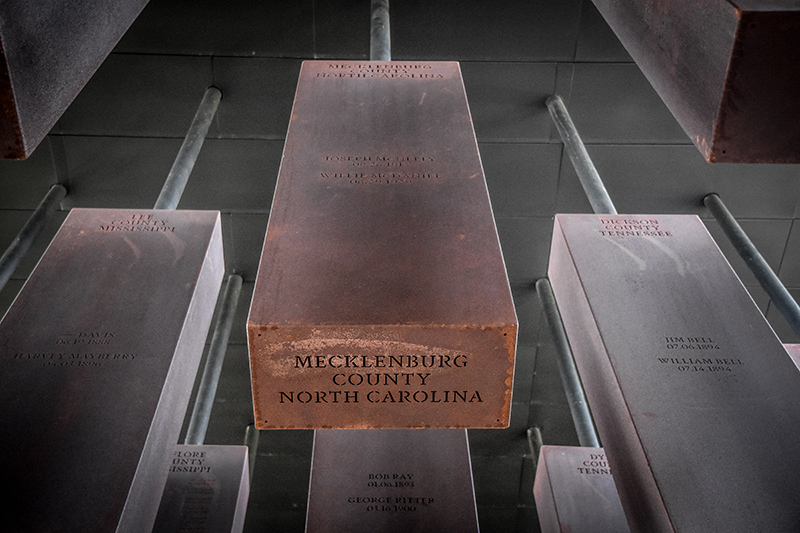 FOR THE FIRST TIME in two days, the bus is completely quiet. What do you say after you've seen who we can be at our worst, after listening to lifelike holograms of children asking to be set free from their slave cells, after processing the pictures of black people being hanged or burned or tied to pickaxes or any of the ways they were lynched in this country, after letting your eyes count the 400 jars of soil dug from the very spots of land where some of those lynchings occurred?
It's late September, and 50 of us are on this bus, visiting from Charlotte as part of a two-day trip to Montgomery, Alabama, arranged by the Levine Museum of the New South. In the seats are teachers, historians, nonprofit leaders, journalists, professors, and a handful of high school students. Conversations were easy for most of the trip, but we just finished touring the Legacy Museum, which opened last April and tells the story of racial injustice in America. We're now on our way up a hill to the National Memorial for Peace and Justice, which opened at the same time and serves as a public acknowledgment of the thousands of lynchings carried out in America after the Civil War.
In other words, it's no time for small talk.
Out of nowhere, from the front of the bus, comes a voice, deep and big and soulful and everything we need.
Ain't gon' let no-body, turn me around.
That's the name of the song. Civil rights leaders sang it on buses and jail cells during the 1960s.
Ain't gonna let segregation, turn me around.
The name behind the voice is Mary Williams, a scholar of African-American music and adjunct professor at Duke University. After a few lines, the rest of the bus takes over for "turn me around."
Ain't gonna let white supremacy, TURN ME AROUND.
It builds and builds, until she lands it.
We're gonna keep on walkin', keep on a-walkin', walkin' up to freedom lane.
The music dulls the sharp edges of the numbers we've seen: From 1877 to 1950, 4,000 people died from racial terror lynchings in 12 Southern states, according to documented findings from the Equal Justice Initiative. Another 300 happened in states outside the South. Barbers and butchers, postmasters and schoolteachers. Nearly 25 percent of African-American lynching victims were accused of sexual assault, nearly 30 percent accused of murder.
Songs don't heal those wounds, but songs help us process hard facts and move toward a better way. Music, Williams tells me, was a powerful weapon for civil rights protesters in their fight for justice in the 1960s. It kept them motivated. Songs assume different shapes depending on time and circumstance. (They can assume different lyrics, too, depending on the singer; the climactic line in "Turn Me Around" can refer to "freedom lane" or "freedom land.") They can help people in a jail cell in 1961 and serve as medicine on a group trip in 2018.
Music is a way of making a connection. In one aisle seat is West Charlotte High School junior Jamyric McIllwaine. He goes by Jay. I sat next to Jay when we stopped for lunch in Atlanta on the way down to Montgomery. We talked about the midterm elections and how difficult it is to get young people involved. Jay and his friend Isaac Naylor, a senior at East Mecklenburg High School, were arguably smarter than most of the adults at the table, me included. But when it came to politics, the two black teenagers shrugged. When I asked Jay if he'd register to vote when he turns 18, he said, "I guess so." A few minutes later, he turned to me after thinking about his answer and said, "I think music helps connect to young people. That's one way."
Now he's on the bus, bobbing his head, clapping, stomping his feet.
As our tour guide points out various points of historical significance, most of our group takes pictures. Williams, a black woman who's spent years studying what happened here, closes her eyes, as if she can hear the notes that once rang out in places like Dexter Avenue Baptist Church, where Dr. Martin Luther King Jr. served as senior pastor; or past the housing projects where Rosa Parks lived; or at the Greyhound Station, where 300 white segregationists attacked a Freedom Riders bus in 1961.
When she starts with that line—Ain't gon' let no-body, turn me around—she's pulling more than lyrics and notes; she's dissolving time between then and now.
"The marchers, and people in stand-ins and sit-ins, would hold hands and sing in defiance that they weren't gonna let nobody turn me around," she says, her tone sharpening as she takes on their personalities. "I've been in this farm too long. Oh, I want my freedom and I want. It. Now."
***
EARLIER THE NEXT DAY, just before 9 a.m., Williams and Jay and the rest of us walk from our hotel to the Legacy Museum. We're waiting to enter when a black man walks by wearing an Alabama cap. He asks where we're from, and someone tells him North Carolina.
"All y'all come all the way here just to see our legacy and lynching museum?" he says. "That's a blessing. That's a blessing. I mean that. And I don't mean this in the wrong way, but I'm glad y'all white folks are here, too. Hope y'all brought some tissues."
Several areas of Montgomery look and feel like they would've in the 1960s. Not only have historic buildings been preserved, but neighborhoods remain segregated, with poor people of color living where they always have, and those with money on the other side of town. Housing projects, like the one where Parks lived, are still in the same places. There's a statue of Hank Williams Sr. in the center of town, and the museum in his honor is right across the street from the Legacy Museum. It's possible to drive through this town and be passive about history.
But that changes inside the Legacy Museum. The facts hit you as soon as you walk in, and they're broken down by state: In 1860, 331,059 enslaved people lived in North Carolina. Alabama had about 100,000 more than that. Those numbers become more personal and immediate as you continue. On the brick wall in the lobby, in bright white letters, is the sentence: "You are standing on a site where enslaved people were warehoused."
Plaques enshrine the stories of what happened here. On one, a mother led her seven children to the auction block. "She knew that some of them would be taken from her, but they took all. … She wrung her hands and exclaimed, 'Gone! All gone! Why don't God kill me?'"
Down a flight of stairs in a dark room, the museum experience officially begins. On the right are six replica holding cells, about three feet wide and six feet deep, with bars for doors. Stand in front of one, and a black-and-white hologram of a slave appears. The figure speaks directly to you, forming a one-on-one connection between you and the ghosts of this place.
"You're not a buyer," the first woman whispers to me. "Can I see my children?"
A few cells down, behind those bars, two children appear. "Mama! Mama!" the boy shrieks, followed by a long pause, then, "Have you seen our mother?"
At the center of the museum is a display with 400 jars of dirt, all shades of brown, collected from the locations of lynchings. The soil from Selma is dark and deep brown. Those from Carrollton, Alabama, are reddish. From Newton, Georgia, it's almost a shade of green. There are jars of sand-colored dirt for Harriet Finch and her husband, Jerry Finch, killed in Pittsboro, N.C., on September 28, 1885.
And there's one jar of coffee-colored dirt for Willie McDaniel, with the white letters spelling out the date and place of his death—June 29, 1929, Charlotte, North Carolina. McDaniel was found on a farm in the Newell district of northeast Mecklenburg County (near what is now the Central Piedmont Community College's Cato Campus). He had a broken neck and bruises that indicated he'd been hanged and dragged there.
He's one of two documented lynchings recorded in Mecklenburg County. The first occurred nearly 16 years earlier: On August 26, 1913, a white mob stormed into Good Samaritan Hospital, on the site of what is now Bank of America Stadium, and pulled Joe McNeely from his bed. Four days earlier, McNeely had allegedly shot a Charlotte police officer off his motorcycle. The officer shot back and injured McNeely. In the hospital, McNeely was "stripped of his night shirt, and dragged nude with iron fastenings on his legs down the stairs and out into the street where seventy-five masked men were in waiting," the Charlotte News reported. Local historians, including Levine Museum Historian Willie Griffin, who organized the trip, researched the deaths of McDaniel and McNeely as part of a plan to memorialize them.
As distant as the days of lynching seem, the Legacy Museum makes clear the connections between the past and modern-day inequities in America. The museum breaks down the history into sections of time, from the original kidnapping of 12 million people from Africa; to the terrorizing of 9 million black people through lynching and threats of lynching; to the 10 million African-American citizens who lived in segregation; to the post-Civil Rights movement, war on drugs era that started under President Nixon and saw the number of people incarcerated jump from 300,000 in 1971 to 7.3 million today. "The criminal justice system remains the institution in American life least impacted by the Civil Rights movement," an exhibit board reads.
Around the corner from that sentence are mock prison-visitation booths. On our tour, Naylor, the East Mecklenburg High student, sits down at one and grabs the phone. On the glass screen appears a video of a man in an orange prison suit. Anthony Ray Hinton spent 30 years on Alabama death row for two murders before being exonerated and freed in 2015. "How does one survive 30 years for a crime he knows he didn't commit?" Hinton asks Naylor. The high school senior finishes the video and slowly hangs up the phone, his eyes on the floor.
***
THE PRISON GUARDS hated when the protesters sang.
In one jail, Williams tells me, guards threatened to take their mattresses if they didn't stop. Naturally, the protesters handled it like this:
You can take my mattress, oh yeah, Williams sings to me, in the rhythm of the old children's song line, A train is a-comin', oh yeah.
Buses are a-comin', oh yeahhh, the Freedom Riders sang from behind bars. Better get ye ready, oh yeah, better get ye ready, oh yeah; better get ye ready, better get ye ready, better get ye ready, oh yeahhh.
She co-teaches a class at Duke called "The South in Black and White" with Tim Tyson, author of Blood Done Sign My Name, which examines the 1970 murder of a black man in Tyson's hometown of Oxford, North Carolina.
They started the course in 2006, around the height of the infamous Duke lacrosse case, when a black woman accused the mostly white lacrosse team of rape. A jury ultimately found the players not guilty, but the case remains a scarring moment for the city of Durham. The class started as a discussion about the racial issues at play in the case. Three hundred and fifty students signed up for the class in its first year, Williams tells me.
Sometimes, to connect the past with the present, she asks students to apply the songs to their own lives. She laughs as she remembers the time when she went into a middle school and a young boy stood up and sang, "I ain't gonna let my girlfriend, turn me around," and then a young girl insisted that she be next: "I ain't gonna let my boyfriend, turn me around," she sang, snapping her eyes toward the young boy, her boyfriend.
Williams didn't grow up with these songs, but music was all around her as she walked the racial tightrope as a black child in the 1960s. Her grandparents lived in Smithfield, North Carolina, a segregated town along Interstate 95. She still remembers riding into town on N.C. Highway 70 and seeing a billboard that read, "Welcome to KKK Country." Her grandfather delivered whiskey for a white man named Percy Flowers. "He could run corn liquor for Percy Flowers at night, from Johnston County to New York," she says. "In the daytime, if he saw Mr. Percy on the street, he couldn't speak to him. But at night, it seemed like they were the best of friends."
Williams lived in Garner, a town just south of Raleigh. In high school, she says, she had a white friend. Their mothers worked together at a sausage-making plant. Williams invited the girl to her house all the time, but one day she realized the girl never reciprocated the invitation.
"That's when we found out that her father despised and had a hatred for black people," Williams says. "She had never told her father that we were friends."
Their friendship later dissolved.
Williams worked for 30 years as a Medicaid case manager for Wake County Social Services. It was only after she retired that she earned her bachelor's from UNC Chapel Hill in 2015; she'll finish her master's in folklore in May. But it's clear upon one conversation—or bus ride—with her that no diploma matches the wealth of information in her head.
"These songs were such a part of every fiber and fabric," she says. "Music does not give you permission: If you're happy, and you hear a sad song, it'll bring tears to your eyes. And if you've got tears in your eyes, and you hear a happy song, it'll drive those tears away. It has power over us."
***
THE RECTANGULAR BOXES are made of weathered steel, each six feet tall and 100 pounds. There are 800 of them. They hang on poles dropped from a ceiling in a memorial square at the National Memorial for Peace and Justice, our last stop.
Each pillar represents a county where a lynching occurred, with the names of each victim inscribed. They hang at the same height. We start on top of a hill, with the boxes at eye level, but as we walk between the rows, the floor slopes downward, so that we have to tilt our heads farther and farther toward the end.
"Man," says Griffin, the Levine Museum historian and coordinator of the trip, as he looks up at a box for a county in South Carolina, "this is where my family's from."
On the walls are plaques with anecdotes about the killings. "Laura Wood was lynched in Barber, North Carolina, in 1930 after a white merchant said she stole a ham." Reading them, the phrases that follow the prepositions become more infuriating, because you realize they could all be substituted by the more simple, "for being black."
The pillar for Mecklenburg County is about halfway through the square and hangs down to about six or so feet over our heads. We can see the names of McNeely and McDaniel clearly.
There are no markers for them in Charlotte, and the historians on the trip wonder how we can change that. Similar conversations are playing out in counties throughout the South since the museum and memorial opened last spring. Some have plenty to answer for: The box for New Hanover County, where the Wilmington Massacre of 1898 occurred, has 22 names.
This is what Equal Justice Initiative founder Bryan Stevenson wanted when the organization opened the museum—for local leaders to take responsibility for their piece of it. Like with music, this museum is a collection of art designed not to provide answers but help raise the question: What do we do with the worst of our past?
As we walk out of the square at the base of the hill, the 50 people from Charlotte shake out the kinks from looking up. In block letters on a wall to our right is a quote from Toni Morrison's Beloved: "And O my people, out yonder, hear me, they do not love your neck unnoosed and straight. So love your neck; put a hand on it, grace it, stroke it, and hold it up."
***
ON THE WAY HOME to Charlotte, I grab a seat behind Jay McIllwaine, the West Charlotte High junior, and tap him on the shoulder.
He's wearing a gray, hooded sweatshirt he purchased from a gift shop. The hoodie has the Legacy Museum's emblem on the front—a broken chain link. He pulls out his earbuds.
I ask him if he feels differently now than he did yesterday at lunch, when he shrugged at the idea of getting involved, even just registering to vote. He says yes. He's been talking to the other high school students about where a monument to Mecklenburg County's two lynching victims should go, and he has a bag of souvenirs under his feet.
What he saw made him mad, he says. But he enjoyed learning one thing. "They used the songs they sang as a form of communication," he says. "That's what I do when I write my songs."
You write songs?
Yes, he says, spoken-word pieces. He's been working on one today, actually. I ask him if he'd send it to me after he finishes it. That night, back in Charlotte, his name pops up on my email with the subject line "Unfair Justice Spoken Word piece" and an attachment for a 70-line song.
How could we win, it opens, when they slaughter us because of our skin?
Jus' listen, it reads later, while I explain what y'all been missin'.
How could we win / when they stereotype 'n' penalize us / For our crimes / Yet for so many years / they thought so little of us.
How could we win, he asks again in the last line, with all this unfair justice?
Michael Graff is a writer in Charlotte.