Evolution of the Movie Theater-Bar-Lounge Concept in Charlotte
Changes are coming to the EpiCentre's popular restaurant-movie-theater-nightclub, but there are other similar options in the area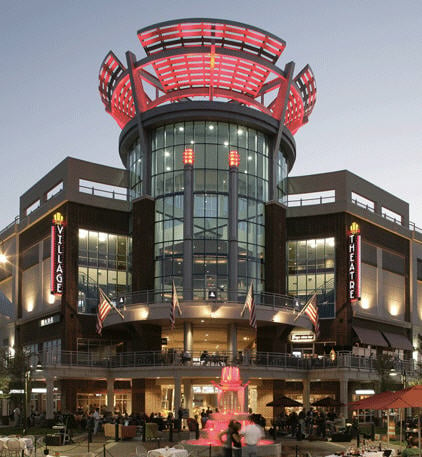 Local websites and social media were buzzing yesterday after a surprised announcement Sunday evening on Mez's Facebook page and Twitter account. The EpiCentre restaurant and nightclub that's also adjoined to EpiCentre Theaters posted that it will close this month. The message read:
"We are very sad to announce today that Mez will be closing its doors on Jan 27th. We want to thank everyone who has supported us over the last 4 years! Please come out and support our restaurant, movie theater and night club over the next 2 weeks. Look for a new movie concept to replace Mez Feb 2013. Thanks again for an amazing 4 years!"
Many commenters on Facebook shared their disbelief and disappointment, with several of them saying Mez was one of their favorite hangouts. But I don't think you all should worry.
First off, Mez's brief announcement clearly says that a new movie concept is coming in February to the venue. And in subsequent media reports yesterday, a spokesman for the EpiCentre said the new tenant will be announced in a week or so.
Secondly, this morning I dug into my notes from when I interviewed the EpiCentre's ownership group, Blue Air 2010, last August for an article that appeared in the October issue of this magazine. The article focused on how the new owners, who after about a year-and-a-half of legal wrangling with the original developer of the EpiCentre, The Ghazi Company, which lost the 300,000 square-foot complex due to bankruptcy, were spending millions of dollars in upgrades and to rebrand the EpiCentre. They were also focused on attracting more diverse tenants, beyond the nightlife offerings. In addition to being the landlord to the more than 40 venues at the EpiCentre, Ghazi had also operated three of them: Mez, EpiCentre Theaters, and Kazba, which is the trendy lounge next door to the other two. During the interview, I specifically asked what Blue Air was planning to do with those venues now that they were in charge. Douglas Stephan, one of the three principals of Blue Air told me: "We're focused on being the landlord. Now with that said, we may temporarily take over the operation of the theater until we find a suitable replacement tenant."


Credit: mezcharlotte.com
So it seems as if they've found a suitable replacement. Because Mez and EpiCentre Theaters appear to be successful businesses and are original and recognizable brands that have developed strong followings since 2008, you would think that a new client would choose to take over the venues and keep the names, especially since it's likely the restaurant-lounge-movie-theater concept will continue. This leads me to believe that an established franchise will take over the spaces. One of the companies being speculated is Studio Movie Grill, which has close to a dozen locations in four states—Texas, Illinois, Georgia, and Arizona. The Dallas-based franchise is described as combining "first-run movies, alternate and family programming, with in-theater dining from an extensive American grill menu and full-service bar. At the push of a button, place your order with an SMG team member directly from your seat and have your food and beverages delivered before and during the show." That resembles the experience at Mez/EpiCentre theaters, but I can't confirm if Studio Movie Grill will be the replacement.
Another plausible tenant to take over the spaces is CinéBistro, whose stylish lounge and bar more closely resembles Mez. There are seven CinéBistro locations in four states. Regardless of what new tenant goes there, we can expect something similar in concept.
But however long it takes between the closing of Mez/EpiCentre Theaters this month and the opening of the new tenant, you don't have to go without enjoying the upscale movie-nightlife experience. There are three other options in the Charlotte area (though none as sexy or sleek as Mez).


Credit: facebook.com/Cinebarre
Cinebarre
Last August, Cinebarre opened in the former Regal Arboretum Stadium 12 space in south Charlotte. It's the largest of the eat-drink-lounge-watch-a-movie concept in the area, with eleven movie screens. You can order food and cocktails from your seat in the theaters. There are weekly specials such as $5 Ticket Tuesday, which admits you to see a movie for cheap; Wednesday is College Night, when you can enjoy $2 domestic draft beers; and Breakfast Club on Saturday and Sunday, where a brunch menu is served at shows starting before 2 p.m. A venture of Regal Entertainment Group, Cinebarre has six locations, including three in the Carolinas. Cinebarre Arboretum 11, 8008 Providence Rd., 704-543-4581, cinebarre.com/locations/charlotte-nc.


Credit: facebook.com/ourtowncinemasdavidson
Our Town Cinemas
Befitting of the town of Davidson and open since December 2009, the theaters at Our Town Cinemas are quaint and inviting. There are four in all, showing major releases like Zero Dark Thirty currently, and it gets others later in the release schedule like Silver Linings Playbook and Lincoln, which open here January 18. There's a great food menu (many items served from nearby Brickhouse Tavern) with pizza, burgers, sandwiches/wraps, soft pretzels, and funnel cake fries, along with wine, beer, and cocktails. Our Town Cinemas, in Sadler Square Shopping Center, 227 Griffith St., Davidson, 704-237-3235, ourtowncinemas.com.


Credit: ballantynevillage.com
Ballantyne Village Theatre
This movieplex started the nightlife-movie trend in Charlotte when it opened in 2006 in Ballantyne—and it marked the first time I'd ever drank cocktails at a movie theater. You'll easily spot the colorful, illuminating crown that sits atop the building, and if you've never visited the theater, shame on you. It's branded as an "upscale sophisticated art house theatre," which is evident by the décor throughout the lounge in the lobby. But in addition to showing independent and art films, the five screens here also show major releases such as Hyde Park on Hudson and Argo, which are currently showing. Regal Ballantyne Village Theatre, 14815 Ballantyne Village Way, 704-541-9611, ballantynevillage.com.

Be sure to bookmark www.charlottemagazine.com/Blogs/Dusk-Till-Dawn to stay plugged into Charlotte nightlife. Follow me on Twitter @HollidayInk; email me at jarvish@grownpeopletalking.com.