Exclusive: New Overmountain Men Video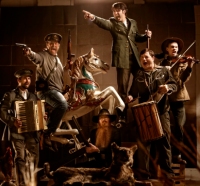 The Overmountain Men has exclusively released its music video for the song 'Alexander Hamilton' on the Revue blog. Check it out below. The song is part of the band's second album The Next Big Thing. You can read our review of the album here.
In the video, lead singer David Childers explains his intentions behind writing the song. Much of the new album focuses on retelling stories from American history and the song Alexander Hamilton is a good entry point to this fantastic record.
The video's release comes as the band is setting up for a Charlotte performance Friday at the Evening Muse. The show begins at 8 p.m. and costs $10. Find out more about the show here.