Exit Interview: Chef Jay Pierce Leaving RockSalt
RockSalt's first chef on leaving Charlotte, what he's learned here, and his advice for the restaurant community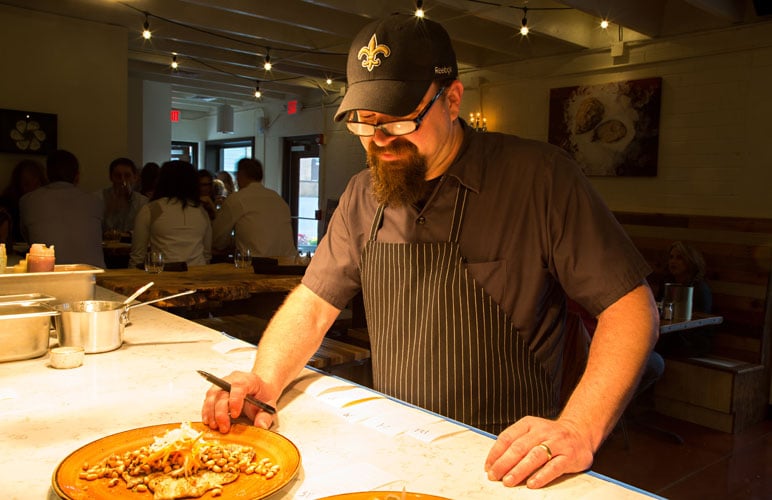 Since opening RockSalt earlier this year, chef Jay Pierce has made himself a part of Charlotte's restaurant scene, taking part in events, panels, and getting to know this city. But the demands of the restaurant kept him away from his family in Greensboro, and he'll spend his last day in the RockSalt kitchen on Sunday. Here, he talks about why he decided to leave, what he learned from Charlotte, and what he hopes Charlotte learned from him.
Q. When did you start thinking you might leave RockSalt?
A. Realistically, six weeks ago—right in the middle of summer. My family was traveling without me, and I really felt like the doldrums was a good analogy, because it has to do with sailing when there's no wind. The restaurant really had a lot of momentum early on, and then it hit this Charlotte pattern, and the Charlotte weather pattern: It got hot—which you can't control, which everybody deals with—but, you know, a lot of people travel. … When you're slower, you work more—you work more hours, because you've got to cut the hourly people. Well, I just physically felt like I wasn't giving enough. Mentally, I think the food was really interesting, and I don't think the diners suffered. But I really do feel like, from a leadership perspective, I had people I was asking to work more or work longer and I wasn't doing the same. So I talked to Travis [Croxton, owner of RockSalt] and said, 'You know, I really—it's kind of like being homesick, I guess. I really am missing out.' [My daughter] Sydney's in high school, and [my son] Andrew's got his last year in middle school. One of the reasons we never moved down here was because they're in really good school programs and they really didn't have anything comparable down here in the public system.
Q. Why did you decide to move on?
A. One of the reasons I took the job is because the vision was different. It started off different—there were some delays in this building, and then Brine in Fairfax had some delays, too, and we just had trouble staffing the kitchen and getting off to a start. So it became more of a working chef role and less of an executive role for me, which I really embraced, and I really enjoyed cooking again and doing that dance. But it ends up being unsustainable, because [you have to work] so far away and you have to go back, and the time and energy and commitment. It ended up being a spiritual quandary of, 'I'm not really the leader, I'm not doing what these other guys are doing and I'm not getting the results that I want.' I don't want to ruin my relationship with Travis or my relationship with my own family, and ruin a business by being egocentric and hard-headed and not realizing when I'm not getting good results. It's easy to think, 'Oh, tonight was great!' or 'The steak was great!' or whatever, but looking at the whole thing, I felt like I was in the way of RockSalt just breaking through to the next level. So I came to the realization that what it needs is more from me, but what my family needs is more from me, and I can't do both. So I had to choose.
Q. When is your last day at RockSalt?
A. Next Sunday, [September] the 20th. There's a big event in Greenville [South Carolina], the Euphoria Wine and Music Festival, so Travis and Craig [Rogers] from Border Springs [Farm] always do lambs and clams; this is maybe the third or fourth year. That will be a big shindig, I've been signed up for it, I'm going to go and do it, and then I'll come back here. I'll be here Friday night, Saturday night, Sunday, and then be done. Then I'll be back—I make a return engagement for the Queen City October 17; there's this tour of kitchens for the Charlotte Symphony and I'm doing a book signing at one of the houses.
Q. What does the new job at The Marshall Free House [a restaurant in Greensboro] look like?
A. The new gig is a gastropub, a British-inspired pub. It's got a bar in the front with the whole molecular mixology lab. It's got a tea; they do afternoon tea, by a big fireplace, and then there's a dining room. Right now, the food's very British. As part of the interview process, I told them how interested I am to explore to commonalities between North Carolina and London. We don't want to be a carbon copy of what you find in a London pub. What they're serving right now is a stereotypically British food, but if you go to a pub in Britain, there's Spanish influences, there's Indian food, there's an Italian something. So we need to borrow that inspiration. There's a lot of carryover in climate and ingredients and heritage between this area and that area.
Q. How much time were you able to spend at home? How long was the drive to work?
A. An hour and a half. So the mornings weren't bad. I'd leave around 8 a.m. or sometimes I'd leave at 10, because we open for lunch at 11:30 a.m. So it depends on how involved I needed to be with lunch. …There's not much of a lunch business around here. Then on weekends, on Friday night, Saturday night, I would stay in town, because I have an apartment down the road. The rough part was the turnaround. If we finished dinner, break down, then I'm leaving at 10:30 p.m. and driving home for an hour and a half. It's not the getting home at midnight and taking a shower and going to bed; it's that hour-and-a-half drive when you're tired that's soul crushing. … I'd usually get home Sunday night before [the kids] went to bed. I took three days off once to go camping and that almost made it worse. You get to find out, 'Y'all did what?' or, 'You're talking to who?'
Q. What have you liked about your time in Charlotte?
A. The fact that there are a lot more open-minded diners than I've experienced in a while. Even in New Orleans, there's people that, they have to get to know you. In Orlando I didn't experience that so much. I've been in Greensboro for a while, people know what they want. Whereas here, we get a lot of people that come in that are interested in the chalk board, interested in the daily special. Like their scallops cooked properly, that sort of thing. They're not sorry for asking about well done, but we don't get a lot of those, and there's other people that are great with asking for a medium pork chop. It is cool. That's been really encouraging.
Q. What do you think Charlotte needs to work on?
A. Charlotte needs to work to address that the defining restaurants and chefs of Charlotte are not properly in Charlotte. I know Clark [Barlowe] is technically in Charlotte [with Heirloom], but you know what I mean. The people getting the press who are doing wonderful things are in Waxhaw [Heritage] and Davidson [Kindred], and so it's metro Charlotte. … It's because of the buy-in, because of the capital needs. Real estate is so expensive where the people are that you almost need a [concept that's a] sure thing; you can't give somebody a year to figure it out. So if you ask those other chefs and restaurant owners why they moved to Waxhaw or Davidson or whatever, it's mostly because of real estate. They could take chances, they could spend more money on food. They didn't have to meet that lease. [Atlanta chef] Linton Hopkins said something to me, he said, 'To have innovative food and real food connected to the land, you need an agreement and a long-term commitment between real estate and [restaurant] operators. It can't be six months, it can't be month to month. This is going to take time, because you have to build it.'
Q. What would you like your food legacy to be here in Charlotte?
A. Don't sit around this table feeling sorry for yourself, like, 'Nobody pays attention to Charlotte.' Get out there and wave the Charlotte banner. I think that's been my message from day one. … We have to have conversations with people out there and attract people to our area instead of sitting in a corner and complaining that nobody wants to play in our sandbox. …If someone gets a James Beard Award here, it's not going to be because I said that. But hopefully there's a spark where somebody said, 'You know what? That really made me think about what I'm doing.' That sort of thing. To me, sometimes it's better to get other people to brag for you instead of you bragging about yourself. Too many adjectives on the menu to me is bragging about yourself, whether it's a humble brag or what, it's still a brag. Look how cool I am because I've got this or I've got that. … If I have a lasting impact, hopefully people take themselves a little less seriously and have more fun with their food and understand that we're in the entertainment business, not just the customer service business. We're here to entertain people. We're entertaining with food and drinks, or with decor or music or umbrellas or no umbrellas or umbrellas in their drinks. It's entertainment. We're fooling ourselves if we think it's not.