Exit Maneuver
Our Favorite Getaway Car Decorations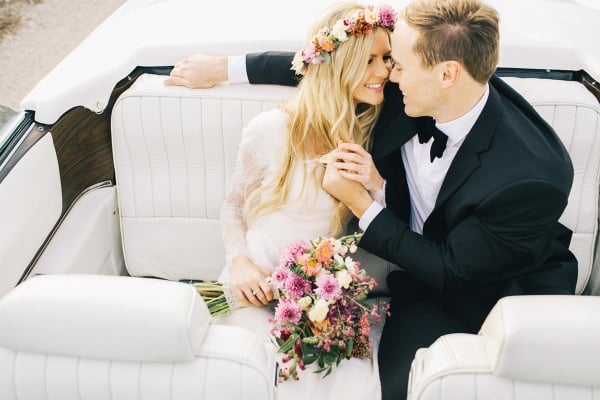 According to tradition, the best man and groomsmen are the designated party in charge of decorating the getaway car. But if you're seeking some inspiration to throw their way, or you're an eager MOH or lady-in-waiting looking to lend a hand, I've scoped out some seriously cute design options for you to choose from. Since the car will likely be utilized to transport the bride and groom from ceremony to reception location, you'll need to set a time during the reception to sneak away and complete the decoration. However, the pieces will of course need to be pre-purchased and drawn for easy assembly during the reception. A festive addition to even the swankiest getaway car makes for a much-appreciated surprise when the bride and groom go to exit the reception. So if you're not sure where to begin when it comes to vehicle decor, here are a few of my favorite images that should help get the creative ball rolling.
Bouquet Toss
This particular option will, of course, need to be pre-arranged with a florist, but flowers will always be a classic, crowd-pleasing option when it comes to ornamentation for the getaway car. Opt for something exotic that wasn't necessarily part of their wedding arrangements, but that's equally beautiful. This option below is simply stunning.
Tulle The Wind
Pretty pink tulle not only makes for a whimsical decor addition, it also looks beautiful in motion when the car pulls away. Simple, yet gorgeous, this ballerina blush bow and quick cursive note is perfect.
Cheer For The Newlyweds
Quintessentially symbolic of celebration, pom-poms are perfectly fitting for the getaway car. I love the bright coral and bridal blue combo in this picture, paired with a classic creme.