Exotic Escapes
The best way to connect as husband and wife is often to experience an adventure on your honeymoon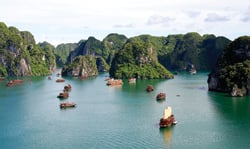 Experiencing something new as a couple draws you closer, and what better way to do that than to immerse your newlywed selves into a new culture in an exotic locale? From South Africa to Costa Rica to Vietnam, these honeymoon spots offer a mix of adventure, relaxation, and, most importantly, romance
What bride could resist a country where the arum lily—close cousin to that herald trumpet of wedding bouquets, the calla—grows wild beside every highway and byway in its coastal Cape region? There's nowhere better to jump-start your new life together than an adventure honeymoon in this gorgeous, rugged Eden.
The days of sleepy surfer villages and untamed wilderness may be behind it, but famously laid-back Costa Rica continues to offer some of the most beautiful beaches and rainforests in Central America. Honeymooners hoping for a dash of outdoor adventure with their warm weather and luxurious resorts will find it in this natural paradise.
From the bustling street markets of Saigon to the serene China Beach, Vietnam offers exotic splendor around every picturesque corner. Couples in search of Old World charm and modern adventure in a rapidly evolving culture need look no further.