Expanded growler sales in North Carolina now official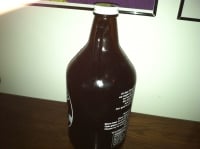 It's taken a little bit longer than expected, but you'll now officially be able to get a growler filled from your local bottle shop, restaurant, bar, grocery store and, yes, even gas station beginning Friday, Oct. 25.
It seems like ages ago (April 10, to be exact) that Bill 829 was introduced in the N.C. House, and after numerous hearings, readings, meetings and legalese, the final approval came Thursday as the state Rules Review Commission passed the temporary rules submitted by the N.C. ABC Commission (the permanent rules, which I imagine will look similar, have to be in place by Dec. 31).
I'll have an expanded post in next week's On Tap looking at this from a Charlotte perspective, but in preparation, I did want to mention a few highlights from the now-official law.
• One provision that will surely make shops happy but potentially sadden customers is that each establishment has the discretion to refuse a growler fill. So let's say Salud Beer Shop or Good Bottle Co. gets in a high-demand, sought-out beer such as Highland Cold Mountain or Bell's Hopslam and taps it.
More than likely, they'll just offer said beer on tap (probably with a "no growler fills" sign or something). This was an important piece of language, in my opinion. It allows establishments the legal right to do what they want with each keg. If someone came in with four growlers to be filled, that would quickly diminish the product before others could enjoy it.
• As currently is the case with prefilled growlers by local breweries (which shops have long been allowed to sell), after your growler is filled and sealed, you cannot open or consume it on the premises of where you bought it. Sorry, person who tries to work the system.
• My final point is one I have and will continue to drive home with each growler post (don't worry, there aren't too many more to go): I still believe this is a great thing for the Charlotte and N.C. beer community, but remember that the freshest beer you'll ever get is from the brewery itself.
Also, as this law begins to roll out, use your judgment and advice from others plugged into the craft scene on where to go for your growler fills. I'm still not entirely sure which places are even going to offer this service, but it's pretty easy to pick out the reliable ones. In other words, trust establishments such as Brawley's Beverage, Good Bottle and Vintner and Salud—those that have been around for some time or have an extensive craft background. If you decide to visit 7-Eleven for a growler fill, you're rolling the dice and may not like the outcome.