Exploring the Sedgefield Neighborhood
The neighborhood hid in the shadow of Dilworth for years. Then South End growth started lapping at its edges.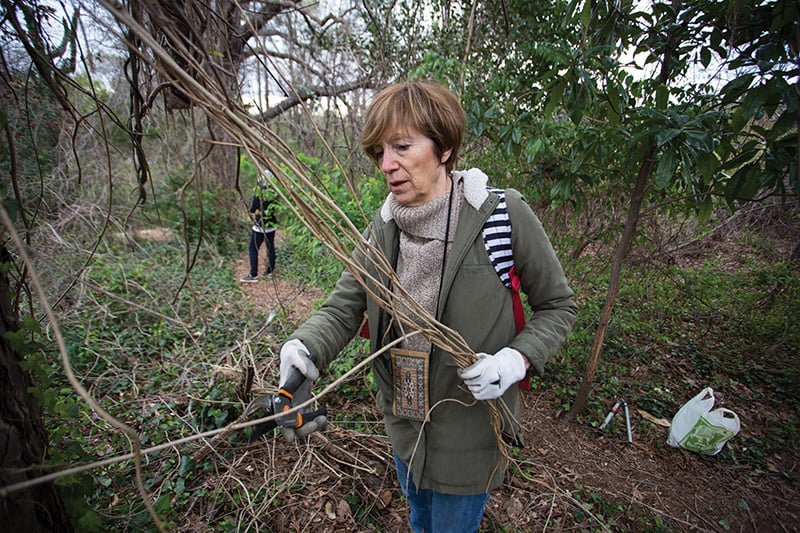 THE CREEPER VINES won't come down. They've attached themselves to an oak limb 15 feet up, twined like ship cables, and tangled themselves into an aerial thicket. Rick Cohan could take a saw and remove them by sections, which would take forever. Or he could do what he does now, on a chilly Saturday morning in March: grab the tangle at the bottom and pull. And pull.
"Hey," Cohan calls to Palmer Steel, another volunteer helping clear vines and brush from this patch of land behind Sedgefield Middle School. "You feeling strong enough to help me pull down these vines? There's a whole mess of 'em up here, and I don't know if I can do it myself." Steel joins him, and they pull, and pull, until the entire limb breaks off and falls to earth. Steel topples backwards, and he and Cohen dissolve into exhausted laughter.
There are about a dozen of them out here with loppers, chainsaws, even a Grim Reaper-style antique scythe. This is the first time the Sedgefield Neighborhood Association has asked for volunteers to clean up the four acres behind the school. Then again, Sedgefield residents value the land a little more now. Last year, they almost lost it—and, along the way, gained a new understanding of themselves and their neighborhood.
Sedgefield was carved out of a former dairy farm and developed as a residential district in the 1940s. Until recently, it hid in the shadow cast by Dilworth, its immediate neighbor to the north, and the dismal, vacated remains of South End's industrial past to the west. The light rail-fueled growth along South Boulevard, the neighborhood's western border, changed all that. Michael Miles Seaton, a realtor and former neighborhood association president, has lived in Sedgefield since 1997. "I loved Dilworth, but it was way too expensive—and that was a time when nobody knew about Sedgefield," Seaton says. "The first six or seven years, people would ask, 'Where do you live?' 'Sedgefield.' 'Where's that?'"
Most of the neighbors have made their peace with the overall growth, says association president and engineer Will Johns. Renters from the massive apartment complexes on South Boulevard walk their dogs in Sedgefield Park and along the tree-lined streets, Johns says, and Sedgefield homeowners see them as homeowners-to-be. The neighborhood contains about 1,800 housing units, about equally divided between apartments and older, bungalow-style mill homes. The decades-old oaks and other trees throughout Sedgefield lend a sheltering effect. In the middle of the neighborhood, you'd never know you were less than a mile from two of Charlotte's highest-growth areas.
But then a developer got a little too close. Last year, in an effort to sell off surplus land to raise money, the Charlotte-Mecklenburg school board considered selling the 3.7 acres of scshool district-owned property, behind the middle school and next to the park, to Pulte Homes, which wanted to build a townhome complex. The neighborhood association reacted in a way it never had, collecting nearly 1,500 signatures on a petition opposing the sale. "We felt it was really important to preserve that land and the old-growth trees," Johns says. "That group was really rushing it through and not inviting the neighbors." The trees were only half of it. The middle school is an unofficial hub for the neighborhood, and a greenway-style concrete path cuts through the park, easing past a creek and patch of wetlands.
In the end, the neighbors won. Mecklenburg County commissioners recommended in September that the school system hang on to the land and vowed that if the district decided to sell, the county would exercise its right of first refusal and buy it. The property remains in school district hands.
So taking care of the land, and the neighborhood around it, means a little more than it used to. Seaton and Johns were out there for that Saturday morning cleanup, as well, hacking away at the brush. But they understand they're going to have to absorb some growth near, or maybe even in, Sedgefield. Just south of Dilworth is too inviting a location. They just hope to be able to, as they did with the middle school property, wield what power they can to guide it—"influencing by cajoling," Johns says.
"We're going to have big buildings around us eventually," says Seaton. "But the real question is, 'Would you rather new apartments, breweries, and restaurants or old, abandoned industrial buildings and rusty chain-link fences?' Me, personally, I'd rather have the former."
GREG LACOUR is a contributing editor for this magazine. Read his political coverage and other commentary in the News & Opinion section of Charlottemagazine.com.
---
Sedgefield Quick Facts
Total size: 492 acres
Population: 3,092
Median household income (2015): $53,000 (countywide median: $56,854)
Violent crime rate (2015): 3.2 per 1,000 residents (countywide rate is 4.2 per 1,000)
Home ownership (percentage of owner-occupied homes, 2015): 40 percent
Racial breakdown (2010):
72 percent white
16 percent black
7 percent Latino
3 percent Asian
2 percent other
Source: 2015 Charlotte-Mecklenburg Quality of Life Explorer data