Extreme Parking
In Plaza Midwood, it's a brand-new day for vehicular positioning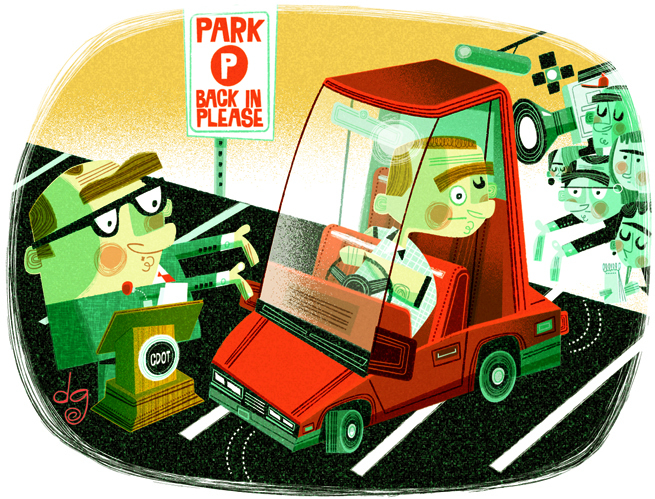 "Where's Jason?" the man at the microphone asks. Jason walks over to the podium set up in front of the Common Market in Plaza Midwood. Somebody hits play on a silver boom box. The cameras focus. The beat drops. Jason starts to freestyle.
Reverse-angle parking. Take that extra time. It ain't bad advice …
This was a news conference, an honest-to-God news conference, in which Charlotte city officials demonstrated how to back into a parking spot. And they brought a rapper.
Back it up, it's better to see, loading, unloading, it's simply too easy …
I'm an excellent parker in the same way Rain Man is an excellent driver, but I'd never heard about what they're doing over in Plaza Midwood, Charlotte's test lab for abstract parking ideas. The city built a bunch of new diagonal spaces along Commonwealth Avenue between Pecan Avenue and The Plaza. The idea is that you're supposed to back in, because it's easier to see when you pull out. There are signs showing you how to do it. It is a brand-new day for vehicular positioning.
The Charlotte Department of Transportation was so proud of this that they sent out a press release announcing not only a news conference, but a demonstration. "That's ridiculous," I thought. "People can figure it out for themselves. There are a million things more important than this. I will be the only person there."
News crews from four television stations showed up.
First an engineer explained the boring stuff about safety and traffic calming and whatnot. Reverse-angle parking, he noted, can be shortened to RAP. Cut to Jason: Any cat runs away from traffic lanes, let's make magic the easy way …
Then came the big finale. A city worker was supposed to demonstrate how the parking space worked. After we waited awkwardly for a few minutes, a black sedan backed in. The driver got out to thunderous applause from city staffers. He didn't work for the city. He was just some schlub in a Kia who had no idea why four television cameras were watching his every move.
Afterward I asked Linda Durrett, a CDOT spokeswoman, if the absurdity of holding a press conference on how to park a car was the real reason a dozen members of the media showed up. Maybe we were being punked. Maybe now CDOT was taking bets on how many reporters they could get to show up for briefings on topics such as "The Colors of the American Traffic Light." (Three hues! So many possibilities!)
No, Linda said. She did not think the press conference was absurd. She thought it was "funky."
Oh.
Jason Lane also did not think his song was absurd. He's a 32-year-old moving-truck driver from Sterling, Virginia. He spent six and a half hours driving down to Charlotte just to perform. Before that, he spent three hours writing his song. Before that, he spent 12 hours researching it. He repeated the hook so many times, his 4-year-old son, Jaden, started saying it around the house.
Reverse-angle parking.
He was here as a favor to his brother, who works for CDOT. Also, the city paid him $250.
Most cars on Commonwealth that day had correctly backed into their spaces, and since I didn't see any forward parkers to ambush, I walked into Common Market to grab a coffee. I asked the cashier with the Mohawk if he'd seen the press conference out front. "I don't like cameras," he said, adding that he used to smash cameras when he was younger—security cameras in particular. I took that as a no.
I told him what he missed. He shrugged as he gave me change. "I'm pretty good at backing into parking spaces," he said.
On the way back to my car, I took a swig of coffee, and it got under the lid and ran down my arm. I hadn't snapped the top completely into place. I sighed and tightened it up.
Sometimes you have to figure things out for yourself.