Face To Face With the Murky, Troubling Rueben Galindo Case
Widow of man slain by police confronts chief at public meeting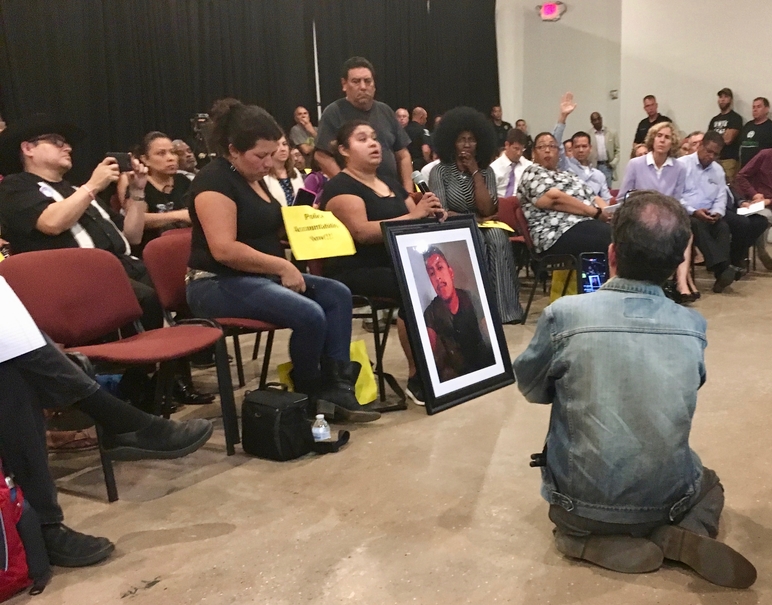 Charlotteans of every stripe, especially since the Keith Scott shooting last year, speak often of the need to have "difficult conversations" about such matters as race, economic disparity, implicit bias, police use of force, and other subjects that repel simple fixes and reject comfort. It's hard to imagine a more difficult conversation than the one that arranged itself, without planning, at a community center off North Tryon Street on Thursday night: an exchange between Charlotte-Mecklenburg Police Chief Kerr Putney and the widow of a man whom a pair of Putney's officers shot dead five weeks ago.
Putney had asked the Camino Community Center, which mainly serves Charlotte's Latino population, to host a community conversation about the shooting; a Superior Court judge ordered the release two weeks ago of police body camera video that shows officers shooting and killing 29-year-old Rueben Galindo on the night of September 6 at the Hunters Pointe Apartments in northeast Charlotte. Galindo's partner, Azucena Zamorano Aleman, wasn't expected to attend the event Thursday evening. But there she sat in the front row, along with a framed, poster-sized photo of Galindo, the father of her four-month-old daughter. She spoke directly to Putney, who was seated behind a small table on the center's elevated stage before a mostly Latino crowd of about 50.
Through tears and in Spanish, Aleman told the chief that she still doesn't understand why the officers, Courtney Suggs and David Guerra, had to shoot Galindo. He emerged from the apartment with his hands above his head, she said, and he made no motion that would indicate he meant the officers harm—assertions backed up by the video evidence. Then she claimed something that neither she nor her lawyers had alleged publicly before: that the object Galindo held in his left hand—what the officers perceived as a gun, the necessary precondition for their use of deadly force—was actually the cell phone he had used to call 911 and summon police in the first place.
Her claim added another layer of ambiguity to an already murky and troubling case. When Galindo called 911 on September 6, he faced an upcoming court date related to a misdemeanor charge from April, when he pointed a gun at someone; his family later told investigators that he wanted to turn the gun in. He had been drinking before his call, and his conversation with the 911 operator and the Spanish translator who joined her on the phone—CMPD released the audio recordings in September—is a rambling and confusing mess. Galindo never makes clear why he wants police to come, and he repeatedly refuses to give his address. But he also asks again and again where the officers are and whether police are going to help him, and says he has an unloaded gun. The 911 operator urges him several times to put the gun in a safe place before police arrive. A CMPD dispatcher finally issues the call to officers at 9:10 p.m.: "He says he's armed with a gun and wants officers to help him. He refuses to give interpreter further information. Unknown what he wants to do with the gun. Unknown if he's suicidal. He's not really cooperating." The dispatcher adds that Galindo sounds "delusional."
Guerra's body camera provides the most proximate view of what happens when officers arrive. "We're at the apartment," Guerra radios. "I think he's in the patio area." From a sharp angle that places an apartment building between him and Galindo, Guerra approaches a space between that building and another and calls out, "Rueben!"
"Yeah?"
"Rueben, policia," the officer calls. "Manos. Manos." ("Hands. Hands.") Galindo responds, but it's unclear what he's saying. Guerra yells this time: "Manos! Manos!" Then Galindo appears for the first time on the video, standing outside the door of his apartment with his hands at his side. Guerra yells even louder: "Put it down! Put it down! Drop the gun! Drop the gun! Do it now!"
The camera of another officer, farther away but with an unobstructed view of Galindo, captures the man raising his arms into a V shape. Other officers scream at him to drop the gun. Three seconds elapse from the moment Galindo begins raising his arms to the first of three shots. Galindo collapses. "Shots fired, shots fired," Guerra radios. "Suspect down."
Along with the body camera video, CMPD released a pair of still images that the department says shows Galindo holding a gun in his left hand; police say they recovered a gun at the scene, and have confirmed that it was not loaded. But it's not clear from the images what Galindo is holding.
In a legal sense, that might not matter. Law enforcement officers have the authority to use lethal force when they perceive an imminent threat of death or serious injury to themselves or others, on the principle of "objective reasonableness" established by the United States Supreme Court nearly three decades ago. In other words, Galindo didn't need to be holding a gun for the officers to have acted within the bounds of the law. He merely needed to be holding an object that officers had objective reason to believe was a gun. (Legally, it also doesn't matter that Galindo told the 911 dispatcher that the gun wasn't loaded, because the officers had no way to know that when they approached him.) Police knew about the gun charge from April, and they knew from dispatch that he had a gun in the apartment, if not his hand. It's apparent from the video footage that the officers saw Galindo holding something, and they believed it was a gun. There's no hesitation in their commands once they see Galindo—and only three seconds' worth before they shoot him.
That was the crux of what Aleman asked Putney on Thursday. Putney was explaining the legal standard, and the immediate decisions to use deadly force that police have to make when they encounter armed suspects. But, Galindo's widow asked him, did that same standard apply to Rueben, who wasn't carrying a gun? (In a prepared statement she released through her attorneys last week, Aleman made no mention of Galindo holding a phone and not a gun.) This put the chief in another kind of hard situation. The District Attorney's Office, as is customary, is investigating the shooting to determine whether to charge either of the officers who fired. For that reason, Putney couldn't publicly discuss the details of the shooting. He told her he was sorry for her loss.
The community conversation lasted about 90 minutes. Audience members questioned Putney about the department's efforts to reach out to Latinos. The chief and other officers related their "immersion training" for CMPD officers in Mexico, Cuba, and Costa Rica, saying they understand that the barrier between them and the community isn't just one of language but culture. Rafael Prieto, editor of the Spanish-language newspaper Qué Pasa Mi Gente, pointedly asked Putney what he was doing to recruit more Latino officers. "We're doing work there," the chief responded, showing some irritation. "My question is, 'When are you going to help us?' … If all we do is vilify the profession," recruitment will suffer.
It was the kind of conversation Charlotte's had with itself for more than a year now, full of contradiction, ambiguity, and a persistent unease. Of course the Latino community and everyone else wants "justice," a word uttered and chanted by multiple interests after a police shooting. But what that means in this and so many other cases is open to interpretation. "Justice is not going to be satisfactory to either side," Putney said toward the end. "There's no magic formula that's going to solve all the things we talked about tonight." No one could reasonably argue with that.