Faces of the Denied
For forty-five years ending in 1974, the state of North Carolina sterilized 7,600 men and women it deemed unfit to bear children. Some were labeled "feeble-minded" or "easy prey." Others were designated as poor. Up to 2,000 are still alive. Meet 8 of them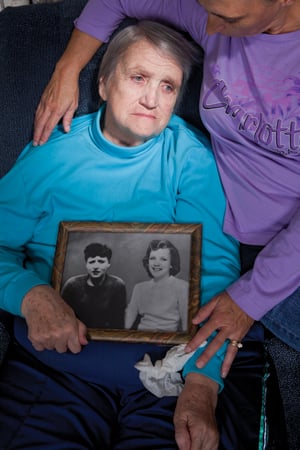 Mary Haynes, 78
With motherly pride, Mary Haynes says Joe Johnson stopped by her Statesville apartment one night recently and cut up her meat for dinner, the first man who ever did that for her.
"He's my baby and I don't care who knows it," she says.
He's her baby. But he's not her son.
"He's my sister's son," she says. "But I claim him."
Haynes, seventy-eight, can recall little about the procedure, which was done when she was fourteen or fifteen. It was 1948 or 1949, after she says she was raped by her stepfather, ran away from home, and then sent off to a school for girls. "Girls who couldn't get along at home," she says. To most every question about the sterilization and other parts of the distant past, she answers, "Honey, I don't remember."
Life has had its ups and downs since then. She was married three times ("Don't ask me how long, honey, I don't know") and worked in the spinning room of a textile mill. Despite everything that has happened, Johnson, fifty-four, says his aunt is a happy person. She has her friends, her Bible, her walker, and Wheel of Fortune. She clings to tender memories of her sister, Colleen, and the photograph of the two of them from long ago, the one she's holding here.
Most of all, she has her nephew, who has been a constant presence in her life, filling the void left by what happened so long ago.
"She doesn't like talking about it," Johnson says. "And I don't push."
---
Willis Lynch, 78
The photograph says a lot. A man alone.
Willis Cleveland Lynch was sterilized in 1948, at age fourteen. He was at Yanceyville's Caswell Training School at the time, put there by his late mother, Lizzie. When it opened in 1911, it was officially known as the North Carolina School for the Feebleminded.
Now seventy-eight, Lynch isn't sure he agrees with the diagnosis. He says he reads and writes "fair." He doesn't recall much about the medical procedure, other than his mother agreeing to it. He also remembers being stooped over the next day.
The closest he came to having kids was being married a long time ago to a woman named Amanda, who had two children. The marriage lasted eight years. Today, Lynch lives by himself in a singlewide mobile home two miles outside Littleton, a small town on the Virginia border in eastern North Carolina. He has two brothers and a sister, but he doesn't see them much. He did a little mechanic's work before retiring. Now he spends his days, as he puts it, "messing around, puttering around." He likes to watch the news and NASCAR on TV.
If you want to hear his voice light up, ask him about Hank Williams, the country music icon who sang "I'm So Lonesome I Could Cry."
Or you can ask him about kids. "I love kids."
---
Mary Allen, 79
The paperwork that some have held onto all these years recalls the starkness of what happened long ago. Mary Allen was nineteen when the clinical psychological examination on May 26, 1952, recommended that she be sterilized for her own welfare and the well being of society.
Here's part of what they wrote about her, exactly as typed: "The girl has what is commonly considered 'Moron' intelligence. … The most serious fact in this case is not that Mary is intellectually inadequate, but that she is 'morally defective,' and this has become an observable reality."
Allen, seventy-nine, had five children before she was sterilized on the state's recommendation and, she thinks, her mother's permission. She was fifteen when she had her first child, Carolyn, who has since passed away from cancer.
"When you're young," Allen says, trying to explain all those babies, "you're young."
She lives in Mount Airy. Retired from her job cooking and serving lunch in Mount Airy school cafeterias, arthritis keeps her from doing much these days. She likes to watch the news and soap operas.
Sixty years is a long time ago. And yet Allen still takes offense at the report that labeled her "mentally deficient," ranking just above the imbecile level. "I always thought of myself as having a little common sense," she says. She believes that what the state did to her was wrong, even if she's cloudy on how it came to be.
If it hadn't happened, she says, "I wouldn't have wanted any more children."
---
Charles Holt, 62
Regret's a tricky thing.
Charles Holt, sixty-two, lives in Kernersville with his stepdaughter. A stroke left him disabled from his job working heavy equipment for the City of High Point. He spends his days now visiting friends, going downtown, watching NASCAR races on Sunday. He remembers the day his hero Dale Earnhardt died like it was yesterday. All in all, he's a fellow who prides himself on never causing problems for anyone.
"I don't get into no trouble. Trouble's not in my name," Holt says, explaining what contentment looks like: "I shave myself. I take my own medicine. Thank God I still do stuff for myself."
But on those occasions when someone asks him about it, and he thinks back to 1964 or '65, he wasn't sure exactly what year it was, Holt wishes someone would have given him a say. He was around fifteen.
"I didn't want this operation," he says. "They didn't ask me nothing about it. They just pushed me in the room. They fix it where you can't have kids."
He says his mother, Lucille, signed the papers for the procedure. That was sometime after she put him in a training school in Butner because she felt he was a slow learner. To this day, he doesn't think of himself as a slow learner.
"I finished eighth grade," he says.8
His parents are gone. So are his brother and sister. He was married for a time, which explains his stepdaughter, Melissa. The boys in the photograph are distant relatives.
Holt's not an unhappy man. But …
"I wanted to have some kids that could call my mommy and daddy Grandma and Grandpa. I couldn't. So I just went on with my life."
Castella Cooper Jefferson, 60
Castella Cooper Jefferson, sixty, has spent much of her life baby-sitting other people's children.
"I love kids," she says. "I just like to watch them playing. But I ain't never had none."
Stella, as she's known to most everyone, lives in Monroe with her stepdaughter, Pauline Watson, and her two stepgrandchildren. She was married to Pauline's father,
Donald, who died of cancer several years ago. Pauline says she first learned what had happened to her stepmom when she noticed Stella's scar.
"She said it was where they tied her tubes," Watson says.
Jefferson was sterilized on October 16, 1969, in Kinston. She was fifteen. The social worker's report stated that Jefferson had behavioral problems, a low IQ, and didn't like to go to school. Jefferson acknowledges that she has long suffered from emotional issues. She also says the details of what happened forty-three years ago have faded with time.
"The only thing I remember is when I went there and they told me I had to take it. And that my mother [Lucy] had signed for me."
It hasn't been a bad life. Jefferson says she used to work as a cook in a restaurant in her hometown of Windsor, in eastern North Carolina. There was also all that baby-sitting when she was younger. Today, she loves working on puzzles and watching TV, especially CSI: Miami.
She doesn't talk much about what happened that day nearly forty-three years ago.
Then again, she's never been one to speak up.
"She can be silent," Watson says.
---
Janice Black, 60
Sometimes Janice Black and her caregiver, Sadie G. Marion-Long, will be talking and Black will say, "You know what, Sadie, if I could have had just one child …" Marion-Long will listen, then remind Black of what she does have in life, what they both have: "I'll say, 'God blessed you with me and me with you.' We're friends for life."
Says Black, "She's the sister I never had."
Marion-Long, who turns sixty-one on Mother's Day, has cared for Black for twenty years. Black lives with Marion-Long's family off The Plaza in Charlotte, and they have a grand time together—going to church, going out for sushi, enjoying the annual family cookout each August. They've been to the beach and to Walt Disney World in Florida. Black does her own laundry and works three days a week cleaning surgical equipment at the hospital. She loves watching sports on TV and Sanford and Son.
What she lost, though, lingers.
Black, fifty-nine, was sterilized in 1971. She was eighteen and had been diagnosed as mildly retarded, according to Marion-Long. Black's parents signed the authorization, Marion-Long says. When Black's mother died, she moved in with her father and stepmother. When her father passed, Marion-Long stepped in. They've gone together to state hearings on compensation, including one in Raleigh at which Marion-Long tapped Black on the shoulder to stand up.
"I wanted you all to be able to see who Janice Black is," Marion-Long told the task force.
---
Saffron Nyoka Carter Wetter, 62
The paperwork dated December 30, 1964, recommending sterilization, states that "Nyoka accepts this decision rather complacently."
More than forty-seven years later, not so.
"He put me in that truck and made me go up there," Wetter says, recalling the day her late father, Carl, drove her from their rural Rowan County home to Salisbury for the procedure. "It's like a nightmare. I always wanted to know why."
The paperwork offers some insight: "As Nyoka's mentality is limited [an IQ of 58, the state determined], we believe that if she is sterilized she would be able later to marry and have a reasonably good home life. If she should have children, it seems very doubtful that she would be able to provide the care and training necessary for a child's development." On another part of the same page, the public welfare worker describes her as "easy prey."
Wetter, sixty-two, a divorcée, lives by herself in Concord. She's pursuing her GED, she says, having been forced to quit school by her father to take care of the children he had with his girlfriend. "I am very smart and intelligent," she insists.
She remains anguished by what happened when she was a teenager, as the photograph reflects. "I was trying to tell him [photographer Andy McMillan] the story and it upset me." She's confused, recalling only that a doctor involved in the procedure told her this had to do with "babies or something." She wishes her father hadn't put her in the truck that morning and driven her to Salisbury.
---
Elaine Riddick, 58
Most of the 7,600 men and women sterilized by order of the state between 1929 and 1974 are dead. Of the 2,000 or so still alive, many have moved away or are too old, infirm, or tired to speak up.
Then there's Elaine Riddick, fifty-eight.
Raped at thirteen ("At that age, we were still playing with baby dolls") in her hometown of Winfall near the Outer Banks, she gave birth to a son at fourteen. As they delivered her baby, the doctors sterilized Riddick. She said her grandmother, Miss Peaches, gave permission even though she was illiterate. "She signed an X without knowing what she was signing," Riddick says.
Riddick's son, Tony, forty-three, works in real estate. His mother lives with her third husband in Atlanta, traveling back to North Carolina each time state officials gather to consider compensation for the victims. Sometimes she comes with tissues, for herself and other victims. At one hearing in Raleigh, she told a task force, "It was worse than taking my arm or my leg. What is $20,000 going to do for me? What is $50,000 going to do for me? Is that going to get me back what North Carolina eugenics took from me?"
Forty-five years after a man raped her and the state sterilized her, she doesn't consider silence an option.
"I do it because what they did to me was cruel and unusual punishment for a child who was raped. If I don't speak out for myself, who will?"