Faking It
Following your favorite celebs on Twitter? Make sure it's actually them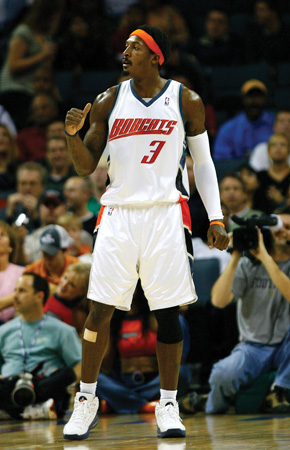 When Jesse Diebolt sees an athlete on Twitter, he sees opportunity. Jesse is a junior at Myers Park High School, but for years he's been designing amped-up, mashed-up photos of his favorite sports stars and rappers, the kind that could end up on an album cover or your laptop's desktop image He also knows when to pounce. "Whenever a new sports star joins Twitter," Jesse says, "I always offer to do a Twitter background for them. It's a way to get my name out there." When he saw one of his favorite Charlotte Bobcats had joined, Jesse swooped in.
And so began the matchstick flameout of one @CrashWallace3, at first glance a fairly legit-looking account purporting to be the official Twitter page of Charlotte Bobcats forward Gerald Wallace (whose nickname is "Crash" and whose jersey number is 3). He popped up in mid-June. Shortly after, he used Jesse's official-looking background. He started amassing followers. Word spread. Some people were ecstatic. Others were skeptical. People wanted to know if it was really him. Someone asked former Bobcat Sean May. On Twitter. May's account, like those of many NBA players, is personally verified by Twitter. Crash's was not. May's response: not him. And just like that, poof. @CrashWallace3's cover was blown. Word spread quickly. The Bobcats warned their own Twitter followers that Crash was a fake. The next day, the account was gone.
Fake Twitter accounts are nothing new. @BPGlobalPR, if you haven't noticed, is ripping BP to shreds right now over the oil spill. One glance and you know it's parody. Locally, even former Charlotte 49er basketball coach Bobby Lutz had a mysterious doppelgänger who went by the on-the-nose @fakebobbylutz and dropped farcical Lutzisms from time to time. Twitter has no problem with obviously fake or satirical tweeters. But if you pass yourself off as the real thing, it can pull your account. St. Louis Cardinals manager Tony La Russa even went so far as to sue Twitter last year after someone impersonated him. Soon after, Twitter started verifying the accounts of sports stars, celebrities, politicians, and other figures who have real problems proving they are who they say they are.
Crash Wallace tried to seem legit. He said he was waiting for Twitter to verify him, his bio linked to the real Wallace's charity Web site, he even tweeted about an upcoming appearance. But those who know Gerald knew Crash's extroverted talk-to-everyone manner didn't make sense. "That's not how Gerald is," one reporter says.
Jesse has met the real Wallace a handful of times. He wanted to believe. "He was talking to a lot of other NBA players," Jesse says, "so it seemed to be real." But before long, Crash outed himself to Jesse as a fifteen-year-old from Rock Hill. He admitted he was an impostor through a direct message, then asked Jesse to help him design a fake page for former Bobcat Adam Morrison. Jesse is a big Morrison fan. He said no.